Part of the legacy initiative of the 2010 Olympics, Vancouver, B.C.'s Aquatic Centre at Hillcrest Park is an addition to the Olympic curling venue, known as the Vancouver Olympic Centre. The first step in a conversion to a recreation complex that will also include a community center, public library, preschool and field house, the center won plaudits from AB's panel of architects for being, as one judge said, "complementary to the existing Olympic structure, while being strikingly beautiful on its own."
The utilization of wood as the main structural component of the center captured the attention of the judges, as did the use of color throughout. More than half of the wood used on the project, which anticipates LEED Gold certification, is Forest Stewardship Council-certified, and its use helped the designers succeed in connecting the natural interiors to the landscape and trees of the park beyond. Wood interior cladding, window casings and millwork also lend acoustic dampening and a warm aesthetic to the project.
Careful manipulation of the building massing minimized the effects of such a large structure in relation to the nearby single-family fabric, while providing a meaningful fit with existing trees on the site. The judges agreed that the architect had succeeded in forming a cohesive relationship between the facility, the site and adjoining structure. As one judge said, "This new facility links to and references the recognizable Olympics venue exceptionally well."
Judges' Comments:
The wood structure's form is both elegant and practical. The shape provides for terrific daylighting from both northern and southern exposures, and takes advantage of the views to the park and mountains in the distance.
- Tom Scarlata, Bargmann Hendrie + Archetype Inc.
A simple and elegant structural solution. This addition to a recreation facility was carefully composed to complement both the existing building and the complex site.
- Mark Bodien, Moody•Nolan Inc.
An excellent example of blending simple forms and the appropriate materials to create a facility that celebrates light and color.
- Mark Williams, HKS Inc.
Hughes Condon Marler ArchitectsVancouver, B.C.
Cost: $34.8 million (Canadian) Square Feet: 66,500Funded By: VANOC and municipal fundsMajor Facility Components: Indoor leisure pool, competition pool, hot pool; outdoor pool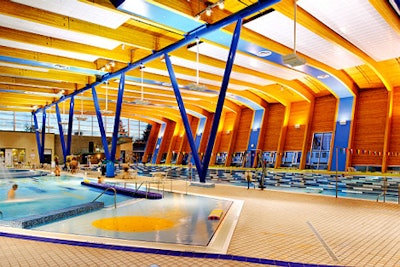 Photo by Hubert Kang
Click here for the full photo gallery
The 2011 Athletic Business® Facility of Merit™ awards were recently selected by a panel of sports and recreation facility architects during two days of judging in Chicago. The 10 winners are being announced in this space during the first two weeks in October, and profiles of all 10 will appear in the December issue of Athletic Business. The awards will be presented to the facility owners and architects at the Athletic Business Conference & Expo in Orlando, Fla., on Friday, Dec. 2.