Connectivity and what one judge called "an unparalleled amount of interior and exterior transparency" mark the University of Iowa Campus Recreation and Wellness Center. As one panelist explained, "While maintaining a unified and strong image on a major campus street, three user groups are clearly separated internally, while interior views connect activity spaces in 'walls' of activity and interest."
Student fitness and recreation occupies the most central location of the three, spread through the north and central portions of the CRWC over a series of three levels that are open to each other. The wellness and recreation administration suites are located in the two-level east portion, while the aquatic center anchors the western portion. The natatorium was particularly lauded by the judges for its iconic dive tower featuring an internally lighted spine ("Its detailing and execution are terrific," said one). Home to a competition pool, dive pool and leisure pool - with the latter separated by a full-length glass wall to allow access during swim/dive team practices, as well as precise control of the leisure pool's higher temperature environs - the space is filled with natural daylight and provides views into and from many other CRWC activity areas.
The effect is much the same on the building exterior, with the north portion harvesting daylight through what amounts to a series of transparent interlocking "boxes" set on a columnar structural system. The boxes, through which the fitness spaces are visible to passersby, are set in front of a backdrop that houses the aquatic center, gymnasiums, multiactivity spaces and a climbing wall that measures 58 feet tall.
Judges' Comments:
The Campus Recreation and Wellness Center has powerful energy within its industrial urban look. The dynamic spaces, views and gestures celebrate everything this building is about.
- Mark Williams, HKS Inc.
This building's massing has been carefully designed to provide a strong presence. Its interior organization is clear and well organized, and it offers a high level of visual transparency and interconnection between its varied programmatic components.
- Darryl Condon, Hughes Condon Marler Architects
The design team was able to take very large programmatic spaces and organize them in a way that is easy to understand for its patrons. There's a high level of openness and transparency that adds a fantastic vibrance throughout.
- Jeff Piette, Kahler-Slater
Architect of Record:RDG Planning & DesignDes Moines, IowaAquatic Design Engineer:Counsilman-HunsakerLakewood, Colo.
Cost: $51.3 millionSquare Feet: 215,000Funded By: Student fees, athletic department fundsMajor Facility Components: Natatorium, fitness center, gymnasium, track, MAC, climbing wall, activity rooms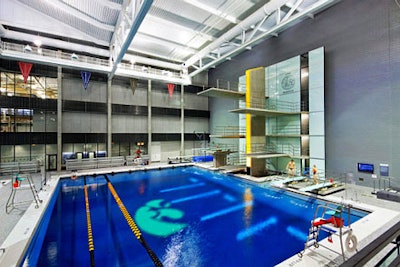 Photo by Kun Zhang, Dimension Images
Click here for the full photo gallery
The 2011 Athletic Business® Facility of Merit™ awards were recently selected by a panel of sports and recreation facility architects during two days of judging in Chicago. The 10 winners are being announced in this space during the first two weeks in October, and profiles of all 10 will appear in the December issue of Athletic Business. The awards will be presented to the facility owners and architects at the Athletic Business Conference & Expo in Orlando, Fla., on Friday, Dec. 2.