This article appeared in the May 2016 issue of Athletic Business. Athletic Business is a free magazine for professionals in the athletic, fitness and recreation industry. Click here to subscribe.
Breaking Ground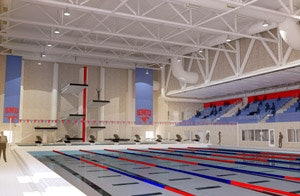 Southern Methodist University has broken ground on the 42,000-square-foot Robson-Lindley Aquatics Center, the inaugural new structure of the university's expansion across the North Central Expressway. Brinkley Sargent Wiginton Architects of Dallas created multiple options from its initial study, resulting in an Olympic-size 50-meter, eight-lane indoor pool with 10-meter platform diving, men's and women's team locker rooms, coaches' offices and seating for 800 spectators. The aquatics center will accommodate practices, competitions and community participation in aquatics in what will be known as McMillion-Barr Natatorium. The project is designed to achieve LEED Gold certification. Counsilman-Hunsaker of St. Louis provided aquatic design consulting for the project.
Rochester College in Rochester Hills, Mich., has broken ground on Garth Pleasant Arena. The $5.3 million, 23,000-square-foot athletic facility will serve as home to the school's basketball and volleyball teams, which currently play at local high school gymnasiums. Expected to be complete by February 2017, the arena will seat 868 for basketball and volleyball but be expandable to a 1,500-seat capacity. Rochester-based French Associates designed the arena.
Construction is underway on a new outdoor recreation facility in St. Louis Park, Minn. Designed by RSP Architects of Minneapolis, the $8.5 million facility will feature an NHL-size outdoor ice rink to host hockey and open skating during the winter months. In spring, the rink will be converted into a covered turf field for baseball, softball, soccer and lacrosse, as well as various community events.
Ground has been broken for a two-story, 120,000-square-foot Life Time Fitness facility in Franklin, Tenn. Set to open in 2017, the facility will offer personalized fitness programming, indoor and outdoor pools, a full-service salon and spa, and studios for dance, art and music.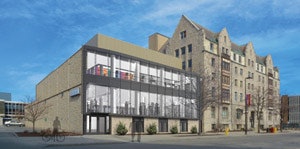 Renovation work began last month on the Downtown Green Bay (Wis.) YMCA. The $12 million project will relocate the locker rooms to the facility's lower level, along with the youth programming area and group exercise studios. Currently separate weight equipment and cardio machines will be combined in a new lifestyle center with floor-to-ceiling glass windows, the gym area will be expanded, and the entrance and lobby will be remodeled. Various infrastructure and ADA upgrades also will be made. A portion of the funding comes from tax credits to help preserve the 92-year-old building's historic architecture. When complete in 12 to 15 months, the renovated facility will also feature a new name: the Downtown Ferguson Family YMCA. Berners-Schober Associates of Green Bay, which designed the original building, is leading the renovations.
---
First Pitch
Following official approval from university administration and trustees, Indiana University has announced a $170 million fundraising campaign for athletic scholarships and capital improvements, including the renovation of Assembly Hall, enclosure of Memorial Stadium's south end zone, and construction of a 3,000-seat arena for volleyball and wrestling. Work on the Assembly Hall renovation is already underway and expected to be completed this year, and the remaining projects are expected to be completed in 2018 and 2019, respectively.
The White Mountain Aquatic & Fitness Foundation has unveiled conceptual plans for its proposed facility in Conway, N.H. The plans, created by Nagel Sport LLC of Redmond, Wash., and Planetary Fitness Consultants of Bigfork, Mont., feature two swimming pools, a weight room, a childcare room, a basketball court, exercise spaces, a cycling studio and a walking track. The foundation is now fundraising for the $11 million project and building community involvement.
The Waco (Tex.) City Council has authorized a land swap with Baylor University, exchanging a five-acre city-owned parcel for the former site of Floyd Casey Stadium, which is currently being demolished. Baylor is working with the Baylor Scott & White Health System on a potential sports medicine center for the site.
Phillips Academy in Andover, Mass., is $15 million closer to the construction of its new $34 million athletic center thanks to the generous donation of an alumnus. The 90,000-square-foot facility will feature a 200-meter track, 12 squash courts, and multipurpose rooms. A convertible infield will be used for basketball, tennis and field sport practices.
---
Grand Openings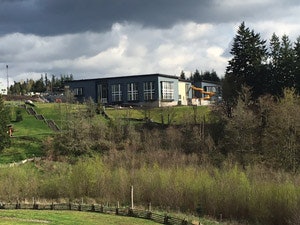 The Sammamish Community and Aquatic Center is now open in Issaquah, Wash. The aquatic programming portion of the 69,000-square-foot facility includes a leisure pool, a six-lane lap pool, an activity pool with interactive play features and a waterslide, and an outdoor deck area. Also included in the facility, designed by Barker Rinker Seacat Architecture of Denver, are two gymnasiums, cardio and group fitness areas, an elevated jogging track, multipurpose and community rooms, childcare areas and locker rooms. The center is owned by the city and operated by the YMCA of Greater Seattle.
A new multipurpose facility is now open to serve the Western School Corp. in Russiaville, Ind. The 40,000-square-foot facility includes a four-lane track surrounding two multipurpose courts, with drop-down netting for batting and golf practices, as well as a weight room. The facility is connected by a hallway to the middle and high schools, which will utilize it for athletic and band practice, as well as physical education. It has a separate public entrance and can be used by residents and local youth sports programs. The $8.8 million project also included new bleachers, a maintenance building, renovation of existing locker rooms and other facility upgrades. CSO Architects of Indianapolis served as architect for the project.
A new baseball league makes its debut later this month at the new Jimmy John's Field ballpark in Utica, Mich. The $15 million stadium features a 2,000-seat grandstand, picnic areas, berm seating and suites, for a total 4,500-spectator capacity. The stadium, designed by Kansas City, Mo.-based Pendulum Studio, will host the three teams that currently comprise the United Shore Professional Baseball League — the Utica Unicorns, the Eastside Diamond Hoppers and the Birmingham Bloomfield Beavers.
This article originally appeared in the May 2016 issue of Athletic Business with the title "Forward Progress."