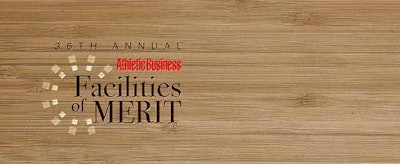 The campus arms race appears to be gaining renewed momentum, if this year's Facilities of Merit® class is any indication. Six of the 10 projects selected as 2016 honorees — from a 168,000-square-foot rec center to a 10,600-square-foot strength and conditioning facility — reside on college campuses.
However, judges also thought outside that box to recognize a diverse balance of award-winning designs. Whether serving students, student-athletes or community residents, this year's field shares common attributes of innovation, fiscal and environmental responsibility, and aesthetic flair.
Facilities of Merit winners were selected in July by a panel of seven architects at the conclusion of two days of deliberations at AB Media headquarters in Madison, Wis. "The narrow spread of voting between the top 20 projects indicates a very high quality of submissions," said one repeat panelist. "The choice was a difficult one." In November, the architects, consultants and facility owners behind each winning project will be honored at a reception at the Athletic Business Show in Orlando. Tune in Monday to see the first of our 10 honorees.
Thanks to all 61 entrants for helping ensure the program's high level of competition, and thank you to our panel of judges for all of their hard work: Katie Barnes Barker Rinker Seacat Architecture, David Body | David Body Sports Planning Consultant, Tracy Carusi | Collins Cooper Carusi Architects, Greg Houston | Marmon Mok Architecture, Philip Laird | ARC/Architectural Resources Cambridge, Dave Larson | TMP Architecture, and Jeff Penner | Stantec.