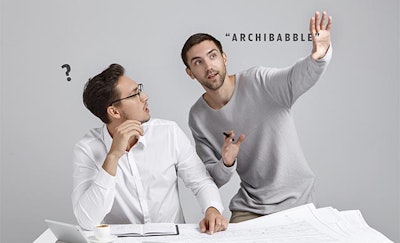 You may not have noticed, but architects speak a whole other language. (I'm joking: Of course, you've noticed.)
Some call it "archibabble," and few know when or why we started using such terms as "fenestration" and "charette." Some clients, I'll admit, find it pretentious while others appreciate the opportunity to learn new words and speak design language. No matter how much we try to avoid jargon, we just can't help ourselves sometimes. It becomes part of our daily lives.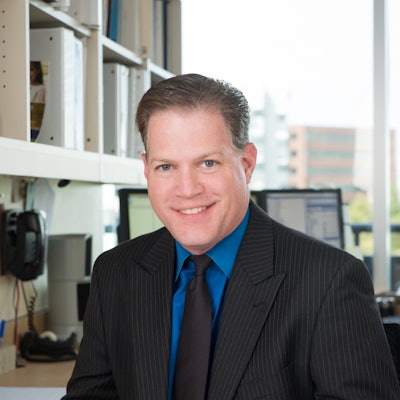 A few years ago, one of my clients decided to keep a list of every new term she learned from my team and me, and it became an ongoing joke throughout the course of the project. I'm glad she took the time to care. One of the worst feelings in the world is leaving a meeting and having little idea of what's happening next, because you don't speak archibabble — and are too timid to ask. Don't be! Architects need to whacked back into the real world from time to time. Failure to be on the same page now could result in lost time or money later.
Architects aren't the only professionals who speak their own language. Look at software engineers, attorneys and website designers.
Most architects are sympathetic to clients who don't understand the words we use — and for those who aren't, websites have taken matters into their own hands to help. In an effort to do my part, I've created three categories of architectural terms — "Obviously," "Um, What's That?" and "You Can't Be Serious!" — and included definitions for five commonly used words in each of those categories. You'll be surprised by the simplicity of several definitions.
1. Obviously
• Bifurcate: To divide or split
• Curvilinear: Curved lines (opposite of "rectilinear," or straight lines)
• Duality: A system of complementary concepts, such as light and dark
• Envelope: Exterior walls
• Motif: An important design element often repeated throughout that design
2. Um, What's That?
• Austere: Stark
• Enfilade: Rooms in a straight line
• Cantilever: An overhang supported on one side
• Charette: Group design exercise
• Parametric Design: A computer model
3. You Can't Be Serious!
• Fenestration: Openings, as created by windows and doors
• Interstitial: Unused or unoccupied space
• Piloti: A column supporting a building above an open ground level
• Porte-cochere: A covered entrance
• Vomitory: An entrance space that pierces a bank of seating, as in a stadium
I hope this short list helps you better understand your next conversation with an architect. If not, ask for an explanation at your next charette.
Stephen Springs is a senior principal at Brinkley Sargent Wiginton Architects, a Texas-based firm specializing in public architecture with offices in Dallas, Waco and Austin. He is a former parks commissioner and has more than 20 years of experience in public recreation and aquatic design.