The 2019 Super Bowl will kick off Feb. 3 at Mercedes-Benz Stadium in Atlanta. This year's game features the NFC's Los Angeles Rams versus the AFC's dynastic New England Patriots. The stadium itself is a state-of-the-art marvel, boasting 75,000 seats, a unique retractable roof and a 360-degree halo video board. Mercedes-Benz has received LEED Platinum certification, garnering the highest sustainability score ever for a sports project. Here's a few more interesting facts about the home of Super Bowl LIII:
4.3 million visitors to date
Mercedes-Benz Stadium opened Aug. 26, 2017. To date the venue has hosted 38 football games, 30 soccer matches, as well as a number of concerts and events, welcoming a total of 4.3 million visitors.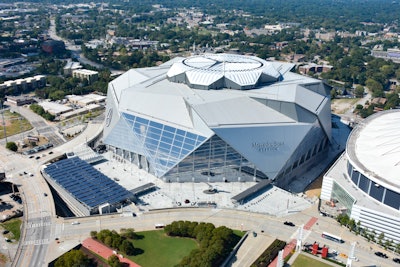 Massive video board
Mercedes-Benz Stadium features 16 LED displays totaling 83,500 square feet installed by Daktronics, including the world's largest video scoreboard, the Halo Display. The Halo, measuring 58 feet high by 1,075 feet round, is large enough for a helicopter to fly through and would measure the length of three football fields if stretched out in linear fashion. 
Sustainability
Mercedes-Benz Stadium is the first sports stadium to receive all water category credits, in large part due to a highly-advanced storm water management system. The venue uses 47 percent less water than baseline standards and can store 2 million gallons of rainwater on site, an effort to address historic flooding issues in the neighborhood. A partnership with Trees Atlanta involves the sharing of captured rainwater with the community for tree irrigation.
The stadium can power nine Atlanta Falcons games or 13 Atlanta United matches with the renewable energy generated through its 4,000 solar panels. 
Local food production includes edible landscaping, an urban garden in development and partnerships with local organizations to train Westside residents in culinary arts and to help them obtain jobs. A 13-acre green space is under development adjacent to Mercedes-Benz Stadium to help with community building.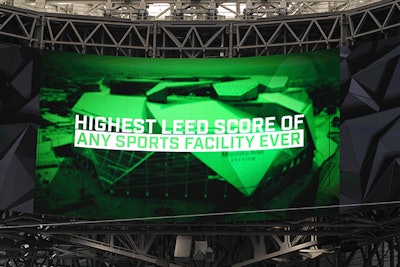 Don't go away hungry
Mercedes-Benz Stadium made a commitment early on to offer food and drink at reasonable prices. The stadium's "fan first menu" features $5 craft beer and domestic drafts and unlimited soda for $2. Hotdogs will cost $2, nachos with cheese are $3, and a chicken tender basket comes in at an affordable $6.
That roof though
Despite some initial problems, the stadium's retractable roof is unlike other retractable roof in North America.


The greatest roof in sports is now finished!#MBStadium pic.twitter.com/rfvd1LoZBo

— MercedesBenzStadium (@MBStadium) July 25, 2018
Check out more stadium fast facts below: