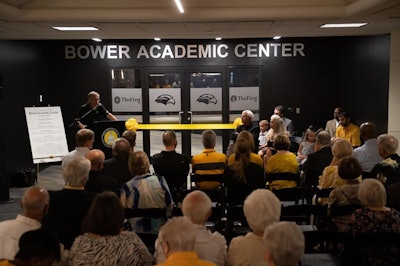 Via Southernmiss.com
The University of Southern Mississippi and Southern Miss Athletics officially dedicated the Bower Academic Center in the fall.
The center in the heart of the Golden Eagle campus in Hattiesburg, Miss., was built with privately raised funds through the Athletic Foundation and officially opened in August 2020, but the dedication was delayed until September 2021 due to COVID-19 restrictions.
The new 18,000-square-foot facility on the second floor of the Joseph Anderson Cook Library offers help with the demands and challenges faced by Southern Miss student-athletes. The Bower Center provides a first-class academic facility to exclusively assist with athletes' needs.
The facility, which serves Southern Miss' 400 student-athletes, is four times bigger than the previous academic support center. Take a tour through the center to check out tutoring and study rooms, a computer lab, classroom, quiet study space, mental health counseling services and offices for student-athlete academic support staff:
Within one year of the facility being utilized, it has already supported immediate scholastic success for Golden Eagle student-athletes. The Southern Miss Department of Athletics said this week that:
In its first year of existence, the center helped the student-athlete population produce its highest-ever grade point average of 3.11 during the 2021 fall semester.
Eight of the nine women's programs registered a 3.0 GPA or better during that semester and the cumulative GPA of 3.3 across women's sports produced the second highest semester for that group on record.
Leading the way was the women's cross-country program, which earned a cumulative 3.67 GPA.
The men's program collectively earned a 2.94 GPA, which is the second highest overall men's sports GPA on record with men's tennis posting a men's best 3.35 GPA.
Men's basketball and football both posted their highest semester team GPAs with 3.197 and 2.74 respectively.