Courtesy of CVFirebirds.com
Oak View Group announced an exclusive 10-year arena naming rights agreement with fintech company Acrisure for Southern California's future live entertainment and sports venue: Acrisure Arena.
The facility, to be located in Palm Springs, will be the future home of the AHL Coachella Valley Firebirds. Acrisure Arena will be located in the heart of the Coachella Valley on 43 acres of land that's owned by the H.N. and Frances C. Berger Foundation. The arena will be more than 300,000 square feet and feature 11,500 seats, including modern suites and four premium hospitality clubs available only to 920 Premium Seats and Suite ticketholders. It will include an adjoining facility that will serve as a year-round community gathering space and the training center for the AHL team.

Acrisure Arena is expected to open for the 2022-2023 AHL season and host more than 150 major events annually.
In addition to securing naming rights to the arena, elements of the agreement with Acrisure include permanent exterior signage, entitlement to the arena's largest premium private hospitality space, and prominent Acrisure logo placement on the roof, center ice and scoreboards throughout the venue. This is the first stadium or arena sponsorship for Acrisure and the financial terms of the agreement were not disclosed.
Based in Grand Rapids, Mich., Acrisure is a rapidly growing leader in the financial services technology industry. It provides customers with intelligence-driven financial services solutions for insurance, reinsurance, asset management, real estate services, and cyber services.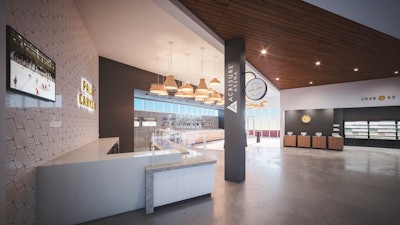 "Acrisure Arena will be the crown jewel of the entire Coachella Valley and a major destination for the biggest artists, concerts, and sporting events in the world," said Tim Leiweke, CEO of Oak View Group and leader of the arena project.
With a focus on prioritizing technology, sustainability, and green initiatives, the world-class arena will also be built for music and host the best and biggest names in the music industry on an annual basis. In addition to sports and entertainment, the arena will accommodate conventions, large meetings, international events as well as award shows and exhibitions.
The project is privately funded at no risk to Riverside County taxpayers. The arena is projected to open in the last quarter of 2022. — CV Firebirds
---
Grand Valley State University soon will begin a $14.1 million expansion and renovation of its recreation and athletic facility.
Construction will begin in April at Fieldhouse Arena, at 10915 N. Campus Drive in Allendale.
The project includes the addition of a 22,280-square-foot area, which will include three new mat gyms, a weight room, athletic training room, locker rooms and coaches' offices.
There will be two main men's and women's locker rooms. Each locker room will include 30 lockers; eight showers, including a handicap accessible ADA shower; sinks; a TV; and a whiteboard. There also will be an officials' locker room with two lockers.
There will be four coach offices, which will include men's and women's wrestling head coach offices, men's and women's wrestling assistant coach offices, a strength coach office and trainer office.
The addition will provide more space for classroom instruction and practice and competition areas for student groups, including varsity wrestling, dance, cheerleading, STUNT, martial arts, the police academy, and an enlarged, relocated athletic training room.
The university plans to renovate an existing 3,900 square feet of the facility. The current training room and locker rooms will be relocated, and that space will be renovated to house the student academic advising center, student-athlete welfare and development office, student-athlete lounge, meeting and study space, and a student-athlete refueling station.
The student-athlete welfare office will be inside the student academic advising center suite. The new student lounge will be adjacent to the academic advising center, and it will have a computer lab, collaboration rooms, lounge furniture and a TV.
Pioneer Construction is the general contractor, and Integrated Architecture provided design services. The project is expected to be completed in August 2023. — Grand Rapids Business Journal
---
A blessing was held at the new Rainbow Wahine Softball Stadium in Honolulu in February to celebrate clubhouse renovations.
From conception through construction, the project took two years to complete. Head Coach Bob Coolen explained the long journey at the ceremony.
"I'll forever remember how this was built from that one little equipment room over there to what it has become now. I appreciate all the people who have put the time and effort into supporting us," Coolen explained.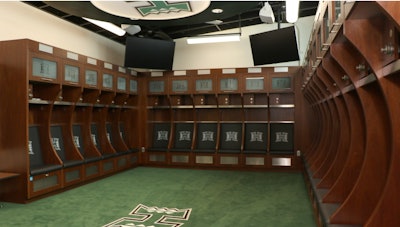 In addition to a new athletic training room, showers, and coaches offices, the most significant change is that all operations can now occur from the stadium itself.
"We're the only stadium in the Big West that has a connecting locker room to the dugout. This is really going to give us a competitive edge" Coolen continued.
After two seasons of uncertainty, players agree the renovation was the best welcome back they could've asked for.
"We just started crying," admitted first baseman, Dallas Millwood, a junior at UH. "It's amazing seeing that this is something the State of Hawaii did for us. We feel very honored. It's nothing like I've ever seen before, especially for a female sport."
Unveiling of the new renovations coincides with the 50th anniversary of Title IX legislation. UH staff noted its ties to the landmark equal opportunity law. Its co-author and UH alum, Patsy Mink, created the legislation to ensure opportunities like these were available to females throughout the country. — KITV-TV, Hawaii Athletics
Rainbow Wahine Softball Stadium Renovations Blessed https://t.co/cHIIYo4P9c

— Hawaii Softball (@HawaiiSB) February 16, 2022