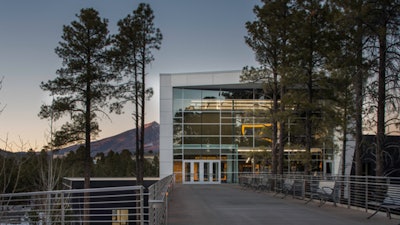 The opening of the new Student-Athlete High Performance Center elevates Northern Arizona University's offerings to all current and future Lumberjack student-athletes. University leaders, local dignitaries, past and current Lumberjacks, and community members gathered to celebrate the grand opening on April 22, 2022. DLR Group designed the facility, which was built by CORE Construction.
The new 72,000 SF, $46 million training center is located on South San Francisco Street, east of J. Lawrence Walkup Skydome, an indoor multipurpose stadium utilized by various Lumberjack programs. Nestled into a hillside filled with ponderosa pines and views of Humphreys Peak, the center substantially increases academic, weight training, recovery, and nutrition space available to Lumberjack student-athletes. It also is the first NAU athletics facility partially funded through alumni and former student-athlete contributions.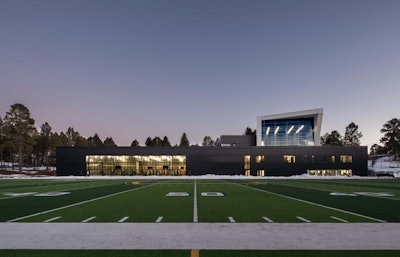 Entering the building is an experience all its own. Visitors cross a 140-foot walking bridge that begins at the base of the tree line and elevates 20 feet to canopy level of the old growth trees before reaching the entry, which allowed DLR Group to leave the site as untouched as possible. Once inside, patrons are immersed in the Grand Hall where championships are celebrated and memorabilia is displayed to capture the essence of the Lumberjacks.
"Our design embodies the NAU Lumberjack brand and reinforces NAU's culture as an institution and a championship-caliber athletics program," said DLR Group Sports Design Leader Andrew Kelly. "The iconic Parsons Family Auditorium undeniably features one of the best views of any training facility in the country, sitting above the tree line with a 60' x 40' glass wall that frames unobstructed views of the 12,600 ft Humphreys Peak and the San Francisco Range."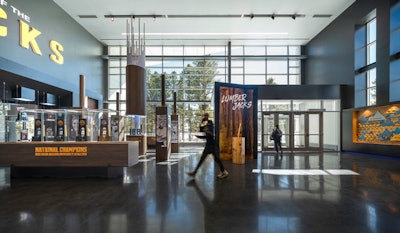 Other features include the country's largest high-altitude training chamber on a collegiate campus. It can simulate atmospheric conditions ranging from sea level to 12,000 feet, allowing student-athletes to train at higher elevations and recover faster at sea level. The Scott and Franci Free Academic Center increases dedicated academic space from 700 SF to more than 7,000 SF and offers individual study areas, three classrooms, a computer lab, and academic staff offices. The Jennifer Marie Wilson Strength and Conditioning Center more than doubles the size of the Lumberjacks' weight training area to 11,500 SF, while the Michael E. Nesbitt Athletic Training Center features three hydrotherapy recovery pools. NAU athletics programs are also partnering with the University's College of Health and Human Services to conduct real-time research on student-athletes in the Sims-Treharne Collaborative Research Lab. — DLR Group
---
Westbrook Christian School in Rainbow City, Ala., recently broke ground on the new Bashinsky Athletic Facility.
The new athletic facility will feature an additional gym and weight room for all the sports offered at the school. It also will accommodate elementary PE classes and a weight room dedicated to female sports.
"Right now, it might just be dirt, but we know what is coming," Brodie Croyle, former University of Alabama star and NFL quarterback, said. "We have a gym that will benefit our children. A facility that will support our school, as well as our community." Croyle attended Westbrook Christian and spoke at the groundbreaking.
The facility will be named after the late Sloan and Joann Bashinsky, who owned Golden Flake for decades.
---
The Montclair State University Department of Athletics has officially opened its new Women's Performance Center.
The new facility, located in the Red Hawk Athletic Annex just off Sprague Field, is the first of its kind and comes at a time when the nation is celebrating the 50th anniversary of Title IX, the groundbreaking legislation signed into law in 1972 that stated that no person the United States shall, on the basis of sex, be excluded from participation in, be denied the benefits of, or be subjected to discrimination under any education program or activity receiving federal financial assistance.
"We are thrilled to be able to open the Women's Performance Center, especially during the celebration of Title IX," said Director of Athletics Rob Chesney. "The center will greatly benefit the overall athletic experience for our women's student athletes and help continue the amazing success they have enjoyed over the years. I want to thank the Montclair State University administration as well as our VIP partner Powerade/Coca-Cola® in making this facility come to fruition."
The center is designed with two rooms, the first containing traditional training equipment with the largest room able to conduct large scale training regimens.
"The new center allows us to be more dynamic in how we train," said head field hockey coach Eileen O'Reilly. "There is so much more we can do now that we just weren't able to accomplish within our original Fitness Center. We can do large team activities and also focus on our injury prevention which is such a big part in our training process."
Over the last decade, Montclair women's teams have put together a run of success that has produced some of the best seasons in program history. The nine teams have captured 15 conference championships and totaled 25 NCAA Tournament berths, including a national championship game trip for field hockey, a berth in the Final Four for women's basketball and three consecutive NCAA Division III Softball Championship Tournament appearances as well two individual national championships in track and field. — Montclair State Athletics
---
Purdue University's board of trustees approved $6.7 million in renovations for Mackey Arena, along with $45.4 million in renovations to Ross-Ade Stadium.
The arena, which opened in West Lafayette, Ind., 1967, has had more than a dozen updates over the past quarter-century.
This time, the project focuses on reconfiguring the men's and women's basketball locker rooms and player lounges, expanding the John Wooden Club area, technology updates and more efficient use of the current space.
Men's coach Matt Painter said the upgrade will help keep the Boilermakers competitive in recruiting. The Boilermakers earned their first No. 1 ranking in school history last season and reached their fourth NCAA Tournament Sweet 16 in the last five events before falling to Saint Peter's.
"Mackey Arena is already considered one of the premier environments in college basketball, and holds a special place for me as a former player," Painter said. "These improvements will continue to ensure that Purdue basketball and Mackey Arena remain among the nation's elite."
Second-year women's basketball coach Katie Gearlds, who also played at Purdue, agreed.
The board of trustees approved $45.4 million in renovations to Ross-Ade Stadium. It is the first phase of a plan to "enhance the Purdue Football game day atmosphere, improve the overall fan experience and further enhance nutritional support for student-athletes."
Phase 1 will include the construction of a new team entrance/tunnel from the Kozuch Football Performance Complex to Rohrman Field, the conversion of the existing team store into a student-athlete nutrition/dining facility and the construction of a concourse connector adjoining additional seating in the south end zone.
"The locker room renovation project is a vital step as we bring the women's basketball program back to the national stage," she said. "The new locker room and player areas will provide additional resources to our student-athletes as we take the next step to compete at an elite level." — WTHR-TV