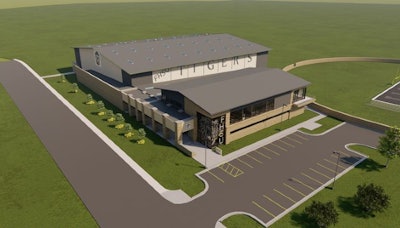 Fort Hays State University in Hays, Kan., has unveiled plans for a new athletic complex. The Schmidt-Bickle Athletic Complex will be a $6.5 million, two-story facility that will span nearly 20,000 square feet.
Two generous $1.5 million-lead gifts from the Schmidt Foundation and Don and Chris Bickle. Don and Chris Bickle will help fund the project.
The new complex will be located adjacent to Lewis Field. It has yet to be determined whether the complex will be attached to the current Schmidt-Bickle Indoor Training Facility or if it will be a freestanding building in the south endzone of Lewis Field.
The first floor will feature a locker room and training room, and the second floor will provide football coaches offices and additional meeting rooms. A theater-style meeting room will allow the full football team to come together to review game footage.
A locker room large enough to house the entire Tiger football squad will be new for Fort Hays State. Currently, the football team is split between two locker rooms, which is not ideal.
The new athletic complex will improve physical needs and demands for Tiger Athletics and will also be a big plus with recruitment. A state-of-the-art building can attract and retain high-level student-athletes, which translates into more competitive teams well into the future.
"With the growth of our athletic department over the years, we have simply outgrown our current training facilities and a building like this will allow for a boost in student-athlete care," said Nate Hepner, head athletic trainer for FHSU Athletics, who said the new facility will house a state-of-the-art hydrotherapy area including a walk-in hot tub and cold tub along with a game-changing underwater treadmill.
"With these additions, our new athletic training room will be on par with many Division I universities and professional teams, but most importantly will set us apart as a leader in sports medicine across the highly competitive MIAA conference, as well as Division II as a whole," Hepner added. "Our student-athletes make a commitment to Fort Hays State, and the new Schmidt-Bickle Athletic Complex will showcase the university's commitment to keeping those students healthy while they compete." — The Hays Post
---
Orange Coast College has dedicated its new Kinesiology and Athletics facility, which was built during the pandemic but has only recently begun to get use since in-person instruction resumed earlier this spring.
Crews broke ground on the complex in 2019 as part of a series of construction and renovation projects envisioned in a 2020 Facilities Master plan approved by the Coast Community College District in 2015.
The $36-million project was funded with proceeds from Measure M, a $698-million bond measure passed by Coast Community College District voters in 2012 to help modernize educational facilities throughout the district.
The 88,000-square-foot aquatics center includes a 65-meter competition swimming pool and a 25-meter adaptive pool designed to encourage adults with disabilities and/or chronic illness to maintain physical activity, exercise and sport.
New locker rooms and equipment management space, spaces for cardio, aerobics and athletic training and new offices for swim coaches and kinesiology instructors have been added, while concrete bleachers capable of seating up to 450 and a new shade structure will accommodate swim meets and water polo matches. — LA Times
---
One year, $10 million and 185 trucks of cement later, the West Virginia University Athletics Performance Center was recently completed and has quickly become a hub for Mountaineer Olympic sport student-athletes.
WVU football, baseball and women's and men's basketball each already had their own strength and conditioning areas, but West Virginia's other 13 varsity sports were left working out in a pair of cramped, outdated weight rooms in the Coliseum and Shell Building.
The new Athletics Performance Center, Situated behind the Coliseum, is used each day by 300-400 student-athletes from the volleyball, rifle, gymnastics, rowing, golf, track and field, tennis, wrestling, men's and women's swimming and diving, men's soccer and women's soccer teams.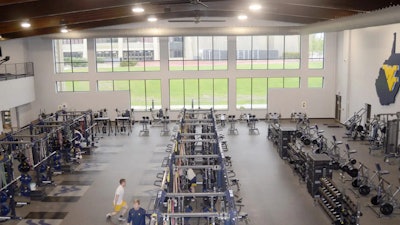 The cost to transform the Natatorium into the Athletics Performance Center was $10 million with that money coming from the Hazel Ruby McQuain Charitable Trust.
The 36,500 square foot Athletics Performance Center features a 10,000 square foot weight room, which sits on the spot the old swimming pool used to be. The arched wooden ceiling that stood above the pool now is over the top of the weight room, and it is one of the few original features of the Natatorium that still remains, though the ceiling was gently cleaned after decades of exposure to humid chlorine air.
There is also an area for the 60-member women's crew team to work out with individual erg rowing machines, and there is a golf suite that contains an artificial turf putting green and a Trackman computerized simulator for use when the weather doesn't allow for members of Sean Covich's golf team to get out to its normal practice course, which is the Pete Dye Golf Club in Bridgeport.
There is also a Bod Pod, which is a $50,000 egg-shaped enclosure that uses air pressure to measure an individual's body composition. In addition, the facility contains a nutrition and hydration station, which is overseen by the athletic department's five nutritionists (two for football and three for the other sports), though the actual cafeteria serving the main meals remains next door in the Coliseum. There is also a treatment and rehab wing with six full-time and three student assistant athletic trainers who see to the physical needs of the athletes. There is a three-pool (temperatures of 50 degrees, 90 degrees and 105 degrees) hydrotherapy room for low-stress conditioning (one of the pools has a pair of underwater treadmills) and further rehabilitation. — West Virginia University