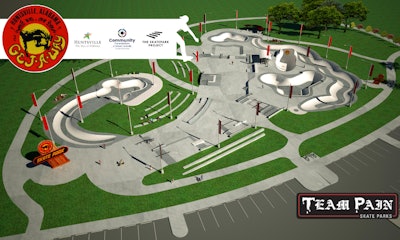 Handout
A new cutting-edge sports complex is heading to a park in Huntsville, Ala.
John Hunt Park will soon include an innovative skatepark that will challenge skaters, from professional to novice. The skatepark will be world-class quality and include supporting facilities such as restrooms, pavilions, sunshades, lighting, landscaping and expanded parking. It is slated to be built on a three-acre site.
Officials started construction this week. The skatepark is slated to be open by 2023.
With construction in full swing at the three-acre site between Kids Space and the soccer fields at John Hunt Park, skatepark designer Team Pain says they've already made a lot of progress, starting with the formation of skate bowls.
According to the organization, the original Get-A-Way skate park opened in July 1979. It had a baby pool, 13-foot keyhole, 3/4 pipe, and snake run, earning it recognition as one of the best parks in the country.
"Skateparks build and sustain healthy communities," said the Community Foundation of Greater Huntsville. "A skatepark provides a gathering place for skaters of all ages and skills to meet and share experiences. For many skaters, the skatepark becomes a home-away-from-home, providing positive spaces that encourage civic responsibility and social skills."— WHNT-TV
---
Renovations will start soon at a popular community center in Los Lunas., N.M. The Daniel Fernandez Recreation Center is nearly doubling in size. Along with adding another gym, there are plans to expand the weight room and additional rooms for other activities.
During construction, the park, basketball court, and splash pad will remain open but the Parks and Rec department is asking visitors to mind the construction space.
Construction is also expected to start soon on the baseball field at Daniel Fernandez. The new, all-turn field will be used for baseball, softball and flag football. — KRQE-TV
---
Members of the Auburn, Ala., community came out to play and celebrate the opening of the roughly $4 million Town Creek Inclusive Playground, where city leaders and others gathered for a ribbon-cutting ceremony recently.
"What a proud and awesome day it is to officially bless and cut the ribbon to this beautiful facility that's going to make such a huge difference in our community," said Auburn Mayor Ron Anders, who noted that 90 percent of the inclusive playground equipment is compliant with the Americans with Disabilities Act. "Now, we have maybe the greatest playground in the whole state of Alabama.
"When you build a park like this, the law mandates that 50 percent of the park is ADA compliant. This park is 90 percent ADA compliant. There are a few touches that you might not realize make it extra compliant. We have push-button doors on the restrooms; we have 10-foot sidewalks in most locations; We have equipment that allows wheelchairs easy access on and off. All of our ramps that go up to things are double wide. We have accessible equipment that lets all people participate on that equipment."
Anders also noted that some of the playground's equipment was designed for people with mobility issues, sensory deficits, or for those who are visually or hearing impaired.
"One of the reasons Auburn is a great and unique community is because Auburn has shown the conviction about loving everybody that lives in Auburn. This is a symbol that all of Auburn matters, and to all the people who support you and work for you and your government and elected leaders, we want you to know that all of you matter. All of you. No matter what's going on in your life, no matter how your life has to be lived on a daily basis, you matter and this park, hopefully, will be that symbol."
The idea for the playground started years ago when parents of children with special needs approached the city, according to Malcolm Dailey, the chair of the Parks and Recreation Advisory Board.
"(They) said we really need this in the community," said Dailey, who also acknowledged the efforts of many past board members, city officials and others in supporting the project. "This is a great thing for the city of Auburn."
Parks and Recreation Director Becky Richardson also chimed in on the project's origins, saying how it started is part of what makes the playground so special.
"We had a group of parents who came to the Parks and Recreation Advisory Board and expressed a need, and the Parks and Recreation Board embraced it," said Richardson. "And through the years as the people on the board has changed, it's continued to be a priority, so that, to me, says a lot about Auburn, that they would do that and would eventually get this built."
Anders noted that the playground was probably 10 years in the making before also thanking a lot of the people who helped make the playground a reality.
"This is what happens when a group of citizens come together, they're passionate; they have a dream and a conviction; and they won't let go of it. And they say it in front of us and say it in front of Parks and Rec and, eventually, this has come to fruition. — The Auburn Villager