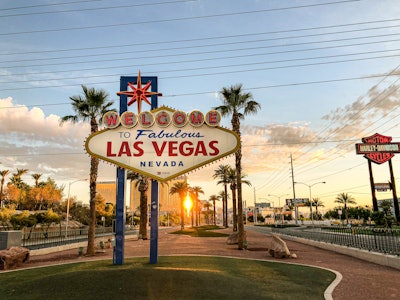 By all accounts, it was a successful trip to Las Vegas for the Indiana University women's basketball team, but Hoosiers coach Teri Moren couldn't help but criticize the staging of a tournament inside a ballroom of The Mirage Hotel and Casino
At the Women's Las Vegas Invitational over the Thanksgiving weekend, courts were encircled by chairs, leaving little space for fans. Scoreboards took the form of TV monitors on the scorer's table. A game between Indiana and Auburn was delayed when it took paramedics more than 40 minutes to attend to an injury that occurred during a previous game.
Moren, whose team beat Auburn and Memphis in the tournament to remain undefeated through seven games this season, said the experience represented "a couple steps backwards" for women's basketball, as reported by ESPN.
Moren noted that Indiana has played in ballroom settings before, but The Mirage staging fell far short of expectations.
"What was disappointing was the aesthetics; it's not a fan-friendly environment. As women's basketball coaches, we're trying to move our game forward. It felt like because [this] got so many ticks on social, that we had taken a couple steps backward. We have an obligation to grow our game, and we completely missed on this opportunity because you have a lot of really good teams that are here. I see all these other tournaments going on and footage of that, but this was a major miss."
Site director Ryan Polk apologized, stating, "We're very sorry. The court and the lighting, that stuff hasn't been an issue. But we needed to have full-on bleachers. We have notified The Mirage we won't be coming back again. This is a one-time disaster in terms of events. It definitely did not go the way we thought or planned. We just severely missed the mark when comes to the spectator side."
Tournament director Bryce McKey was at another tournament over the weekend in Daytona, Florida.
"I think there are other people who probably need to apologize as well for wanting us to come and play in this event and making promises, if you will," Moren said. "This is not what was described to us a far as what the venue was going to look like, what the setup was going to look like."