A major $6 million expansion is on the way for a high school stadium in Iowa.
Ankeny Stadium, the Ankeny Community School District's shared-use stadium for high school football games and other activities.
The next phase of improvements for the stadium complex, which has undergone major renovations in recent years, is planned to include a new 12,600-square-foot, two-story building that will have new team rooms and meeting space, according to city and district information. It would be located on the north end of the stadium complex, which is at Northview Middle School.
The lower level would include referee facilities and team rooms for home and visiting teams, including restrooms, showers and walkout access. The upper level would include include restrooms, storage, meeting space and outdoor patios overlooking the stadium.
There also would be more parking for events, new sidewalks, landscaping and a bus drop-off area.
Other renovation work on the Ankeny Stadium in recent years has included new bleachers to increase capacity, remodeled press box, updated fencing, a new concession stand and a new entryway. The stadium was built in 1977 and until work started in 2016, it had remained largely unchanged since its opening.
The school board still needs to receive and accept construction bids for the project, which has a budget of $6 million. Costs would be covered by the physical plant and equipment levy budget for maintenance, improvement and construction projects.
Construction is anticipated to begin in late spring or early summer and be finished by August 2024. — Des Moines Register
---
The Toronto Blue Jays officially unveiled the completed first phase of Rogers Centre renovations, featuring a brand-new Outfield District that will transform the fan experience at the 34-year-old ballpark.

Blue Jays fans got their first look at the renovations during the 2023 Home Opener on April 11, with five distinct neighborhoods and many additional new social spaces, available to everyone with a game ticket.
A ribbon-cutting ceremony April 6 revealed the largest-scale infrastructure project since Rogers Centre opened in 1989. The new Outfield District is part of a multi-year $300 million privately funded renovation that will be completed between 2024 and 2025.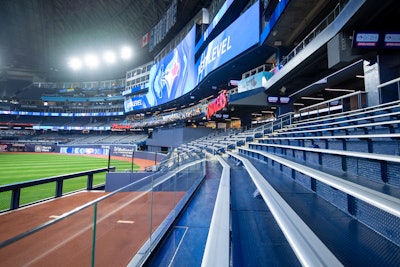 Designed with Populous, the new Outfield District – available to every fan with a game ticket – features social spaces to gather with friends and get closer to the action; live entertainment off the field; and food and beverage menus that reflect the city of Toronto.
The Blue Jays began the first phase of renovation construction on Oct. 14, 2022 with PCL Construction. The structural demolition took 35 days and approximately 21,000 worker hours, with the new build beginning on Nov. 14, 2022.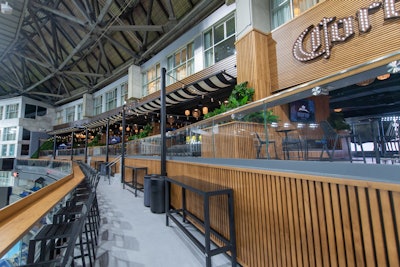 Five Outfield Neighborhoods
Corona Rooftop Patio (500L right field) – this rooftop patio oasis is the new place to be; nestled in Toronto's iconic skyline, fans can gather with friends while enjoying live music beneath the CN Tower and a summer patio menu
Park Social (500L left field) – a park within the park for fans of all ages, featuring games, food truck-style bites, and comfortable places to hang out while watching the game
The Stop (100L center field behind the batter's eye) – your neighborhood bar to grab a quick drink and bite with friends on the way to your next Outfield District destination; an ode to stadium history in a space originally planned as a transit stop
The Catch Bar (100L right field above the visitors' bullpen) – the place to see and be seen; grab a cocktail and perch above the visitors' bullpen with unprecedented views to catch all the action up close\
WestJet Flight Deck (200L center field) – the place fans know (and love!) has a refresh with retro arcade games, brewery-style menu, and the same great vibe
New social spaces
Schneiders Porch (200L right field corner) – this open-air porch has epic views of right field as well as one-of-a-kind hot dog culinary creations and direct bar access, so you don't miss a minute of the action
Rogers Landing (right field corner beside the visitors' bullpen) – bring your glove to this open-air home run landing pad, with uninterrupted front-row views of the outfield and visitors' bullpen
Bleacher Seating (100L bowl behind the visitors' bullpen) – calling all hardcore fans… watch opposing pitchers in these retro-style bleachers directly behind the visitors' bullpen
Left and Right Field Balconies (100L concourse outfield corners overlooking the home and visitors' bullpens respectively) – prime bullpen views await to watch pitchers warm up while taking in the action over left and right field
Additional completed projects
Raised Bullpens (left and right field) – bringing fans closer to the action to cheer on their Blue Jays pitchers
Player Weight Room (field level) – 5,000 square foot best-in-class facility to help players prepare, compete, and recover
Players' Family Spaces (field level) – dedicated kids' room and spouses' lounge to support the team behind the Blue Jays team
Staff Spaces (100L) – overhauled game day staff facilities to support more than 1,000 staff who are essential to the Blue Jays fan experience
More innovations
Tap N Go (section 104) is a new automated market to speed up service, where fans tap payment on entry, select their food and beverage items, and are automatically charged on exit
Walk Thru Bru (sections 125 and 519) are self-serve beverage-focused concessions so fans can spend more time enjoying the game
— Populous
---
A new fitness court officially opened in March at Spring Lake Park in Texarkana, Texas. The fitness court is a $100,000 investment by the city, AEP Foundation, Blue Cross Blue Shield of Texas, and the National Fitness Campaign.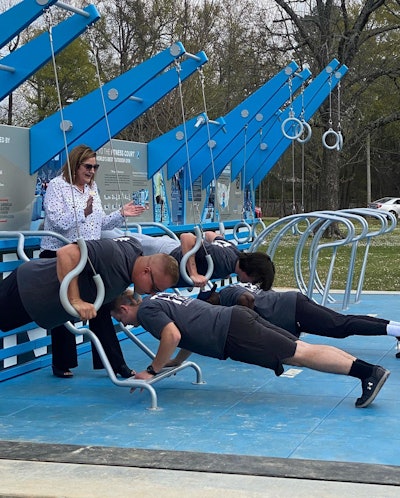 Leaders say the fitness court will provide the region with access to free world-class healthy infrastructure that allows users to leverage their own body weight to get a complete workout. It's the world's best outdoor gym that lets people use their own body weight to get a complete workout using seven exercise stations.
Created for users 14 years old and up, and of all abilities, the court's workouts are adaptable for all fitness levels, allowing participants to move at their own pace. Users are encouraged to download the free Fitness Court App, which acts as a coach-in-your-pocket and enhances the outdoor gym into a digitally supported wellness experience.
Officials say there are very few Fitness Courts in the state of Texas, and Texarkana is the smallest city to provide the service. — KSLA-TV
---
Georgia State University has bid farewell to its 50-year-old sports arena after construction wrapped on a brand-new 200,000-square-foot multi-use venue in Summerhill, Atlanta.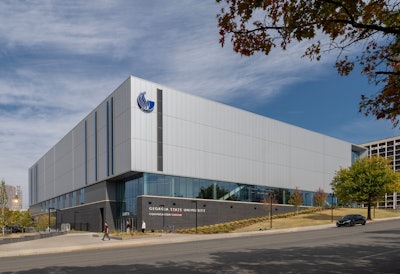 Designed by Perkins&Will in partnership with architecture firm SLAM, the Convocation Center is now home to GSU's men's and women's basketball teams and will serve as the main gathering place for large-scale academic and community events in the historic Atlanta neighborhood.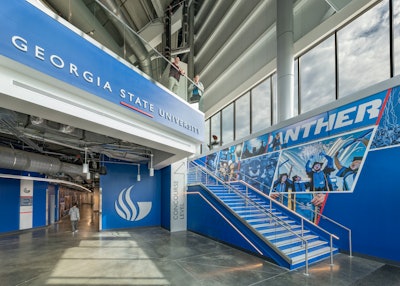 With a seating capacity of 8,000, GSU's Convocation Center can accommodate more than double the original facility while providing users with world-class amenities, including a club room and suites for attendees and locker rooms, nursing, and sports medicine rooms for student athletes.
The completion of this project last fall marked a turning point in Atlanta's Summerhill Neighborhood, which is considered one of the oldest districts in the city's 186-year history. As a hosting site for the 1996 Olympic Games and later the Atlanta Braves MLB team, Summerhill was once a thriving and vibrant community that has since experienced times of neglect and isolation.
The arrival of the GSU Convocation brings with it a promise of revitalization and community growth.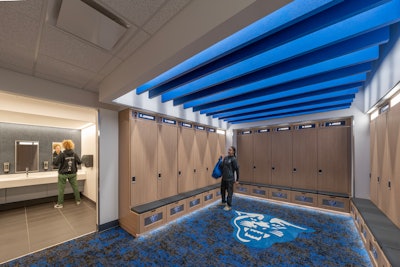 The facility also includes classroom and academic support space as well as the ability to accommodate large events, with divisible meeting and conference spaces and the latest technology in lighting, acoustics and building control systems.
— Georgia State University, Allison+Partners
---
Take a look through and share these recent Facility Friday highlights: