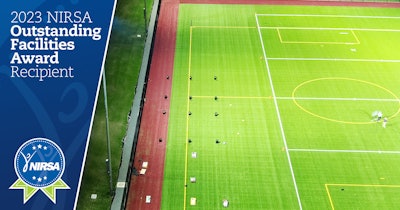 By Natasha Fischer, member engagement manager at NIRSA
NIRSA's Outstanding Facilities Awards recognize institutions and architects for excellence in the construction or renovation of collegiate recreational facilities. At the NIRSA Annual Conference in March 2023, the renovated University of Massachusetts Amherst (UMass Amherst)'s Recreation Turf Fields received an Outstanding Facilities Award. This renovation has greatly increased the university's ability to serve students and enhanced the collegiate experience for the 500 individuals per day who use the fields for intramural and club sports, group fitness programs, and special events.
Located in the Pioneer Valley in western Massachusetts, UMass Amherst enrolls more than 30,000 students annually. The school's sports fields, previously composed of natural grass, received heavy use and experienced weather-related degradation which was exacerbated by their location in a flood plain. By replacing the fields with synthetic turf and thoughtfully planning the layout to allow for multiple uses, UMass Amherst has increased participant safety, reduced the number of weather-related cancellations, and increased opportunities to bring the campus community together in ways that positively impact both their physical and emotional wellbeing.
About the Recreation Turf Fields
The grass which previously covered the 5.3 acres of fields was problematic for multiple reasons. Not only did it frequently flood—leaving the fields unusable and resulting in the cancellation of an average of 260 games per year—the uneven surface also contributed to a higher risk of injury for those using the fields.
While some grass fields remain at the university, their usage has been greatly reduced. This has resulted in improved field conditions. Additionally, if a grass field does become unplayable, the event scheduled to be held there can often be relocated to turf. In the first full season following the renovation, the number of cancellations dropped dramatically to just 12 games. The injury rate also dropped from a previous average of 55 injuries per year to 40 injuries during the first full year the fields were in use.
The nine intramural sports fields are permanently lined (four for flag football, three for soccer, and two for softball) and can also be lined for club sports contests. The improved facilities have enabled UMass Amherst to begin hosting large-scale events like the NIRSA National Flag Football Championships.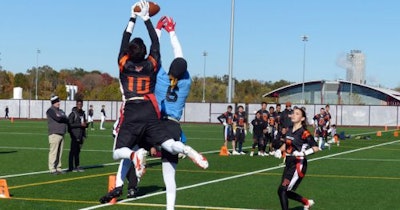 Features of the UMass Amherst Recreation Turf Fields include:
LED lighting which conserves energy and may be controlled by a mobile device
Water bottle refilling stations
Envirofill infill which is non-toxic and antimicrobial
ADA Accessible parking and walkway
One-way gates with crash bars which allow for a centralized access point while simultaneously offering multiple exit locations
Three 12-foot gates which allow vehicle access
In addition to organized athletic activities, the improved fields also play host to numerous informal athletic activities and events, including Sunset Yoga and a new student orientation activity; both have experienced significant increases in attendance since being held on the new turf fields. The fields are also utilized for open recreation as well as for group reservations.
About the Architect
Woodard & Curran specializes in water and design projects, working to design sustainable solutions which meet their clients' needs while making environmental protection a top priority. The firm is ranked in the Global Top 30 in Environment Analyst's rankings of environmental and sustainability consulting firms, and they have been the recipients of numerous awards for their sustainable design initiatives.
Woodard & Curran was responsible for all aspects of planning and design of the UMass Amherst Recreation Turf Fields, which have also been awarded an American Sports Builders Association Multi-Field Award. The firm's commitment to sustainability was demonstrated throughout the project not only with their use of energy-conserving lighting, but also through drainage upgrades which reduced stormwater flows to adjacent wetlands.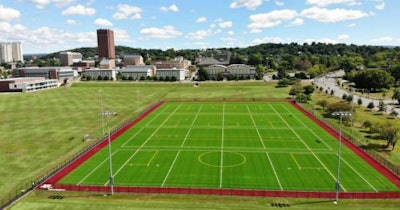 About NIRSA's Outstanding Facilities Awards
The annual NIRSA Outstanding Facilities Awards recognize the innovative designs of new, renovated, or expanded collegiate recreational facilities of NIRSA member institutions. Facilities receiving this award are considered to be a standard by which other campus recreation facilities should be measured, and from which others can benefit.
Applications for the 2024 class of NIRSA Outstanding Facilities Award recipients will open in the Fall 2023. Eligibility guidelines, selection criteria, and entry fee details can be found on the NIRSA website.