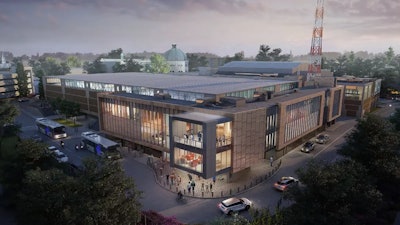 Courtesy of Seton Hall University Athletics
Seton Hall University in South Orange, N.J., has announced its plans to construct a new state-of-the-art basketball practice facility for student-athletes, a major renovation to enhance the student experience for a new generation of Pirates.
Located within the Richie Regan Recreation & Athletic Center on the South Orange campus, the basketball practice facility will include a new basketball court, locker rooms, lounges, offices, sports medicine room, strength and conditioning room, film room and more.
The creation of the basketball facility also includes enhancements to women's basketball facilities.
Seton Hall plans to direct meaningful resources to this effort, including private philanthropy and a portion of bonds secured at historically low interest rates. The university has already received several generous donations. Seton Hall will continue to prioritize building-fund contributions in the coming months.
The construction of the facility will free up space within the recreation center to begin making enhancements to women's basketball's facilities. The women's basketball program has competed in either the NCAA Tournament or WNIT seven of the last 10 years and won a BIG EAST championship in 2015.
The university has contracted with Cannon Design for the project. — SHUpirates.com
---
In Conyers, Ga., a Dutch investor is proposing to build a multimillion dollar soccer stadium to also be a sports and entertainment complex to serve the metro Atlanta area.
The proposed site would sit near the Georgia International Horse Park along Centennial Olympic Parkway.
His group aims to host a women's professional soccer team, and just maybe host a team for the 2026 World Cup.
The Conyers City Council last month agreed to sell the land to Sportiff USA.
The developer would build the 10,000 seat stadium in Conyers. — WAGA-TV
---
Professional soccer teams are coming to Rogers, Ark., along with a new stadium.
The soccer stadium with more than 5,000 seats will be built in the Pinnacle Hills entertainment district in Rogers. The property is near the Courtyard by Marriott and Pinnacle Hills Promenade.
Both a men's and a women's team will play in Rogers.
The men's team will play in the USL Championship, which is one tier below Major League Soccer in the United States' domestic pyramid. Organizers plan to have the team ready before summer 2026. The co-founders of USL Arkansas are Chris Martinovic and Warren Smith.
The women's team hopes to play in the USL Super League in fall 2026.
The two team names will be chosen with community input.
Organizers with USL Arkansas will present at a public hearing for the city of Rogers to request a zone change and begin the building process.
According to an analysis and information from USL Arkansas, it's predicted that the state will see a "significant" economic impact associated with the introduction of USL clubs — estimated between $50 million to $200 million. Additionally, hundreds of jobs will be created, the owners said. — 4029news
---
Take a look through and share these recent Facility Friday highlights: