Sponsored by: Fawley Bryant Architecture
In the dynamic world of athletic facility design, we recognize the vital importance of keeping these spaces not just up-to-date but truly cutting-edge. This encompasses a holistic approach that involves integrating state-of-the-art features, accommodating a wide range of functionalities, ensuring accessibility and safety, creating engaging experiences for fans, and providing dedicated areas for player, team and staff development. This transformation isn't just about staying current; it's about redefining the standards. It's about optimizing player performance, ensuring their safety, and deepening connections with all stakeholders.
Here at Fawley Bryant Architecture (FBA), we are proud to be a leading sports architectural firm located in beautiful Sarasota, Fla. Our extensive experience and expertise have been honed through collaborations with numerous Major League Baseball teams, giving us unparalleled insights into the art of revamping and designing baseball facilities for any level.
Our knowledge and innovative solutions can be applied across all levels of the sport, enhancing athletic venues and experiences for everyone involved. Here, we discuss key elements we carefully consider when creating athletic facilities to embody innovation, excellence, and support for players, coaches and fans.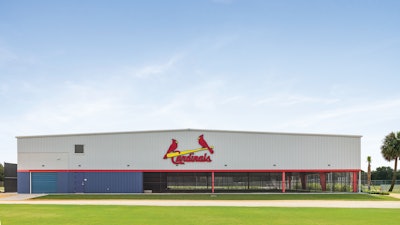 Technology Integration
The infusion of technology within athletic facilities has become indispensable. Video analysis has become a fundamental part of coaching, enabling coaches to scrutinize and evaluate pitching and batting techniques with expert precision. This technology provides valuable insights while also aiding in identifying potential injury-prone behaviors. Taking it a step further, computer analysis, where players are wired up and monitored by computer systems, has opened new frontiers in data-driven coaching and player development.
A space that our team designed that ensures the blend of technology and performance is the St. Louis Cardinals Batting Tunnels. This 10,000-square-foot space hosts three retractable batting tunnels with an adjacent video coaching room that allows for training and analysis. It is important that facilities integrate these spaces into their training facilities to ensure they stay current and innovative to the latest trends in sports performance.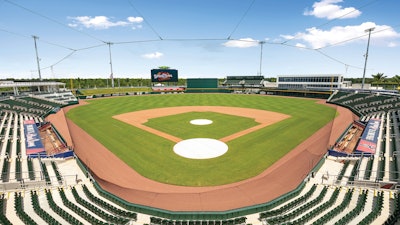 Venue Layout
Crafting an optimal venue layout involves meticulous planning. Proper field orientation is crucial, ensuring a well-placed batter's eye and excellent sightlines for spectators. Equally important is the strategic separation of parents and players, contributing to a balanced and focused coaching environment. The proximity of amenities, such as the bullpen to the field of play, plays a pivotal role in enhancing operational efficiency.
The Atlanta Braves Spring Training Facility, CoolToday Park, located in Venice, Fla., is a project that showcases this meticulous planning. When working on this space, our team executed a strategic design that ensured every element harmoniously contributed to an outstanding sports venue.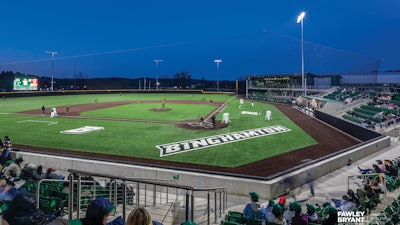 Safety Considerations
Architects have a paramount responsibility in reinforcing safety within athletic facilities. This encompasses various elements in baseball venues, including the installation of netting and clear sightlines to protect spectators. It's about creating an environment where the thrill of the game can be enjoyed without worry.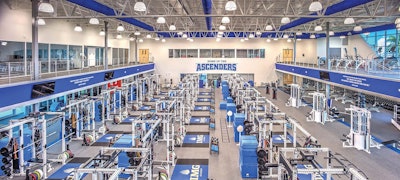 Weight Rooms/Performance Centers
The design of weight rooms and performance centers requires a thoughtful approach. It's common for people to want to maximize equipment within the available square footage, but this can hinder movement and flexibility. It's essential to leave ample space around machines to allow for proper movement and stretching. Additionally, coaches and trainers must have good visibility into the space to monitor and guide athletes effectively, ensuring they perform exercises with precision and safety in mind.
By incorporating these considerations, we are able to draw from our extensive experience, not only enhancing baseball facilities but also providing a blueprint for elevating athletic venues across all levels of the sport. Our expertise goes beyond architectural design; it encompasses the art of optimizing athlete performance, safety and stakeholder engagement in a dynamic and ever-evolving sports landscape.