Matrix Fitness
The new Magnum MX Racks by Matrix Fitness are designed to combine the best features of the company's MEGA line of racks with additional connection points and attachment options. The configurable design allows coaches and athletes to attach more than 70 options and components with ease, and the racks can be connected in virtually endless ways. A custom MX Rack will be featured alongside a VRS impact-absorption platform during AB Show 2023 so attendees can experience the ultimate training experience.
www.matrixfitness.com | [email protected] | (866) 693-4863 | Booth 1011
---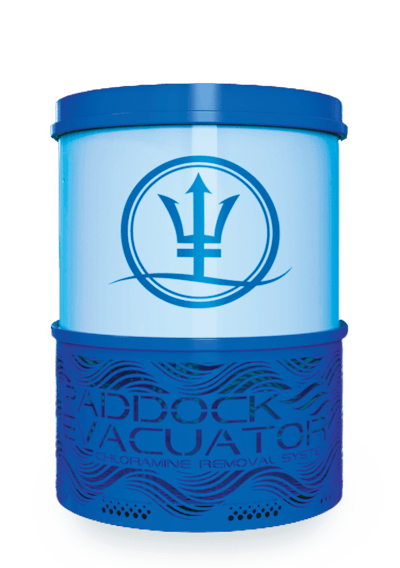 Paddock Pool Equipment Co.
Chemical off-gassing wreaks havoc on metal equipment, from UV systems to pumps and fittings. Worse yet, it poses a serious threat to staff and patrons. Paddock's cutting-edge Chemical Pump Room Evacuator is specifically built for pump rooms, exhausting harmful gases out of the building and allowing facility operators to protect the people and equipment they care about.
https://bit.ly/3FGHwPQ | [email protected]
(803) 324-1111 | Booth 845
---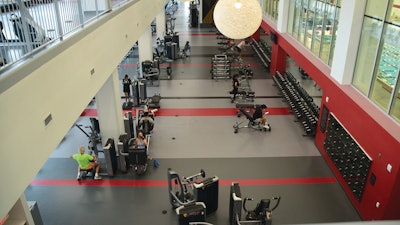 Mondo
Mondo is an industry leader in sports flooring, with millions of square feet of high-performance athletic surfaces installed worldwide. Mondo is the global leader in the sports flooring market, manufacturing indoor and outdoor track surfaces and flooring for virtually every application, including locker rooms, lobby areas, weight and cardio areas, gymnasiums, fitness centers and functional fitness areas. All Mondo rubber surfaces are GREENGUARD Gold Certified and 100 percent recyclable after their useful life.
www.mondoworldwide.com | [email protected]
(800) 361-3747 | Booth 721
---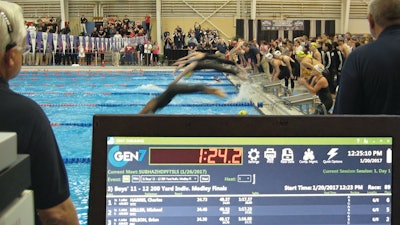 Colorado Time Systems
The Gen7 serial swim timing platform (U.S. patent number 10137535) provides users with long-lasting technology that will save them time and money. The software interface puts intuitive control of all levels of competition at the user's fingertips. This software, combined with the distributed intelligence of Colorado Time Systems' proprietary serial bus communication system, gives host organizations the flexibility to run swim meets their way.
www.coloradotime.com | [email protected]
(800) 279-0111 | Booth 415
---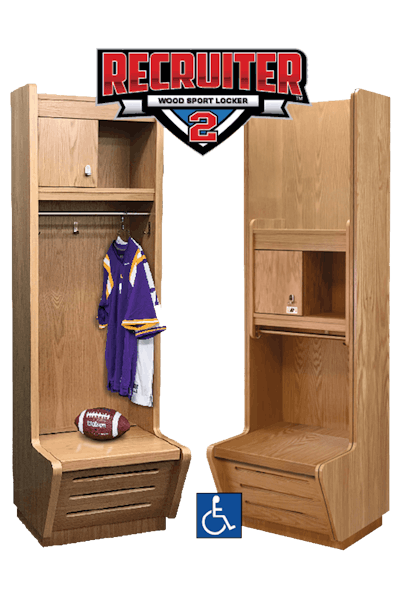 List Industries Inc.
List Industries' Production Recruiter 2 wood sport lockers with available ADA design combine high-quality components and accessories with the convenience of a pre-assembled, ready-to-ship locker system. Made from furniture-grade hardwood with a modern contour shape, the lockers offer a security box with soft-close hinges and three lock options. List Industries' 84-inch-tall-by-24-inch-wide starter unit has an ADA insert that lowers the security box, shelf, coat hooks and hang bar.
www.listindustries.com | [email protected]
(800) 776-1342 | Booth 1243
---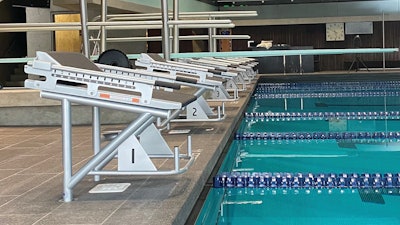 Spectrum Aquatics
Every frame on Spectrum Aquatics starting blocks is constructed of high-quality U.S. stainless steel, and features a superior nonslip surface. Unlimited color and logo options and a variety of finishes are available on Xellerator®, Record Breaker® and Fusion® Starting Platforms, with the electropolished and Spectra Shield®-coated stainless steel providing a high-quality finish that resists corrosion. All starting platforms can be customized to fit into existing anchors and are easily installed and removed.
www.spectrumproducts.com | [email protected]
(800) 791-8056 | Booth 1311
---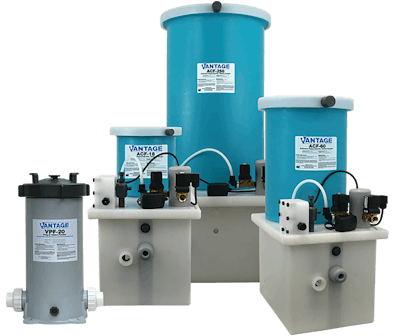 AllChem Performance Products
The Vantage ACF Series, AllChem's line of calcium hypochlorite tablet feeders, has been developed based on the input of commercial aquatics facility operators to perform under the demanding conditions of modern aquatics facilities. AllChem can help pool operators update existing equipment or replace old liquid-chlorine systems.
www.vantagewatercare.com | [email protected]
(352) 378-9696 | Booth 628
---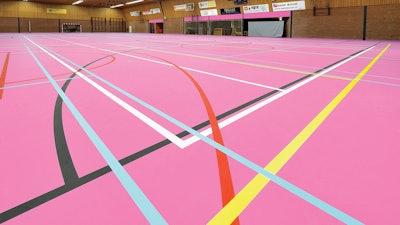 Robbins Sports Surfaces
Pulastic® seamless synthetic multipurpose and specialty sports floor systems are a durable and versatile solution manufactured to meet stringent environmental, quality and safety standards. Pulastic high-performance floors offer comfort and safety with the ultimate in shock absorption, seamless uniformity and optimal friction. Pulastic offers flooring solutions perfect for competition venues, as well as multipurpose and group fitness areas.
www.robbinsfloor.com | [email protected]
(800) 543-1913 | Booth 741
---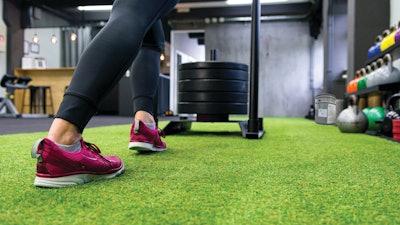 NORDOT® Adhesives by Synthetic Surfaces Inc.
NORDOT® Adhesives can be used year-round with NO temperature restrictions. All NORDOT® Adhesives are one-part, solvent-based, moisture-cured urethanes with a 50-year history of dependability. The NORDOT® brand focuses on ease of use, superior high "green strength" (grab), outstanding fresh and saltwater resistance, and long-term durability. NORDOT® Adhesives can be sprayed, troweled or squeegeed on all types of installations, as well as used for repairs. Common applications include: athletic fields, fitness flooring, waterparks and other indoor/outdoor recreational and commercial surfaces.
www.nordot.com | [email protected] | (908) 233-6803 | Booth 1127
---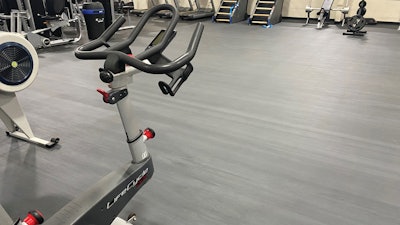 Ecore
Designed for use in fitness, sports, recreation and wellness settings, Ecore's Moxie Motivate Plus and Moxie Beast feature a nonporous and durable calendered rubber surface layer that's fusion bonded to a vulcanized composition rubber (VCR) base layer. These surfaces provide ultimate comfort underfoot and under body contact points, as well as ideal balances of force reduction and energy restitution that reduce significant stress and strain on lower extremities, while contributing ergonomic support and returning energy to users.
www.ecoreintl.com/products/rubber/moxie/moxie-motivate-plus | [email protected] | (866) 795-2732 | Booth 1143
---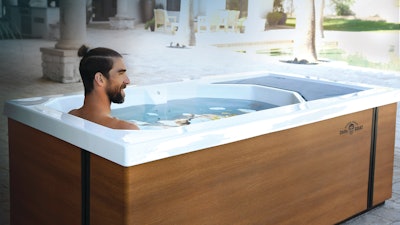 Michael Phelps Chilly GOAT Cold Tubs by Master Spas
Developed with input from 23-time Olympic gold medalist Michael Phelps, Chilly GOAT Cold Tubs by Master Spas deliver an exceptional cold water therapy experience. The innovative design features a powerful 2.1-horsepower chiller, which helps maintain a consistent water temperature. The Chilly GOAT has a temperature range of 40 degrees to 104 degrees, and its superior water care system uses UV light, a filter and a circulation pump to keep the water clean for users.
ChillyGOATtubs.com | [email protected]
(877) 244-5594 | Booth 1025