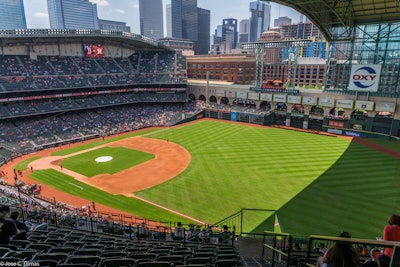 J Dimas via Creative Commons
The Houston Astros are planning to upgrade the area around Minute Maid Park.
The Astros are moving forward with a plan to create an entertainment venue across the street from the team's stadium that it is hoped will bring more fans into the area year-round and serve as a gathering place before and after games, as reported by Brian McTaggart of MLB.com.
The 60,000-square-foot entertainment complex will include a luxury hotel, bars and restaurants and an open-viewing area to watch games.
"What we want is for fans to go to an area long before the ballgames, stay late after the games, have a lot of fans there watching during the games," Giles Kibbe, Astros senior vice president and general counsel said, according to McTaggart's report. "And on non [Astros] games days, it's still a great entertainment district where people can go with bars and restaurants and live music."
The 300-room hotel would be about 17 stories and would connect to the stadium with a skybridge.
The complex is set to be similar to entertainment areas by the Texas Rangers, St. Louis Cardinals and Atlanta Braves' stadiums.
It is hoped that Houston will begin the project following the 2024 season, Kibbe said, as reported by McTaggart.
"We're going to do it right," he said. "I do believe that once it's done, people are going to want to be there for Rockets games in November, December, January, February, March and Texans games as well. … It will be the place to be."
The Astros' plan to own the majority of the complex, and no public money is expected to be used in creating the entertainment district.
The location is planned to be at the corner of Texas Avenue and Avenida De Las Americas, which is across from the main entrance to Minute Maid Stadium stadium.