New Zealand's adidas Institute of Rugby.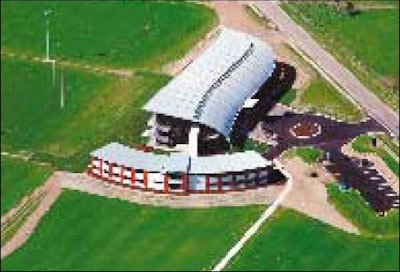 Rugby in America is a renegade sport, played by some college club teams whose idea of institutional support is a jury-rigged firstaid kit filled with tape for broken bones and tampons for bloody noses. But in New Zealand, where the All Blacks are regarded with the kind of awe reserved for the New York Yankees of the 1950s, a new facility devoted to the sport and its players at all levels has become a powerful symbol of rugby past and rugby future.
The adidas Institute of Rugby, a $6 million facility designed by Opus International Consultants that opened last September at Massey University in Palmerston North, is the world's first rugby institute. Built around the image of the silver fern (the famed All Blacks logo), the facility features an indoor synthetic-surfaced rugby gym, a fitness center, classrooms, dining and media areas, management and boardroom facilities, changing rooms, physiotherapy areas with hot and cold plunge pools, and a 40-bed block built to simulate the hotels teams might expect to stay in while touring. Each room is equipped with two "working stations" hooked into Massey University's computer library to enable players to study while in camp.
The building's management wing houses a game film editing and analysis unit, as well as a physical assessment and injury rehabilitation lab. Rugby-related equipment includes an indoor hydraulic scrum machine, tackle machines, and ruck and maul machines. Outside are three training fields, one of which is floodlighted to television standards.
Such features might lead one to believe the institute is meant for elite players only, but that is far from the case. To be sure, the New Zealand Rugby Football Union sees the institute as potentially fertile ground for player development; that's why it will serve as the base for New Zealand's Rugby Academy, which is made up of players identified as having the allaround physical and mental skills to become professional ruggers (in fact, of the first 40 inductees, 23 have gone on to play in the country's top league and seven are current All Blacks).
But the institute also aims to develop all areas of the game, including coaching, playing, refereeing and managing. Adidas, for one, is interested in nourishing grassroots rugby programs in an effort to build brand loyalty among the rugby enthusiasts of tomorrow.
The university, which built the facilities (the rugby union leases them), views the partnership as one that can position Massey as a new center for sport performance and development, according to Institute Project Manager Chris Collins.
Links between Massey's management systems department and a number of national sports organizations will be vital in achieving the institute's goals, says Andy Martin, a lecturer in sport management and coaching. A number of research projects in the areas of sports science, human nutrition, physiology and exercise are already in the works at Massey's Institute of Food, Nutrition and Human Health.
At opening ceremonies last fall, amid pomp and circumstance that included an Air Force flyby and a challenge delivered by a Maori warrior party, Palmerston North Mayor Jill White called the institute "an inspired partnership." Massey Vice-Chancellor James McWha added that the facility brings together "the most progressive sport in New Zealand with the most progressive university in New Zealand. The challenge now is to turn this excitement into performance in all the areas in which we work."