By design, a high percentage of the action that takes place during baseball and softball games is concentrated on a relatively small percentage of the playing surface: the infield. That's why two thirds of a team's defensive players are stationed there, not to mention two to four umpires and at least one batter. Add up to three base runners to the mix, and a ball diamond can quickly turn into a whirlwind of activity.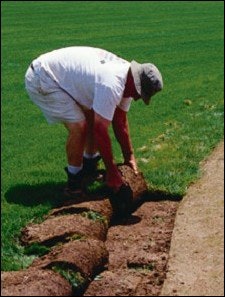 Once the dust settles, however, it's up to groundskeepers to put it back where it belongs, groom it, water it, mark it and get out of the way for another practice, game or - in the case of league softball - another round of games. "Ball fields are crazy," says Phil Williams, director of campus grounds at the College of Wooster in Ohio. "They're a lot of work. It just seems like you could be working on a ball field 24 hours a day, if you wanted to."
Groundskeeping is time-consuming and labor-intensive, to be sure, but a number of techniques employed on a routine basis, or even once, can help keep ball diamonds appearing polished and playable, and more serious maintenance problems at bay.

How much attention a diamond gets is based in large part on whether baseball or softball (or sometimes both) is played on it, and how much time a grounds crew has to devote to its care. Because of their larger size and greater number of dirt/grass edges, plus the more aggressive nature of the type of play they accommodate, baseball diamonds typically require more maintenance than softball diamonds. However, a groundskeeper overseeing several city league softball fields may be just as pressed for maintenance time as the college-level crew chief meticulously preparing his or her varsity baseball field for home games.


The Batters Box
A baseball diamond requires regular repair in areas subject to high levels of foot traffic - most notably, the pitcher's mound and the batter's boxes. Not only are these areas involved every time a ball is put in play, but they also take the most abuse from competitors "digging in" with - at most competition levels - metal or plastic spikes. For this reason, mounds are often reinforced with packed clay or solid clay bricks, and batter's boxes with clay bricks or rubber mats - all of which are installed beneath the playing surface.
Mound bricks are laid mason-style in a 3-by-5-foot plateau flush with and surrounding the pitching rubber. They also comprise a fan shape stretching out 7 feet or so from the front of the 2-footwide rubber to a width of 7 feet near the bottom of the mound's slope. This shape allows the mound to endure not only the landing of the pitcher's lead foot in delivery, but also the trailing foot that swings around and is planted to the side. Exceptionally tall pitchers may require an even wider clay landing area to accommodate this trailing foot. Whereas clay bricks are 2 1 / 2 inches thick, the same results can be gained by taking loose clay and packing it with a tamp to a depth of roughly 4 inches. In either scenario, the clay underlayment is then covered with a quarter-inch or so of topdressing material.


The Pitcher's Mound
The key to maintaining the mound's integrity and slope is regular post-game maintenance. This involves sweeping out all foot-holes created over the course of the game until pure clay is completely exposed. These holes should then be moistened with water and allowed to sit while other tasks, such as raking the back of the mound, are performed. Any remaining standing water should then be swept out of the holes, leaving a slightly tacky surface suitable for receiving new clay. Both the new and existing clay are blended with the chopping action of a pick or shovel nose, packed down with a tamp until fully bonded, and covered with a mound topdressing or the diamond's normal infield mix.
Batter's box maintenance is not much different, except that the same procedures are applied to a flat surface instead of a sloped one. On hitting areas that feature mats instead of bricks, repairs take place above mat level, located several inches below the surface.


Fix the Lip
The greatest threats to player safety on any baseball infield are lips that form along grass lines in front of and behind its skinned surface, and along the outfield arc of softball fields. These raised areas are caused by a buildup of infield material among adjacent grass plants and can extend outward into the grass as much as 3 feet. The buildup can result naturally from infield dirt being blown into the grass by wind or washed there by heavy rain. More commonly, dirt is manually thrown into the grass by the sweeping motion of drag mats. The latter occurrence can be avoided by dragging the infield slowly (no faster than a human can walk, even if the drag mat is attached to a vehicle) or by keeping the drag mat a foot or so short of the grass line with each pass and manually raking the unfinished dirt. On an all-dirt softball infield, dragging in circles from the arc toward the pitching rubber as opposed to dragging from the rubber out can go a long way toward limiting how much material is pushed into perimeter grass.
Lips can further be controlled by regularly returning the stray material back to the skinned portion of the infield. This can be accomplished without harming the surrounding grass plants by using a rotating power broom, a push broom, a leaf blower, a leaf rake or a power washer. Maggie Stoecklein, parks supervisor for the City of Round Rock, Texas, centers a deep-tine aerator over the dirt/grass transition line, loosening the misplaced material before either rolling it flat or washing it back onto the infield. Existing lips that have reached the point of no return must be removed with a sod cutter and replaced with new sod. "You've got to be careful to keep that dirt in the dirt area and off the grass," says Don Fowler, groundskeeper for the past eight Little League World Series in Williamsport, Pa. "It's a lot easier to keep it from happening than it is to correct it."
If not properly controlled or removed, lips may contribute to another infield maintenance challenge: standing water, which is the most conspicuous signal that a particular area of the infield needs attention. An ideally constructed field will direct water down a slight grade from the mound area into foul territory and the outfield, provided no obstructions exist to prevent the water from draining. Lips can dam water where infield dirt meets grass, requiring water removal before the field can be considered playable.
To that end, a number of techniques exist to expedite the drying of saturated areas on skinned infields. If a puddle has formed, water can be removed with a hand pump or with sponge-like pillows or sections of foam rubber, which can be wrung out over grass and reused. In addition, holes can be drilled to allow the water to move vertically through the soil profile. Once the water has dissipated, the muddy infield material should be raked, allowing more surface area to come in contact with surrounding air, and perhaps amended with calcined clay, a kiln-fired material that is porous and absorbent. After the area has firmed up sufficiently, it can be further finished to game readiness using normal pregame procedures.


Dealing With the Elements (Or Lack Thereof)
Like lips, puddles can be reduced significantly with preventive maintenance. This means introducing a leveling bar to the dragging regimen every two weeks or so to help knock down ridges on the infield while filling in low spots commonly found at the slide zones near second and third base and at the defensive positions of the shortstop and second baseman. Varying drag directions and patterns (from circles to figure eights, for example) on a day-to-day basis will prevent excess material from accumulating in one area at the expense of others. The same goes for varying the location of where a drag mat is set down and picked up. Both techniques will help ensure that an infield remains as level as possible.
Standing water aside, the key to keeping skinned areas in top playing shape is moisture. Even the most diligent keepers of high-level playing fields will admit that they probably don't water their infields enough. For someone like Stoecklein - who oversees the maintenance of five adult softball fields, five girls' softball fields and 20 boys' baseball diamonds in the Texas heat - water is a luxury. Round Rock's adult fields have been equipped with an in-ground irrigation system, allowing crew members to attach a sprinkler head behind the pitcher's mound and water entire skinned infield surfaces while tending to other duties. "We could water everything every day, and that's really what needs to be done, but we don't have the manpower," Stoecklein says, adding that the adult fields typically get watered twice weekly, while the youth diamonds may go two weeks without water.
By contrast, game day at the college level and above may see three or four sprinklings spread out over several hours prior to the first pitch, perhaps scarifying the surface with a nail drag to encourage moisture penetration before making another pass with a screen drag.
The College of Wooster has installed an irrigation system on its varsity baseball diamond that can be programmed to irrigate the skinned portions of the infield between games of a doubleheader or even between innings, if dry conditions create too much dust. The goal is to produce a soil profile that allows moisture to saturate at least three inches deep, with about a quarter-inch of dry material at the surface. One way to retain moisture is by covering the infield, or at least the mound and plate areas, with tarps. "We cover them not to keep the rain off, but to keep the moisture in," says Fowler. "If clay in the mound and batter's boxes dries out, it can get as hard as concrete."
Success depends in large part on the infield mix, which may be a combination of sand and clay - or sand, clay and silt - and determining how much water is ideal for a given mix. "You don't want it too moist, where the players kick up mud, but you don't want it so firm that the ball takes a bad hop," says Marshall Jennings, sports field manager at Tulane University. "A rule of thumb is if a player steps on the infield dirt, his cleat will leave behind a perfect metal-spike imprint. It's not so hard that they can't dig down, and it's not so wet that mud comes up on their shoes. That's the consistency I look for."
Any profile mix can be amended, usually with the use of a rototiller, and the most popular amendment is calcined clay. However, groundskeepers advise not to overload an infield with clay at any one time, since it's easier to add more clay later than to thin out an existing clay concentration.


Limiting Maintenance
Some groundskeepers insist that the best way to limit the maintenance needs of your skinned areas is to eliminate them entirely. In foul territory, this can mean replacing dirt with synthetic turf in high-traffic areas such as coach's boxes and fungo circles, and in pathways leading from the dugout to home plate and around the batting practice cage (when in place). Others are satisfied to simply paint boxes and circles in the grass. If the grass begins to show excessive wear, resod it, they say.
Perhaps the most popular manifestation of this trend appears along the lines connecting home plate with first and third base on baseball diamonds. Grass baselines, proponents argue, eliminate the need to rake and re-mark these areas before every game, as well as the need to edge four stretches of grass line whenever grass or weeds begin to encroach upon the dirt in a traditional baseline. Not only does this save time, but it also spares groundskeepers having to replace the baseline chalk on a daily basis (a painted line typically lasts a week), as well as the infield material that gets shoveled up every time the previous day's chalk line is removed. Grass baselines may also help disguise poor infield grading by not allowing water to migrate toward and puddle in areas where dirt meets grass. Such a field configuration may appear to purists as a radical departure from the four-sided dirt diamond, but grass baselines in no way alter playability, according to their proponents.
One groundskeeper to buck the trend toward turf was Jennings, who last year removed his field's grass baselines with a sod cutter during a midseason travel day. Still, he recognizes both the pros and cons of turf in these high-traffic areas. "It was definitely low maintenance from a day-to-day standpoint, but the grass was just taking a pounding there from playing and practicing on it almost every day of the week," he says. "It was getting beat up by players coming out of the box toward first base and where they round third."
Another infield treatment that has come into vogue of late actually harkens to ballparks of a bygone era. Appearing on an increasing number of diamonds is a dirt path that connects the front of the pitcher's mound with the home plate area. Like grass baselines, this too has its supporters and detractors. Some say it makes practical sense from a wear standpoint, particularly at the youth level, where catchers often compensate for inaccurate throwing arms by walking toward their pitcher before returning the ball after every pitch. It can also come in handy on dual-purpose diamonds, where the shorter pitching distance in softball would otherwise place a softball pitcher on the grass in front of the baseball mound. Others say it's just one more skinned area to contend with, and one that gets in the way of mowing the infield grass.
The face of infields is changing, and so are the techniques used to properly maintain them. With every diamond and groundskeeper may come a different approach to groundskeeping. Time and resources vary from one competition level to the next, but as long as playing conditions are right and hops stay true, who's to say one technique trumps another? "There are three different agendas," says Floyd Perry, president of Orlando, Fla.-based Grounds Maintenance Services and a frequent speaker on the proper care of ball diamonds. "One is the Major League agenda. Those groundskeepers are the artists of their trade, but they have approximately one-eighth of an acre to play with. Then you have the agenda of the college or high school coach, again, with only one competition field. Then, of course, you have the park-and-rec employee who has 12 to 15 fields to tend to daily. You're looking at three different experts."