Enterprising parents and community groups are reacting to the ADA's shortcomings by creating truly inclusive park environments that appeal to children of all abilities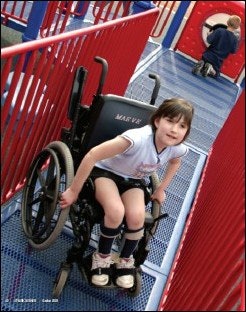 Between 1995 and 1997, Amy Jaffe Barzach and Catherine Curry-Williams - two strangers living across the country from each other - lost their young sons to a rare degenerative neuromuscular disease called spinal muscular atrophy. A few years earlier, in 1992, another mother, Shelley Kramm, watched helplessly as her 10-day-old daughter suffered (but survived) a disabling bilateral intracranial hemorrhage, requiring Hadley, now 11, to use a wheelchair.
As part of their healing journeys, these three women decided to honor their children and raise public awareness at the same time. They each created playgrounds in their local communities that are accessible to kids of all abilities. Commonly referred to as "inclusive playgrounds," these facilities often take on a castle, frontier village, spaceship, tree house or pirate theme and integrate ramps, play tables, molded bucket swings, low-level parallel bars, specialized rubber safety surfaces and other elements not found in all playground environments.
Most pieces of equipment are prefabricated components produced by a variety of manufacturers. The key to making the equipment effective for inclusive playgrounds is the way in which the components are arranged and incorporated with each other. They also allow parents with disabilities to participate in integrated play with their able-bodied children.
Named after the children who inspired them - Hadley's Playground in Potomac, Md., Jonathan's Dream in West Hartford, Conn., and Shane's Inspiration in Los Angeles - these facilities were at the forefront of a playground-design movement that goes beyond the minimum requirements of the Americans with Disabilities Act Accessibility Guidelines (ADAAG).
For Kramm, the impetus of what's become her lifelong mission as founder and president of Hadley's Park - one of three major nonprofit organizations that assist communities in creating inclusive playgrounds - was a first-time trip to a local playground she took with Hadley and her other daughter Sarah several years ago. Railroad ties used as a barrier for the mulch surfacing also served as a barrier for Hadley, and none of the playground equipment was accessible from her wheelchair. (Other common playground barriers include loose-fill surfacing and equipment overcrowding.) "I looked over at Hadley, and she was crying, because she wanted to play on the playground like her sister," Kramm says. "All kids should have the opportunity to play. I wanted to give that opportunity to Hadley and kids like her."
Like Kramm, Jaffe Barzach co-founded her own inclusive playground development organization and is now executive director of the National Center for Boundless Playgrounds ® , and Curry-Williams is founder and executive program director of Shane's Inspiration ™ . Yet the three women don't view themselves as competitors. "There are enough children who have nowhere to play in this country because of disabilities," Jaffe Barzach says. "I applaud any and all organizations that strive to change that. I would never use the word 'competition' - ever."
Research shows that a child's early years of creative play are critical to the development of his or her imagination, confidence and social interaction. "People tend to overlook the socialization aspect," says Gini Bayor, a sales associate for West Recreation Inc., a playground designer in Queenstown, Md. "Even if children can't participate in every activity - for example, a child in a wheelchair may not be able to use a climber - they can use other elements. You can't do a lot to a climber to make it accessible to a child who can't climb. But in an inclusive environment, that child can ride his or her wheelchair next to the climber and still interact with friends."
Despite humble and extremely personal beginnings - not to mention high construction costs that average in the whopping $150,000-to$350,000 range - Boundless Playgrounds, Hadley's Park and Shane's Inspiration have collectively been responsible for nearly 100 inclusive playgrounds built in the United States during the past six years. Numerous activist groups have also designed and built their own inclusive playgrounds without third-party assistance.
For primarily financial reasons, most park and recreation departments and school districts usually follow the minimum ADAAG guidelines for public playgrounds until a local group makes an effort to develop a more inclusive facility. As one municipal recreation director says, "Our industry is slow to change."
Still, playground contractors say change is in the air. "My business in this area will grow quite a bit each year over the next six to 10 years," predicts Greg Stone, president of Arbor Associates, a playground designer and installer based in Sterling, Va. "Right now, inclusive playgrounds are about 20 percent of what I do. Five years ago, I'd say they were 2 percent of my business. And there's still not that much knowledge out there about them."
Boundless Playgrounds, Hadley's Park and Shane's Inspiration are doing their best to share the knowledge. Jean Schappet, co-founder and creative director of Boundless Playgrounds, speaks about inclusive environments every summer at the National Program for Playground Safety School in Cedar Falls, Iowa. Officials of Shane's Inspiration helped convince Los Angeles city leaders to create 21 universally accessible playgrounds and got the state to pitch in $9.5 million. Kramm is touring the country with officials of one playground equipment manufacturer, speaking to the company's dealer network about the importance of accessibility and inclusivity.
But understanding how an inclusive playground works starts with learning about the ADAAG mandate regarding playgrounds. Instituted in November 2000 but slow to be enforced by the Department of Justice, the standards provide scoping requirements (which indicate what is to be accessible) and technical requirements (which explain how to achieve access).
ADA-compliant facilities incorporate additional ground-level play components - based on the number of elevated-play components in a given play area - that are located on accessible routes. There are exceptions, most notably one that reduces the number of required ground-level elements if at least 50 percent of elevated-play components are connected by wheelchair ramps.
In addition to (or sometimes instead of) ramps, transfer systems - which include a platform and a series of steps - allow children who use wheelchairs and other mobility devices to move onto the platform, lift themselves up or down the steps and scoot along the decks to access elevated play components.
That, according to proponents of inclusive playgrounds, is one of the ADAAG's shortcomings. "The ADA says, 'Do this, this, this and this, and you'll have an accessible playground.' Well, that's not exactly true," says Ron Derk, director of sales and marketing for playground equipment manufacturer Playworld Systems Inc.
Even though the percentage of all children in wheelchairs is small - some estimates hover around 2 percent - most of those kids are unable to leave their chair, which means they're unable to use transfer systems. "If a facility doesn't allow a child to get to the highest play deck and be in the middle of fun in his or her wheelchair or walker, that playground is missing the mark," says Jaffe Barzach.
Design sessions for inclusive playgrounds almost always include input from area children of all abilities. "We ask able-bodied children, 'If your friend was in a wheelchair, how would you make a playground so he or she could play with you?' " says Danielle Milo, development director for Hadley's Park. (Boundless Playgrounds has even gone so far as to give these brainstorming sessions an official, copyrighted name: Dreaming and Design Parties © .)
Sometimes, changes in design plans come about because of such sessions. For example, an inclusive playground in Texas includes more tube slides than developers initially planned because one girl in a wheelchair thought they looked more appealing to all kids than the slides the design committee proposed buying. "The main thing these kids want is to be able to play together with other kids," says Patty Vannoy, a national director of the civic organization AMBUCS ™ , which opened the $500,000, 16,850square-foot AMBUCS HUB City Playground in Lubbock, Texas, in April. "They don't want separate equipment for them. They want to be treated like everybody else."
In a typical inclusive playground, about 70 to 80 percent of all equipment is accessible by children and adults of all abilities. That's plenty, says Steve King, chairman of both playground equipment manufacturer Landscape Structures Inc. and an ASTM International task force charged with helping develop the ADAAG standards for play areas. "You'll never find a kid who can use 100 percent of equipment on a playground, even if he or she is able-bodied," King says.
Nor would you want to, adds Jaffe Barzach. "The reason we don't want 100 percent of the equipment to be accessible is that kids without disabilities need rigor and challenge," she says.
Many traditional playground pieces can be used for children with mobility difficulties. Enclosed tube slides, for example, appeal to users with balance troubles. But often overlooked when planning inclusive playgrounds are children with disabilities who don't require a wheelchair or other mobility aid. A sight-impaired child can enjoy the sensory-rich activities an elevated sand table provides just as much as a child in a wheelchair (or an able-bodied child). Talk tubes at wheelchair level and single- and double-sided activity panels with steering wheels, ball mazes, movable blocks and spinning elements also provide sensory activities from standing or sitting positions while encouraging social interaction.
Even more effective are half panels, a newer design element that allows children with mobility challenges to position their wheelchairs or walkers underneath the panels without bumping into them.
Other new designs - including one that performs like a porch-swing glider and accommodates 10 or 12 people (including two wheelchairs) and climbing units with enclosed footholds to assist children with depth-perception problems - often stem from manufacturers' past involvement in inclusive playground projects. Another recent development is the advent of balconies with guardrails on elevated play structures, which allow kids in wheelchairs to use activity panels on an elevated level.
This month, one manufacturer is introducing a series of plastic-molded bongo drums, heavy aluminum bells and chimes to enhance the auditory experience on playgrounds. All pieces can be mounted to activity panels or in the ground, making them accessible to everyone.
"We asked ourselves, without totally reinventing the wheel, what were some of the improvements we could do to make our equipment more inclusive," says John Hansen, director of regional sales and business development for playground equipment maker BCI Burke Company. "The U.S. Consumer Product Safety Commission guidelines were determined by what caused playground injuries and studies about how to prevent them. It's the same thing with inclusivity. There are newer and better ways to tweak, design and modify things now."
Despite the plethora of equipment available and the number of pieces an inclusive playground requires, the single most expensive element of such a facility is surfacing, often costing up to four times as much as surfacing for a traditional playground. An inclusive playground, because of its wider spacing requirements between equipment and the need for ramps, has a much larger footprint than traditional playgrounds. Plus, there are a limited number of surface options.
The most common surfaces are poured-in-place recycled rubber, recycled rubber tiles and engineered hardwood and softwood fibers. These fibers, longer and thinner than wood chips, are knitted together to create a stabilized surface in which "you can barely stick a pitchfork," says Don West, owner and president of West Recreation. The difference in cost of the fibers compared to standard wood chips is nominal, he adds. "If you've got the money to buy a good chip, you've got the money to buy engineered wood fibers."
Recycled shredded rubber also has a stabilizing effect on wheelchairs, walkers, leg braces and crutches similar to engineered wood fibers but costs a lot more. Standard wood chips, mulch, pea gravel and other traditional loose-fill playground surfaces do not pass ASTM International's accessibility test and are not recommended for inclusive playgrounds.
Says King, referring both to the increased surfacing costs and the added risk of long-bone fractures from falling on a surface mass such as poured-in-place rubber, "You give up some things when you want accessibility."
Our Children's Place, an inclusive playground that occupies 15,000 square feet in the middle of Newington, Conn.'s Mill Pond Park, appears to have given up very little. In fact, less than a year after Our Children's Place opened at a cost of $250,000, local officials are already talking about expanding the facility with a spray park, a sensory garden and other activity areas. "The heart of it is done, but we're looking at it like it's never going to be completely done," says Bob Stanley, superintendent of Newington's Parks & Recreation Department.
Stanley calls the two-and-a-half-year project a "very eye-opening experience." He adds, "Whenever I purchased a piece of playground equipment, it was ADA-compliant. I thought I was doing the right thing. We liked to think we served everybody in the community, but we weren't thinking about disabled children using our playgrounds because they weren't there. And they weren't there because they couldn't participate."
Built with the assistance of Boundless Playgrounds, four mothers of children with special needs and a physical therapist from the local school district who, as Stanley says, "knew what these kids could and couldn't do more than their mothers did," Our Children's Place received two state grants totaling $100,000. It also got $50,000 from the town government, $30,000 from a local bank and the rest via various grassroots fund-raising methods.
"If this movement is going to gain, it's going to gain slowly," King says. "Cities need to find new funding mechanisms. Some have found it in Shane's Inspiration, Boundless Playgrounds and Hadley's Park. But those organizations can only build so many playgrounds a year."
The way Kramm came up with $1 million for the first Hadley's Park is a study in fund-raising finesse. Within 16 months, she secured $350,000 from the Maryland Legislature, $150,000 from Montgomery County and $500,000 via grants and contributions from local individuals and businesses.
Montgomery County, Md., recreation officials also provided most of the money for four Hadley's Park installations at local elementary schools in 2001 because the school district could not afford to pay the entire sum. Additional funding sources for the small playgrounds, which averaged about $40,000 each, came from Parent-Teacher Associations and the district.
In Florida, a new initiative between Boundless Playgrounds and Gov. Jeb Bush is expected to create 50 inclusive playgrounds within the next three years. A funding mechanism to help disadvantaged communities pay for new facilities is slated to be part of that program.
Civic groups such as Lions, Rotary and Kiwanis clubs, as well as such specialized national organizations as AMBUCS (whose mission is to create independence for people with disabilities) are also valuable funding resources. Local parents and physical therapists approached the three AMBUCS chapters in Lubbock, wanting to build an inclusive playground but in need of financial support. HUB City Playground - the acronym, by the way, stands for "Helping Undo Barriers" - replaced a dilapidated playground located in Maxey Park and sits adjacent to a hospital that uses the playground for physical therapy sessions. As many as 200 children have been spotted playing at the park at any given time.
"We couldn't wait to get involved," Vannoy says. "We went to the city and said, 'We know you don't have the money, so give us the land. Work with us and we'll raise the money.' " Within nine months, AMBUCS garnered $500,000 through various avenues, including $10,000 donations each from a local grocery store owner and Texas Tech University Lady Raiders head basketball coach Marsha Sharp. "Getting those two people on board gave the project the credibility it needed," Vannoy says.
Other proven moneymakers include sponsoring silent auctions (one private school brought in $65,000 that way), selling personalized bricks and fence posts, and throwing community pizza and bowling parties. "It takes some aggressiveness," says one municipal official. "You have to sell it to the community."
"This is not just exclusive to wealthy communities," Hansen says. "When parents really want to do something for their children, they figure out how to make it happen."
And when it happens - sentimental as it sounds - the payoff can be priceless. Stanley still gets a little choked up remembering his experience building Our Children's Place. "When we cut the ribbon and we saw some of those kids go into the playground in wheelchairs and using walkers, it was really quite a moment," he says. "That project became one of the more gratifying things I've ever done."