A prudent maintenance program can extend the life of synthetic outdoor tracks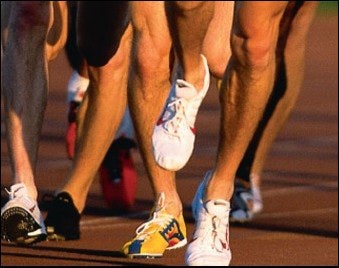 From the perspective of the average spectator, nothing - not even intense heat or steep inclines - seems to deter well trained distance runners. But not all is as it seems, as behind this aura of indefatigability are individuals who privately bear the aches and pains of their efforts, whether that pain manifests itself as shin splints, patellar tendonitis or any one of a host of common runner's ailments.
The surfaces upon which many distance runners tread, synthetic outdoor tracks, must also deal with the effects of daily wear and tear. These surfaces are particularly vulnerable facility components given their exposure to the elements, of which water is the single most destructive, natural or otherwise. Or as Ron Nemeth of outdoor sports surface manufacturer Conica Technik AG puts it: "Water is a pest."
"Water, especially standing water, is one of the greatest nemeses of outdoor tracks," adds Robert Werner, track division president of the United States Tennis Court and Track Builders Association (USTC&TBA) and president of Sportsline Inc., a Villanova, Pa.-based track and tennis court builder. "It causes material to break down and bubbles to surface."
What's worse, industry experts agree that such damage is inevitable. Nevertheless, a commonsense approach to maintenance can mitigate the ruinous capabilities of water and other stressors, extending the lives of outdoor tracks significantly. "Day-in and day-out maintenance - it's so simple, yet extremely important," says Nemeth, who also serves on the USTC&TBA board of directors. "The biggest salesman will tell you your track is maintenance-free. No track is maintenance-free."
Maintenance of an outdoor track can vary depending on the type of surface being maintained. Most tracks feature either polyurethane or latex surfaces constructed atop asphalt or concrete bases.
In most cases, facility operators will find themselves repairing cracks, nicks and other worn areas on a track surface with some sort of urethane or latex patching compound or caulk. Facility operators shouldn't find these materials intimidating - professional-looking patchwork can be easily accomplished by most laypeople.
This can be done by first removing the track surface immediately adjacent to the crack. Track manufacturers insist that consistent use of square or rectangular cuts (if the patch is being applied to an area between lane lines, use those stripes as guides) results in a better-looking surface than one peppered with an assortment of oddshaped patches.
After troweling the patching compound into the affected area, facility operators should screed, or level, the patch with a straightedge. By not carrying out this step, a facility operator puts at risk anyone who later runs on the track. Several years after completing a track for one client, Nemeth returned to the project site and was alarmed to find unscreeded patchwork. "I was being a little nosy and noticed patches, mounds ranging from a quarter- to a half-inch high," he recalls. "It was an accident waiting to happen."
Unfortunately, patches - even those properly applied - are rarely aesthetically pleasing. Plus, patches are only temporary fixes and no facility operator should be misled into believing they aren't. Seasonal fluctuations in temperature and moisture levels often cause cracks that have been patched to later reappear. Yet sometimes a patch can last several years, and new patching compounds are packaged with rubber granules that can be stuffed into a crack to provide added structural integrity.
Generally, compounds are specially formulated for each kind of synthetic surface. There are four basic types of polyurethane track surfaces: base mat, base mat structural spray, base mat/sandwich and full-pour. The base-mat and base-mat structural spray surfaces are both permeable, allowing moisture to pass through and drain out the sides of the track. Both systems consist of a homogenous, paved-in-place (or machine-applied) layer of colored EPDM (ethylene propylene diene monomer) or black SBR (styrene butadiene rubber) granules blended with polyurethane binders. What separates the structural spray system from the base-mat surface is a spray-applied polyurethane/rubber coating that provides a textured finish (a base-mat surface is smooth).
The base-mat/sandwich system is likewise multilayered. The system features a homogenous, paved-in-place base layer of SBR granules and polyurethane binders. The base layer is then sealed with a massive application of polyurethane coating into which colored EPDM granules are broadcast or encapsulated, making the system impermeable.
Full-pour polyurethane systems, which consist of multiple layers of polyurethane coating and SBR or EPDM rubber, are also textured and impermeable.
Latex track systems come in four choices: black mat, colored binder, color sandwich or full-depth color. A black mat system is composed of black SBR or black EPDM rubber particles bound by SBR or latex or an approved alternative water-based resin. The surface coating is a highly pigmented black SBR or acrylic latex.
Colored binder and color sandwich systems are similar in that they both consist of black SBR or black EPDM rubber particles bound by pigmented latex and are coated with a highly pigmented, UV-resistant coating. However, color sandwich surfaces feature an additional wear layer of non-black EPDM granules and pigmented SBR latex binder.
Full-depth color systems are used in high-traffic areas in conjunction with either the color sandwich or the colored binder surfaces, and consist of non-black EPDM granules bound by pigmented SBR latex. A full-color depth surface also features a highly pigmented, UV-resistant coating.
Because UV protectants are formulated in a variety of binder types, including SBR, acrylic latex and polyurethane, care should always be made to ensure compatibility with the original surface.
There are differing opinions among outdoor sports surface experts as to the durability of UV-resistant coatings. Some manufacturers suggest that facility operators can expect them to last five or six years. Others say UV-resistant coatings will protect a surface for seven to 10 years.
Manufacturers do agree that while the application of UV-resistant coatings is a job best handled by outdoor sports surface professionals, a facility operator can do his or her part by making sure the contractor offers protection against UV degradation. This won't be as critical for facilities located in the oft-overcast Pacific Northwest as it will be for tracks in the nation's sunbelt. "Tracks become more brittle with more exposure to UV rays," says Art Tucker, vice president of outdoor sports surface manufacturer California Products Corporation. "The farther south you go, you'll see a lot of tracks that get a little chalky or yellowish, neither of which is a good thing."
But even tracks in northern climes must deal with the everyday stresses of foot traffic, most obviously from spring track meets and practices. In many track races - or at least those longer than 200 meters - runners merge to the inside lanes, so facility operators can expect these areas of the track to experience the most wear, regardless of the surface type. The same is true for starting-block areas.
Tracks positioned directly in front of grandstands get an added workout during fall football season, when cheerleaders and marching band members are likely to traverse these areas. Also withstanding a great deal of use are those areas near gates where teams and emergency vehicles enter and exit the stadium. For this reason, it's recommended that facility owners designate a regular crossing place and cover this path with a woven mat to allow moisture vapor to pass through (plastic and canvas coverings will trap the moisture). It's also important to remember to roll up the mats at the end of the season to prevent mildew growth.
The onset of spring gives facility operators their first opportunity of the year to roll lawnmowers out of the storage sheds and onto the sports field. Poor groundskeeping - more precisely, careless mowing along a track's interior and perimeter edges - can be a major contributor to its degradation. Mower blades can cut into a track surface, and although initially these cuts may seem insignificant, they can quickly develop into troublesome cracks. In addition, grass clippings that aren't caught by a mower deck but are instead thrown onto a track can get ground into the surface and break the bonds of its material. To prevent such damage, manufacturers advise groundskeepers to make two perimeter passes, so that the mower blows clippings away from the track. This also creates a turning area for the mower, so groundskeepers don't have to keep coming all the way to the edge of the track.
An alternative to such a buffer zone, albeit more time-consuming, is the use of an edge trimmer at the track's perimeter. This gives the turf a neat-looking border while still leaving the track surface free of nicks.
Yet another recommendation is to ensure during field construction that any sod laid adjacent to the track is kept at least 6 inches away from the track's interior and exterior edges. "Vegetation will creep in on any side," says Tucker. "The owner has a responsibility to keep grass from the track edge. It will destroy the asphalt by creeping in."
Fewer chips along a track's edge means cracks are less likely to form and weeds less likely to intrude into its surface. However, if they do, outdoor sports surface experts recommend carefully pulling out the weeds (so as not to dislodge surface material) and then spraying the affected area with an environmentally friendly weed killer. Sometimes, such products contain petroleum solutions that can permanently stain colored track surfaces, so it's important to use a narrow spray when applying. In that vein, groundskeepers should also monitor their spray range when applying fertilizers to adjacent sports fields.
Care should also be taken when watering the fields. Automatic sprinkler systems are often responsible for introducing standing water to synthetic track surfaces. To facilitate proper drainage, most surfaces are designed to slope toward the interior. Generally, some type of subsurface drainage system will run along a track's inside perimeter, capture runoff water from the track and infield, and drain it to off-site detention basins.
But water movement is slower in permeable track systems, and although some water evaporates from these surfaces, most of it will migrate through the sides of the track. Proper slope and planarity, then, are among a track's most critical elements.
Before laying down a synthetic track surface, contractors are supposed to make sure that the slope of the asphalt or concrete base deviates no more than 1 / 8 -inch per 10 feet in any direction. If the surface is allowed to slope any more than this, the track is at great risk of developing future drainage problems, including birdbaths. "A birdbath is basically a sponge right in the middle of your track," says Nemeth.
Patching can make birdbaths disappear from a track surface, but occasionally the problem goes deeper than the top layers of synthetic material. If ignored, a poorly constructed asphalt or concrete base can wreak serious havoc on an outdoor track. For example, concrete bases that aren't allowed to fully cure (the USTC&TBA recommends a 28-day curing period under normal weather conditions, although colder temperatures require longer curing times) are much more likely to accumulate water vapor.
Perhaps the aforementioned situation doesn't apply and the track base was constructed properly - 30 years ago. If an asphalt or concrete base has been in use for that many years, it's likely to be deteriorated in more than just a few spots. At that point, it's best to have a surface contractor strip the old base material and start anew.
The good news for facility operators is that gradual advances in track construction methods are helping to extend the life expectancy of these surfaces. For example, modern polyurethane track surfaces are being paved in shorter, track-width sections that, according to some manufacturers, often measure about 300 feet in length. These newer surfaces feature multiple joints, as opposed to the single code joint of older track surfaces (essentially one-piece surfaces), and are less susceptible to flexing and cracking due to temperature or moisture-level changes.
According to Sportsline's Werner, a well-maintained synthetic track can go as long as 15 years before needing to be resurfaced. But that requires facility operators to take a hands-on role in maintaining their all-weather surfaces. To keep dust from cutting the bonds of the surface material, manufacturers recommend power blowing the track three or four times a year and power washing it once annually.
This is especially important for field event areas such as the long-jump runway and pit, where sand commonly migrates onto the synthetic surface. Werner suggests that facility operators remember to examine these areas, too, during their fall inspection. "The track season officially starts in February," he says. "But it's a lot harder to do repairs on a track that's under ice."
Nemeth agrees that it's wise to handle necessary repairs at the earliest opportunity possible. "Little things like tears and cuts should be fixed right away. With anything more serious you should contact a contractor," he says. "You'll always have maintenance to do. The biggest thing is taking the time to do it."