Players and Ph.D.s alike have taken shots at the projectiles used in professional basketball, football and baseball.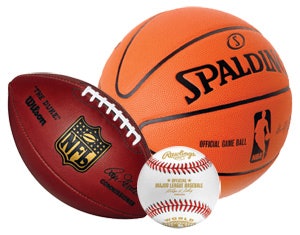 The past several months have brought an open season on game balls. Specifically, players and Ph.D.s alike have taken shots at the projectiles used in professional basketball, football and baseball.
The most visible controversy involved the NBA, where in August players were introduced to the league's first new game ball in 35 years. Not only was the ball made entirely of synthetic materials, it featured a new, interlocking-X pattern instead of the traditional eight leather panels. The ball, manufactured by longtime NBA supplier Spalding, faced immediate fire as both too tacky, and thus bouncing oddly off the floor and backboard, and too slippery once moistened with sweat. "Feels like one of those cheap balls that you buy at the toy store," sniffed the Miami Heat's Shaquille O'Neal in early October. Still, NBA commissioner David Stern vowed later that month to stick with the ball, then performed a 180 only six weeks later. By Jan. 1, the league had re-embraced leather.
Less noticeable to the naked eye was what transpired this past season in the NFL. The naming of Roger Goodell as league commissioner in August rendered obsolete scores of Wilson-manufactured footballs bearing Paul Tagliabue's signature. This forced Wilson - which typically produces thousands of balls before hand-picking and shipping to each team a season's supply of 720 balls it deems NFL-worthy - to call an audible, sending teams a dozen or so balls week-to-week without sufficient time or resources to be highly selective. Compounding matters was a late-summer heat wave in Ohio, home to the only dedicated football factory in the world, which wreaked humidity-induced havoc on the leather curing process. The result was the production of balls whose pebble-grain hides lacked sufficient definition and thus exhibited inhibited grip. At least that was the perception among team equipment managers and players, including Philadelphia Eagles quarterback Jeff Garcia. "I've talked to other quarterbacks around the league and they feel the same way," Garcia told Paul Domowitch of the Philadelphia Daily News in December. "In the past, the balls would get better with age. These get worse."
Some have argued that balls used by Major League Baseball have gotten livelier over the years, and in January a team of scientists said they could prove it. As reported by the Associated Press, the ball representing the 70th home run hit by the St. Louis Cardinals' Mark McGwire during the 1998 season was subjected to computer image testing and found to exhibit a larger rubberized core than balls manufactured by Rawlings in previous years (a sample of roughly 35 balls was tested). In addition, the core of the McGwire ball is surrounded by a synthetic rubber ring that acts as both a spring and a stop, according to David Zavagno, president of Cleveland-based Universal Medical Systems Inc., where the tests were conducted with help from quantitative imaging experts from Penn State University. Said Zavagno, "Much like a slingshot pulled back 10 or 20 degrees farther than normal, the subsequent restitution or rebound allows an object to fly faster and farther." Rawlings insists that the ball comports with MLB specifications.
In the end, NBA players got their way, NFL season statistics didn't suffer, and McGwire was passed over for MLB Hall of Fame induction mere days after the UMS imaging analysis went public. The big winners, though, were high schools on the receiving end of 5,000 free Tagliabue-signed footballs. And with that, perhaps it can be said that the quality of football at the high school level exceeded that of the pros for the first time in history.