A Hawaii parks department struggles to reclaim its beaches from illegal campers.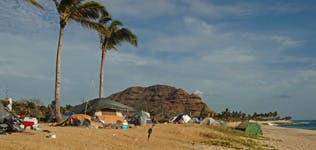 The Wai'anae Coast, along the leeward shore of Oahu, has long offered those without a home a place of refuge.
More than 200 years ago, after sweeping through the Hawaiian Islands, King Kamehameha the Great banished his displaced enemies to the dry and rugged Wai'anae Coast, which is separated from modern-day Honolulu and other points east by an imposing mountain range. Today, beach parks along the 16-mile-long coast are offering safe haven to as many as 1,000 Hawaiians who find themselves homeless, despite the state's booming economy.
As a recent flood of media stories has drawn local and national attention to Wai'anae's homeless crunch - in December, The New York Times described the crisis as "pervasive," while other news outlets have heralded a pending "park sweep" - the Honolulu Parks and Recreation Department, which maintains the beach parks, has found itself with an unenviable dual responsibility. While the department has been charged with cleaning and improving the parks so that they can be reclaimed for general public use, it must also be sensitive to the individuals encamped in tents there, many of whom are working families struggling to make ends meet.
"First of all, we don't like to use the word 'sweep.' It's a philosophical thing," says Honolulu parks director Lester Chang. "The challenge has been what we call illegal campers, or residential campers, in areas designated for recreational camping. In Hawaii, we have the nice climate and the beaches are where people like to gravitate. There are a lot of people who say, 'You have to do something.' And then there are a lot of people who say, 'You heartless person, you're kicking them out and they have nowhere to go.' It has been tough for us."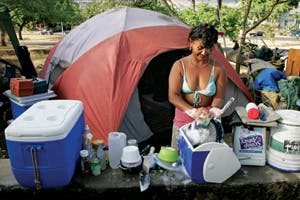 An uncomfortable and often controversial topic, the issue of homeless encampments in public parks nevertheless vexes recreation administrators in cities of all sizes. Over the years, they have employed various strategies in efforts to discourage homeless individuals from making public parks their home - from ordinances prohibiting overnight use to increased police patrols to the removal of park benches and other fixtures commonly used for shelter.
On the Wai'anae Coast, Chang has chosen to directly address the issue while treating illegal campers with respect. When the parks department has needed to close a beach park for extended construction or renovation projects, it has partnered with the Honolulu Police Department to help alert campers of impending work, and the need for them to temporarily relocate. "We go through a closure procedure where we give them notification 30 days out," says Chang, who concedes that during some closures, illegal campers simply relocate from one park to the next. "That's why we can't do all the parks at one time. As more alternative housing or shelters are made available, we can move people out. But if we just move them out, there's no place for them to go."
Typically, government officials prefer to evict squatters from public parks, but in recent years they also have made efforts to help connect homeless individuals with housing and essential social services. (Eighty-four percent of respondents to a January Athletic Business online poll agreed with these tactics.)
That was the approach used last fall by officials with the San Francisco Recreation and Park Department, which did not respond to AB's repeated interview requests. Resident complaints about safety and trash in the city's landmark Golden Gate Park are nothing new. But in September, Mayor Gavin Newsom announced a 90-day campaign to remove homeless encampments from the 1,017-acre park, while providing services for an estimated 200 people living in San Francisco's largest greenspace.
According to The San Francisco Examiner, by November employees from the Public Health, Public Works, and Recreation and Park departments had torn down 380 homeless encampments, removing a ton of garbage a day from Golden Gate Park in the process. By the initiative's end in mid-January, the city had cleared the park of encampments and placed 111 people in permanent shelters.
But housing homeless people only solves part of the puzzle. The United States Interagency Council on Homelessness - a collaborative of federal agencies including Housing and Urban Development, Health and Human Services, and Veterans Affairs - has found that 10 percent of homeless individuals are chronically homeless, defined as adults whose addictions, mental health problems or disabilities have kept them on the street for at least a year or put them there at least four times within three years.
That said, Yomi Agunbiade, general manager of San Francisco's Recreation and Park Department, told the Examiner that the park cleanup's success would have been impossible if relevant social services weren't available to the park evictees. "Our goal was not to kick them out but to really make sure they had the opportunity to accept the help," he said.
Back in Hawaii, such help is on the way, thanks to a $2 million community benefits package Honolulu mayor Mufi Hannemann made available to the Wai'anae Coast in January (the entire island of Oahu is governed by a combined city-county government, based in Honolulu). About half of the grant money is being divided among 19 nonprofit groups that serve children, veterans and the homeless.
U.S. Vets, a nonprofit organization serving homeless veterans and the recipient of a $37,500 grant, was recently named the operator of the Wai'anae area's first around-the-clock emergency homeless shelter. The new shelter, which opened March 1, will house up to 300 people. Meanwhile, nearly $300,000 went toward upgrading and renovating three existing shelters, including a 16-bed transitional shelter, a 71-unit residential and supportive services center, and a 15-bed residential community for people with disabilities.
Although the state plans to build shelters at eight more sites along the Wai'anae Coast, it's widely recognized that in the long term more affordable housing also will need to be constructed. A number of the families camping in tents on Wai'anae beach parks - families in which many parents work service- or construction-sector jobs and the children attend public schools - have cited steep housing prices as the main cause of their homelessness. The region's population is among the state's poorest (22 percent of people are living below the federal poverty line), but over the past five years average prices for previously owned homes has jumped 171 percent, condo prices 210 percent and rents 86 percent.
According to the governor's office, about 1,200 affordable rental apartments are under development and slated for completion by 2009. That date couldn't come soon enough for Chang. Although his department is receiving $1.3 million in grants for beach parks construction projects, that work won't be completed until all park evictees are permanently housed.
Chang is confident the island will come up with permanent solutions, if only because a variety of government agencies, social service organizations and community members have come together to creatively and patiently address the homeless crisis on Wai'anae's beach parks. "The easiest part is cleaning up the park," he says. "But because all these other things are involved, you have to get as many people as you can to look at this - and sometimes there are no easy answers."