Although Hurricane Katrina significantly altered the landscape of New Orleans' City Park, here and there are signs of rebirth.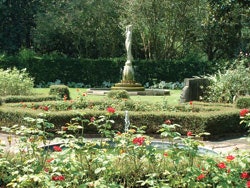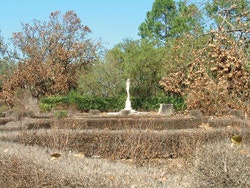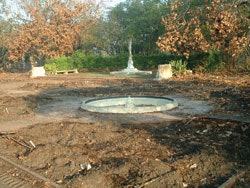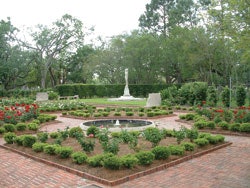 GARDEN STATESTwo weeks of saltwater flooding completely destroyed vegetation in City Park's 13-acre botanical garden - including plants in the Lord and Taylor Rose Garden, shown here (from the top) before Katrina, immediately after the storm, during cleanup and, finally, after replanting.
After Hurricane Katrina had rendered the Louisiana Superdome unusable, much energy (and nearly $200 million in federal, state and local funds) were thrown into the reconstruction of the famous stadium (see p. 134). Readying one of the country's busiest spectator facilities for the 2006 NFL season kickoff in a mere eight months' time was widely considered a testament to the talent, skill and sheer willpower of numerous stakeholders and design, engineering and construction professionals.
New Orleans City Park chief executive officer Bob Becker understands and supports the decision to give the Superdome's reconstruction first priority. But it would be easy for him to feel resentful, given the comparably sluggish effort to restore City Park, a landmark in its own right. After all, just as the Superdome was reopening last fall, the Federal Emergency Management Agency team handling City Park's recovery was being fired. "We were initially assigned some folks from FEMA who, frankly, did not do a very good job," says Becker. "They had never dealt with anything of this magnitude and they didn't have experienced people who could interpret the laws well. So the writing of the damage claims went really slowly and was poorly done."
At 1,300 acres, City Park is the sixth-largest and, with 11 million annual visits, the seventh-most-popular urban park in the United States. Among its many features are New Orleans' only amusement park, which boasts a roller coaster and an antique wooden carousel; a children's fairy tale theme park; a 33-acre arboretum; a 13-acre botanical garden; the New Orleans Museum of Art; a sculpture garden; 11 miles of lagoons and lakes; an equestrian center; two stadiums, one of which has hosted U.S. Olympic track and field trials; and three 18-hole golf courses, including the former home of a PGA tournament.
But category 3 hurricane-force winds and subsequent flooding dealt extensive damage to most of those amenities. For weeks, 90 percent of the park - including all three golf courses - was swamped in floodwaters one to eight feet deep. Nearly 2,000 trees, including some mature live oaks estimated to be as old as 800 years, were destroyed. One hundred twenty-two buildings suffered damage. Virtually every park-owned vehicle and piece of equipment - including tractors, end-loaders, golf carts and a small fleet of paddle boats - were either lost or battered beyond repair. Also waterlogged were City Park's archives, records and computers.
According to an official park report issued in February, City Park sustained $43 million in damage - an especially crippling loss, considering that City Park historically has relied on little public support. Only $200,000 of the park's $10.8 million pre-Katrina annual operations budget came from the state of Louisiana (despite its location and name, City Park is operated as an agency of the Louisiana Department of Culture, Recreation and Tourism; the city of New Orleans doesn't contribute any tax revenue). The lion's share of City Park's revenue was self-generated through donations and user fees.
However, there are signs of recovery. In the storm's immediate aftermath, the state gave City Park $1.2 million in emergency operating funds and has included another $2 million in this fiscal year's executive budget. More than $10 million in improvements have been made possible through fund-raisers and donations. And last September, City Park was assigned a new, more competent FEMA team. "It has been more of a team effort. We actually gave them space here in the park where they can work," says Becker. "As a result, our amusement park buildings are now under repair, and we just received a $4 million bid to repair 49 other buildings in the park. FEMA is paying 90 percent of that. The speed of recovery has definitely picked up."
Combined, this aid has allowed the park to reopen some of its more popular, revenue-generating facilities, including the museum, sculpture garden, botanical garden and children's theme park. Twenty-one of 31 courts at the City Park Tennis Center, one of the South's largest municipal facilities, have returned to service (the other 10 have been closed permanently). The Sugar Bowl Committee and New Orleans Saints star Reggie Bush have stepped in to support restoration of concessions stands, rest rooms and locker facilities at the park's two stadiums - which host many area high school football games (day games only, until the stadiums' electrical systems are repaired). The amusement park is back in business, too - although its antique cars are gone due to rust and the park's signature 101-year-old carousel remains closed, at least until mold in the carousel building's rafters is removed.
The park's 100-tee driving range has been open for a year, yet the weed-covered golf courses remain closed, depriving City Park of 25 percent of its annual revenue. And its workforce has been greatly diminished. As of late April, the park employed only 100 part-time and full-time workers, down from a pre-Katrina staff of 260 employees. In their absence, more than 1,000 volunteers have cleared trash and debris from the park and handled myriad other tedious chores, such as repainting the amusement park's black wrought-iron fence.
Although pleased with the momentum, Becker is hesitant to set a rigid timetable for City Park's full recovery - or to even offer a definition for that loaded term. "It would be very hard to say, 'We'll be back in five years,' because what do you mean by 'back'? What is 'back'?"
Becker does concede one dream: to have City Park looking good for the city of New Orleans' 300th anniversary celebration in 2018. "Before the storm, we had done a new master plan and were trying to raise money to completely renovate the park by 2018," he says. "Our goal has always been to have a first-class, well-maintained park so that we could say to the citizens of this city, 'Here's a great anniversary present for you.' We're 11 years from that date, we've had a lot of damage from the storm and that certainly was a big setback. But it's providing us an opportunity to make things better. We've tried to seize that opportunity."