High school administrators use a variety of funding approaches to seed synthetic turf projects.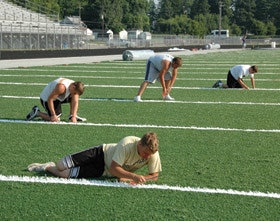 Back in 2004, when Buncombe County Schools officials in Asheville, N.C., sat down with the district's six high school athletic directors to discuss facility improvements, they couldn't believe what they heard.
"One of those athletic directors had the guts to speak up and say, 'We want synthetic turf,' " says Marshall Roberts, the district's director of facility services, still sounding incredulous. "I'll never forget this: The superintendent looked at him, laughed and said, 'Yeah, as soon as we build you that ice hockey arena.' We equated synthetic turf to a collegiate type of environment, and we just weren't accustomed to discussing that kind of luxury for high schools. But after studying the issue, we realized there was a lot of validity to that athletic director's request."
So much validity, in fact, that Buncombe County Schools decided to take advantage of an alternative public-funding mechanism in North Carolina called certificates of participation (COPs) and installed synthetic turf on all six high school football fields. (Asheville City Schools, which isn't part of the district but is located in the county seat, got in on the arrangement, too, and added turf at Asheville High School.) Four of those fields were ready for action in 2005, with the remaining three completed last fall - each at a cost of $580,000, or more than $4 million total.
COPs are tax-exempt government securities used to raise funds for improving and constructing facilities or purchasing equipment; the government entity in question puts up its land or buildings as collateral. "Put in simple terms, we took a second mortgage out on some of our school facilities," Roberts says. Unlike a bond referendum, which requires a public vote, COPs do not require taxpayer approval - only the blessing of the governing bodies involved. In Buncombe County's case, that meant two boards of education, the Asheville City Council and the county's board of commissioners.
At least a dozen states have passed legislation enabling the use of COPs, and Roberts predicts more school districts will turn to them when funding future capital improvements. After all, without COPs - which also are paying for new field houses and stadium expansions at some Buncombe County high schools - those seven fields likely would never have been installed.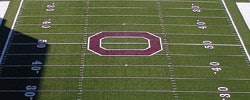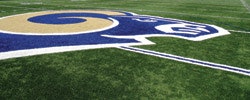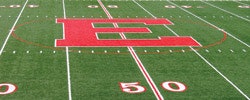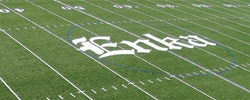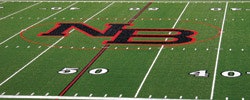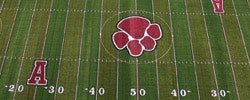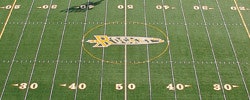 LUCKY SEVENA tax-exempt public-funding mechanism in Buncombe County, N.C., led to the installation of synthetic turf fields at seven high schools in two years.
The ways in which synthetic turf fields are funded these days are clearly evolving. Up until recently, school administrators relied mostly upon referendums to fund improvements to both academic and athletic facilities. But in an era when districts operate under significant financial strain to simply meet demand for teachers, classrooms and even books, asking voters to financially support an expensive new field isn't as easy as it used to be. That's where COPs come in - or, more commonly, private, nonprofit fund-raising organizations that are linked to schools but created as entities separate from existing booster clubs. Their sole task? To raise money to pay for a given facility.
"Here's the way I look at it: The money is not coming out of taxpayers' pockets; it's from people who are choosing to donate funds for a particular project," says Mike Fink, athletic director and head football coach at Kettle Moraine High School in Wales, Wis., who also sits on the Kettle Moraine Field Project Committee. The group hopes to raise enough money to install a $390,000 synthetic turf field in time for the 2007 football season. "Yeah, there are some cuts being made elsewhere in the district. But on the other hand, if people are willing to donate their money to a given project, I believe that's their right. I don't view this as any different than fund-raisers we run through the booster club."
"It's a very delicate issue, because we have other construction needs," adds Vic Raskovsky, business manager for the Beaver (Pa.) Area School District, which used available bond money - not private donations - to pay for $675,000 worth of synthetic turf and other athletic facility enhancements at Beaver Area Middle School/High School in 2004. "For turf to summarily be made a priority caused some hard feelings with a whole bunch of people. In fact, I was opposed to it at the beginning. After examining it and thinking about it, I concluded that synthetic turf is a worthy addition. But where it fits into the priorities of a public school is a matter for school boards to decide."
More school boards seem to be deciding that a synthetic turf field - which provides year-round usage capabilities and reduced maintenance responsibilities - is worth the time and effort required to pay for it. A full-size, 60,000-square-foot field typically costs between $500,000 and $800,000 to install.
"There has been a significant increase in the use of synthetic turf fields by high schools, particularly schools that don't have a lot of space available for other multipurpose fields," says Rick Doyle, president of the Atlanta-based Synthetic Turf Council, a four-year-old organization that does not yet have hard data regarding the number of synthetic sports fields installed in the United States. "Installing a synthetic turf field is political, because it's a high-cost item. You need to make it very clear what the benefits will be to offset the costs - not just the short-term costs of installing the field but also the long-term costs of maintaining it." (Several research documents that address common questions and misperceptions about the use, safety and environmental impact of turf, supported by available science, are posted on the association's web site at syntheticturfcouncil.org.)
Nevertheless, synthetic turf remains one of those big-ticket items with many initial detractors (like Raskovsky and Roberts) who consider it excessive. That perception is changing - although widespread acceptance of synthetic turf among high schools as a feasible facility investment may hinge on industry economics. "The synthetic turf industry is one of the top recyclers of ground tire rubber in the world," Doyle says. "It uses 25 million or more recycled automobile tires every year. What the cost of recycled tire rubber does over the coming years will be a factor."
At this point, the major factor for officials with the Kettle Moraine Field Project Committee is whether they can find a naming-rights donor to front at least $180,000 - nearly half of the field's cost. If they clear that hurdle soon, ground could be broken by month's end, ensuring a September completion date and making Kettle Moraine the fourth school in its eight-team conference to boast synthetic turf. "A lot of people out there are on the verge of making nice donations," Fink says. "But they're holding back, waiting to see if this is really going to happen this year. We believe if a naming-rights sponsor steps up, the rest of the money will fall into place."
Composed primarily of student-athletes' parents, the committee meets every Monday at the school, providing members with updates and brainstorming ways to generate additional money. The group has sent letters to district residents and postcards to student-athletes and their parents explaining the project and stressing how the entire community will benefit from the field. "The biggest battle we face is people believing that we are using district money," Fink says. "But people are going to believe what they want to believe. To be honest, I'm not really concerned about that. It is the committee's job to keep moving forward and finding the donations. If we don't reach the goal this year, then we'll just continue and it'll happen next year."

"When you think of having to raise several hundred thousand dollars, it's kind of overwhelming," says Steve Hurst, boys' athletic director at Noblesville (Ind.) High School, which in 2006 took advantage of $200,000 worth of in-kind donations and a $130,000 naming rights commitment from a local car dealer to help pay for Hare Chevrolet Field at the Dale V. Swanson Athletic Complex. "But once people started buying into what we were doing and making donations, others in the community realized it was a worthwhile project. We took the politics out of it. We demonstrated that we weren't taking money from education and using it for athletic facilities, and I think people appreciated that we didn't subtract from one to add to the other."
The rest of the money for the $575,000 synthetic turf field came from the school district, as well as individual donations - many of them generated during a telethon sponsored by another nonprofit fund-raising committee and hosted by a local cable-access channel. That committee consisted of about 15 boosters, school officials and local business leaders who created project fact sheets and developed presentations to potential donors and naming-rights sponsors. "Finding a professional fund-raiser, who donated most of his time, was a critical step for us, because it really gave us someone who could provide guidance and knowledge," Hurst says, acknowledging that this was the school's first foray into sponsorships. "Fifteen years ago, having a naming-rights sponsor might have upset the purist in me. We do very little corporate sponsorship. We don't have signs in the gym, on the football field or around the outfield fences. We try to maintain the integrity of the high school without a lot of advertising. But we felt this was something really significant, and we had a real need to do it."
In Westport, Conn., where the nonprofit Westport Field of Dreams committee has been raising money since late 2004 to complete four synthetic turf football and multipurpose fields, corporate sponsors didn't enter the picture for almost three years. In fact, the first major donation from an area business landed in May, when a financial-services firm pledged $25,000 toward the project. Two of the four fields - all of which are located on school district property but owned by the town of Westport - opened last September, with the other two slated for play this fall.
To complete the project within such a tight time frame, Westport Field of Dreams brokered an agreement in which the town would front the project's estimated $3.2 million cost. The committee was then able to allow donors to spread their pledges over three or four years, rather than make immediate payments. With approximately $2.5 million raised by mid-May, Field of Dreams officials plan to complete repayment to the town for the first two fields by next August, with the last two fields expected to be paid in full by August 2010.
"The biggest challenge was to get these four fields done in two years," says Dan DeVito, chairman of the nonprofit Westport Field of Dreams and operations supervisor for Westport's Parks and Recreation Department. "If we went out and tried to raise money for each field, it was never going to happen. So our goal was to raise money for all four fields. No one gave his or her pledge to the soccer field or the football field. They gave their pledge to all four fields. We didn't want to sell a field; we wanted to sell a mission."
Field of Fortune
Goodbye, referendum. Hello, private fund-raising.
That seems to be the mind-set of many school districts these days regarding the financing of synthetic turf fields and other athletic facilities.
"I think down the road, if the mill rate and taxes go crazy in a particular community, people are going to ask for these types of projects to be done privately," says Dan DeVito, operations supervisor for the Westport (Conn.) Parks and Recreation Department and chairman of the nonprofit Westport Field of Dreams. That private organization is spearheading the community's efforts to fund four synthetic turf fields. "There were a lot of naysayers, even on our committee, who said it was never going to be done. But we stuck to it, and we're getting it done."
So can other private, nonprofit fund-raising committees, says DeVito, who offers the following five pointers:
Choose a fund-raising chairman with a vested interest in the project (such as the parent of a student-athlete). It also helps if he or she has a personal history with the community, is an advocate for youth and interscholastic sports, and can bring either a financial or fund-raising background to the position. That's a tall order, but a project's success may depend on it.
Sponsor high-profile fund-raisers. The Westport Field of Dreams, in conjunction with the Staples High School Gridiron Club, hosted a gala that raised $132,000. Other schools have held telethons on local cable-access channels and even raffles. Every little bit helps.
Negotiate a fixed price for multi-field projects and a lower price for one field. For example, each of the four Westport fields will have been built for the cost quoted to Field of Dreams officials in 2004 - even though the project won't be completed until later this year. One athletic director in another state notes that bids for his school's synthetic turf field dropped more than $200,000 as a result of in-kind donations and increased competition among turf suppliers.
Develop an online presence and accept credit cards. That makes it easier for donors to part with their dollars.
Raise 10 percent more than the budget calls for, in anticipation of donor defaults. The longer a project drags on, the greater the default risk, DeVito says. That hasn't happened in Westport, but it's smart to be prepared - just in case.