As facility operators prep for another sun-drenched summer, some light needs to be shed on the subject of shade.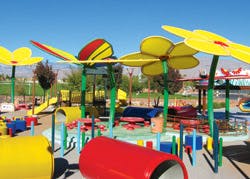 Petal-shaped fabric supported by tree trunk-shaped posts keep kids cool at Centennial Hills Park in Las Vegas.
On a chilly December Tuesday in Lafayette, Ind., city officials already had warmer days on their minds. The two 20-by-20-foot black-and-gold fabric shade structures they unveiled that day at the CAT Park soccer complex are intended to shelter parents and players who need a break from the hot sun on those long tournament weekends. They were erected with the assistance of an $8,000 grant from the American Academy of Dermatology and were among 37 that the organization's Shade Structure Program helped fund in communities all over the country last year. Since 2002, the AAD has awarded 96 shade structure grants, helping keep an estimated 82,000 people out of the sun.
"As the number of hours people spend outdoors participating in leisure activities continues to rise, and as the number of patients diagnosed with skin cancer increases, it has never been more important to offer protection from the dangerous rays of the sun," says Diane Baker, president of the Schaumberg, Ill.-based academy, which estimates that more than one million Americans will be newly diagnosed in the United States this year - exceeding the incidence of all other cancers combined. "This program furthers the academy's commitment to reducing the incidence of skin cancer by increasing the amount of shade available and encouraging individuals and communities to incorporate sun safety into their daily outdoor activities."
Shade is a hot topic these days, as facility operators search for cool ways to keep their patrons out of the heat and in the game (or at least at the game). Manufacturers of contemporary shade structures - typically made of versatile high-density polyethylene fabric that resists tearing and fading while blocking out nearly all of the sun's ultraviolet rays - cite surveys indicating that people will stay longer at facilities where they feel more comfortable, thus consuming more concessions and increasing facility revenue.
Few things have a more tangible and immediate impact on the enjoyment of facility users than shade. "How can you have an athletic facility that's functional and practical, and not provide shade coverage?" asks Gary Haymann, senior vice president of national accounts for USA Shade & Fabric Structures in Dallas, whose brands include Sun Ports and Shade Structures. "A lot of people look at shade at the last moment and think that it's a simple element - 'Oh, we'll just throw in some fabric structures at the end' - and it doesn't really get the thought it needs up front."
"Shade is vital," adds Mac Viers, national sales manager for Apollo Sunguard Systems, a fabric shade structure manufacturer headquartered in Sarasota, Fla. "I don't think people truly understand the impact that UV has on both children and adults. I've run into a number of cases where some very nice parks have been designed with substantial amounts of shade over bleachers, dugouts and other areas, and then the municipality has to make some cuts. Shade is one of the things that usually gets cut. I'm biased, there's no question about that, but I'm not talking about covering everything. I just think covering certain things is necessary."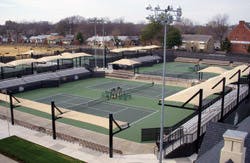 Shade structures have become part of the skyline at the Tulsa University tennis courts and Acoma Park in Phoenix, Ariz.
You've no doubt heard it before, but it bears repeating: Melanoma - a condition typically caused by excessive UV exposure and characterized by large, irregularly sized moles - is the most serious form of skin cancer, according to the American Cancer Society. Sunscreen and lip balm with an SPF of 15 or higher are recommended, but shade is always desirable, especially between the hours of 10 a.m. and 4 p.m., when the sun's rays are strongest. Keep in mind, the American Cancer Society warns, that sunlight and its UV rays can penetrate clouds, reflect off water, sand, concrete and snow, and even reach below the water's surface. The overall incidence of melanoma has been rising at an alarming rate for more than a half-century, the AAD reports: Between 1950 and 2001, it climbed 690 percent, with the overall mortality rate increasing 165 percent. The academy estimates that one person dies of melanoma-related skin cancer every 65 minutes in the United States, and more than 8,000 individuals were expected to succumb to the disease last year.
"Increasingly, shade is becoming front and center, as more information is made available to the public," says Alan Bayman, president of Ocala, Fla.-based fabric structure maker Shade Systems Inc. "I've seen at least three stories about the dangers of skin cancer from unprotected exposure to the sun on ABC evening newscasts in the past six months alone. What we're finding is that the more people - especially concerned parents - hear about kids getting melanoma at a young age and realizing that it can be difficult to cure, the more they are making their voices heard by civic and community leaders. They say, 'We need to get some shade.' "
Likened to functional art by one manufacturer, modern shade structures essentially are low-tech architectural elements that can be among the most effective design components in any given facility. Many of them have moved beyond the traditional metal-roofed, pavilion-style square and rectangular structures to elaborate pre-engineered and custom fabric designs that can introduce what another manufacturer calls a "skyline" to outdoor athletic and recreation facilities. They provide nearly endless design options, as tensioned fabric can be twisted, overlapped and angled to create distinct identities. Temperatures beneath the fabric can be up to 30 percent lower than in non-shaded areas, and the latest fabrics offer water, wind and snow resistance - although many still don't entirely repel rain. And they can be installed practically anywhere the sun shines to shield patrons not only from UV rays but also errant balls.
Styles include triangular, square, rectangular, hexagonal and octagonal structures supported with one or more steel posts, sail-shaped designs used to cover odd-shaped areas, cane-shaped structures with curved tops ideal for waiting areas, cantilevered steel structures in which only one side is attached to the ground and the shaded area is free of posts, and oversized umbrellas. Some structures are intended to draw users into a facility, while others take more utilitarian approaches that are just as effective but lack extra curb appeal. As Viers says, "I haven't seen a really ugly shade structure, but I've seen some that are prettier than others."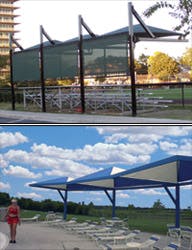 A cantilevered shade structure at the River Oaks Baptist School in Houston, Texas, tilts slightly upward and provides protection from behind, while two-tone laced fabric adorns all-aluminum structures that resist chlorine at The Woodlands (Texas) Athletic Center.
Fabric shade structures can be used in a variety of settings. University of Phoenix Stadium, home to the NFL's Arizona Cardinals, opened in 2006 with a retractable translucent fabric roof that allows natural sunlight to penetrate through to the natural-grass field. When Arvest Ballpark opens this month in Springdale, Ark., as the 6,500-seat home of the Northwest Arkansas Naturals (the Class AA affiliate of the Kansas City Royals), large cantilevered shade canopies will extend from above the park's 25 suites and over the spectator seating areas. Similarly, the Community & Recreation Services department in Surprise, Ariz., opened fully accessible DreamCatcher Park last year for athletes with special needs and shrouded the entire seating area in pyramid-style shade structures, and the Lee High Booster Club in Houston recently received permission from the school board to spend $18,000 to cover the bleachers at its baseball field.
But it's not just people that shade structures are protecting. Park and recreation officials in Dallas used a $300,000 federal grant and city bond funds to pay for $950,000 worth of specially designed sunscreens to shield recently restored exterior art-deco wall murals at Fair Park. The screens can be mechanically raised and lowered, and ambient light allows the artwork to still be easily viewed.
Other common shade-structure installations can be found on playgrounds, over player benches at soccer and baseball fields and at tennis complexes between courts, at driving ranges, around skate park perimeters, and above shuffleboard areas and lifeguard chairs. Some companies have even developed structures that span entire outdoor basketball courts.
"It's getting to the point where communities and civic leaders are realizing they've got to provide shade," says Jay Jensen, USA Shade's director of promotion and marketing. "It's as important as providing drinking fountains and rest rooms."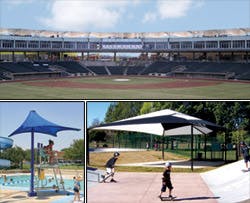 Skateboarders at Volcom Skate Park in Costa Mesa, Calif.'s TeWinkle Park, fans at Minor League Baseball's newly opened Arvest Ballpark in Springdale, Ark., and lifeguards in Hurst, Texas, all enjoy the benefits of versatile shade structures.
It's easy enough to say shade should be a priority. What's more difficult is the determination of design and installation options to meet a given facility's requirements. Pricing varies greatly based on style and the amount of fabric and steel involved. Additionally, some structures come with built-in features that allow one person to remove and reattach the fabric for seasonal use. Shade structure manufacturers load their web sites with images of installations, giving facility operators an idea of the possibilities. From there stem discussions of dimensions, placement and costs (which typically begin at a few thousand dollars and can easily reach tens of thousands of dollars).
Key factors to keep in mind when choosing a shade structure are color, height and the facility's surroundings. One manufacturer, for example, stocks a white fabric that seldom sells because it offers only about 50 percent UV blockage. But that same fabric in black absorbs more than 90 percent of UV rays and is extremely popular. While white or other lighter colors may be aesthetically pleasing, they may not be providing as much protection as other colors, giving facility operators less shade for their buck.
Another common mistake is installing structures too high or in locations in which the structure's placement in relation to the sun has not been thoroughly considered. It's not necessary for five-row bleachers to have a 20-foot-high structure over them, because too much sun will shine in via the sides. Similarly, bleachers and other seating areas facing west in facilities that are used frequently during late-afternoon and early-evening hours as the sun goes down may require greater coverage than those facing east. Some shade structures come with optional side and back flaps that snap or otherwise attach in place and can be used to strategically block out sun.
While many shade structures can be retrofit seamlessly into an existing environment, cantilevered structures require substantial concrete footings to provide a strong foundation of support. This means that existing water and electrical lines will have to be considered in the planning process.
Vandalism and maintenance also are issues, but shouldn't be major concerns. "Most of the fabric that's out there is rip-stop, so if somebody pokes a hole in it, it's not going to tear all the way across," Viers says, adding that fabric can be easily patched. In the past three years, he has only twice replaced vandalized fabric, damaged by poked holes from sticks and burn holes from lighters held aloft by individuals standing on picnic tables. Graffiti on structural frames can be painted over powder-coated steel or sanded off galvanized steel. (Galvanized steel also holds up better than powder-coat finishes to vandalism damage inflicted by objects such as baseball bats.) "If somebody wants to write graffiti, they're going to do it on a wall so people can see it," Viers says. "If they want to really destroy something, there are other things available - trash cans, equipment, things like that - that are easier for them to get at. Vandals are lazy."
Dirt, bird droppings and other debris can easily be removed by aiming a hose with a solid jet spray toward the fabric, and although some manufacturers can design shade structures to withstand specific snow loads, other companies recommend removing and storing the fabric during the winter. Doing so can be a one-person job (depending on the size of the structure), and it'll save wear on the steel frame. "The issue is not the fabric," Viers says. "The fabric will stand up to the snow. It's the steel superstructure. When we engineer these, we engineer them for uplift against the wind, not for weight pushing down on them from the snow. The weight of the fabric with 20 inches of snow on it can bend the steel beams."
"These structures are pretty maintenance-friendly," Jensen adds, "but they're not maintenance-free."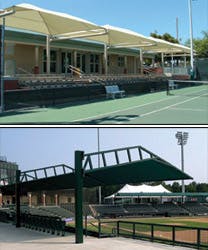 Shade structures serve as extensions of a building at the Moore Park Tennis Center in Miami, also providing coverage for players resting between sets. Cantilevered structures shield spectators at Cal Sr.'s Yard at Ripken Stadium in Aberdeen, Md.
At Boston College's soccer complex, a new pair of massive cantilevered structures protects both the home and visiting players' bench areas. They span some 30 feet in length and extend toward the field nearly 15 feet. Boston College "is in the vast minority," Viers says. "In fact, I think any facility that's currently putting up shade is still in the minority. Ten years ago, most facilities had zero shade. And when we did see any sort of shade, it usually was hard-top stuff, like a shed-type structure over the bleachers. Now, I would say on a scale of one to 10 we're maybe at a two-and-a-half. I live in Georgia, and at the very best, one in 20 parks has any sort of fabric-provided shade. They might have pavilions for picnics, but fabric is just not something that is in many budgets right now."
That may be one reason why Viers claims some of his company's business currently comes from private youth-sports organizations that use public parks. Their members want shade, so they raise the money and work with the municipality to get the structures erected.
Often, that becomes the "aha" moment for many parks and recreation officials. "Municipalities have multiple facilities," Bayman says. "Once they try a fabric structure in one of their facilities, we find that the next budget year they come back and buy a whole bunch of fabric structures, because they got such positive feedback from users. It's the type of thing that gets instant gratification. I haven't seen a case where a facility operator adds shade and then looks around and says, 'Hmm, I think we've got too much.' "