Can the sidelines be safer for athletes who tread out of bounds?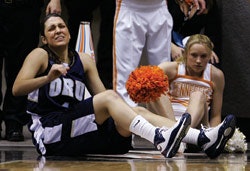 It took a post-game review of videotape by coaches and trainers to debunk initial reports that Oral Roberts star guard Marianna Camargo had slipped on a University of Tennessee cheerleader's crowd-prompt card before blowing out her left knee in the opening seconds of a March 23 NCAA women's basketball tournament game between the schools. But that news did little to take the sting out of Camargo's torn ACL, which required surgery, or the 94-55 first-round loss endured by her team.
Nor did it appear to temper a call by UT coach Pat Summitt to see an NCAA rules change that might make the sidelines a safer place for athletes who tread out of bounds during games. Camargo was chasing down the opening tip when she reached the baseline under the ORU basket and fell to the floor in obvious pain. Video of the play shows that Camargo's knee gave out earlier than previously thought, and that she merely landed on the cheerleader's sign. Still, Summitt has indicated that she "would certainly be in favor" of a rule that backs cheerleaders, photographers and camera crews farther away from the baseline. Two years ago, Lady Vols guard Alexis Hornbuckle broke her right wrist trying to avoid a collision with a cheerleader.
"It seems like a potential hazard that can be easily avoided," said Oklahoma coach Sherri Coale (whose team was at the same regional site in West Lafayette, Ind.), as reported by the Associated Press. "I think we've probably kicked a few cheerleaders in the head jumping over them, but they probably got the worst of it."
Summitt admitted having to hold back tears as she met with Camargo after the game. "It was such a freak, unfortunate injury,'' she said during her post-game press conference. "Our team was bothered by it. We never want to see anyone go down with an injury and obviously not be able to play the game, particularly when you're talking about one of their key players."