Where public agencies have struggled to meet demand for recreational green space, for-profit sportsplex entrepreneurs eagerly fill the void.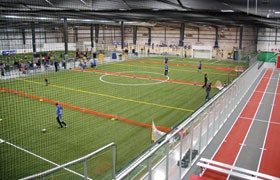 Self-contained indoor green space has become the venue of choice for many athletes engaged in elite-level training and competition.
With its pine-dotted hillsides and mosquito-free air, the greater Portland, Ore., area is renowned as a nature-lover's paradise. One might be surprised, then, to learn that Portland is also surrounded by more suburban indoor soccer facilities per capita than any other city in the United States. At least that's the claim of Monty Hawkins, who owns one of the 15 indoor soccer fields located within a 30-mile radius.
"In theory, we all compete against each other," says Hawkins, a former Oregon State University soccer captain and Portland State women's coach who opened Tualatin Indoor Soccer in October 2003. The reality, he says, is much more basic, with each business drawing players from its immediate population base - a situation amplified by current gas prices. Not that Hawkins minds. Programming, more so than proximity, has differentiated his destination point - with its solitary 186-by-86-foot boarded field - from the others. "Soccer Tots," for example, introduces the game to children as young as 18 months. "Our area has a lot of new families, so we serve about 300 kids a week in 25 different classes in the morning and late afternoon, and that's year-round," Hawkins says. "In the winter and spring months, about 275 kids' teams come through here, which is disproportionate to the majority of mature indoor centers."
Fore Kicks, an 85,000-square-foot "sports megaplex" that opened six years ago in Norfolk, Mass., functions under a different operations model. Whereas Tualatin Indoor Soccer focuses almost solely on one sport (with the small-scale soccer variant futsal to debut next winter), Fore Kicks provides basketball and volleyball courts, a laser-tag arena and an eight-bay indoor driving range. It does have one boarded field for box lacrosse and Ultimate Frisbee, but the amenities that have set Fore Kicks apart within its marketplace are the twin 6-on-6 indoor soccer pitches positioned under a 35-foot-high ceiling with a 200-foot clear span. "That was and still is unique in New England - don't ask me why," says Fore Kicks president Tom Teager, who rents the fields out to Major League Soccer's New England Revolution and, occasionally, the NFL's New England Patriots. "There should be more of them."
While advances in synthetic turf technology have helped introduce to the great indoors virtually any sport otherwise played on natural grass, entrepreneurs must still tread carefully before opening a for-profit sports complex. "While passion for a given sport is a good starting point, at the end of the day, these facilities must be run like a business," says Norm Gill, partner in the Scottsdale, Ariz.-based facility development consultancy Pinnacle Indoor Sports. "What is the year-round demand? What are the price points you can charge? What's your overhead going to be?"
Adds Teresa Penbrooke, founder and CEO of GreenPlay LLC, a parks, recreation and open-space consultancy in Broomfield, Colo., "There has to be a population base and a cry for fields or facilities that people aren't able to get through either schools or parks and recreation agencies."
In June, GreenPlay presented to the National Recreation and Park Association data gathered during the second year of a landmark three-year nationwide inventory of rectangular sports fields in communities with populations greater than 5,000. Paid for by the NFL Youth Football Fund and USA Football, the survey attempts to quantify fields by type (synthetic or natural), use (football or multipurpose, game or practice) and amenities (lights). Budgetary data has also been gathered. "We're actually looking at how level of service impacts participation and vice versa," Penbrooke says.
A data summary was not yet available as of this writing, but Penbrooke speaks from personal experience - confirmed by initial survey findings - when she says, "I have never been to a community that has facilities that exceed demand. There has not been one instance where I've said, 'They have too many fields.' There is, of course, a big issue right now with funding - people not being able to maintain fields at a level they would like to, as tax bases are being hit hard by the economy. I know that NRPA and a lot of different states are working on advancing the position that this is a quality-of-life function. You have to really look strategically at what you're investing in before you just cut budgets across the board."
Recreation officials in Fairfax County, Va., conducted their own needs assessment in 2004. "It indicated that, based on usage, we had a shortage of 90 rectangular fields in the county," says Deb Garris, synthetic turf fields manager in the Fairfax County Park Authority's planning division. By investing heavily in synthetic turf - 14 outdoor fields are currently in use, with another six to be playable by this fall - the Park Authority has managed to mitigate the green-space shortage. And the county isn't done. Though Garris can't predict a final number of fields, bond financing for additional synthetic turf projects is likely to be secured this year. Meanwhile, she says, only one private entrepreneur has ever expressed interest in building an indoor facility in the area.
Each of Fairfax County's lighted synthetic turf fields sees an estimated 62 percent more use than a natural grass field, factoring in maintenance downtime and tighter scheduling due to the elimination of built-in rain dates. "When you take all those things into consideration," says Garris, "for every field we basically get a field and a half."
Synthetic turf not only lengthens playing days, but entire competitive seasons. Fairfax County adults can be seen using fields at 7 a.m. before heading to work, and if it weren't for lighting ordinances, nighttime activity on some fields would likely carry on past 11 p.m., according to Garris, who adds, "Our winter seasons here in northern Virginia have not been as cold for the past three or four years, with not as much snow. We're now playing through the winter."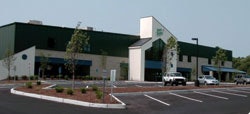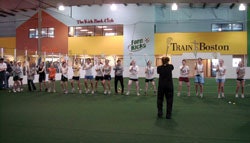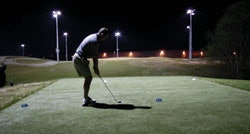 As a "sports megaplex," Fore Kicks is able to accommodate box lacrosse campers and nighttime golf enthusiasts with equal aplomb.
Year-round outdoor play is a luxury those living in Norfolk - some 430 miles to the northeast - can't afford. But since 2002, at least, they have had Fore Kicks.
"In New England, when the winter ends, most of the grass fields are in pretty rough shape," says Teager, who brings an MBA and 30 years of youth soccer experience to his operation. "Most of our outdoor leagues up here start either the last week of March or the first week of April. The kids try to get practices in prior to that, but it's impossible, because the grass fields get destroyed or they are just too soggy at that point to even play on."
That's one reason Fore Kicks II, an even larger facility to open this summer 30 minutes away in Marlboro, includes two 120-by-65-yard lighted outdoor synthetic turf fields. Both were almost completely booked with contracts before construction even finished. "There are in the surrounding area very few, if any, available lighted turf or grass fields of the quality that we're putting in," Teager says. "Soccer or lacrosse clubs can't afford to build their own facilities, so they welcome the opportunity to be able to contract with us. They know space will be there for games and practices, and it won't be subject to approval by a town rec board. They can build their programs around a facility without having to build a facility."
The cost of acquiring the land and building the first Fore Kicks was between $5 million and $6 million, according to Teager. The 140,000-square-foot Fore Kicks II cost twice as much. "We've been very fortunate. We've been profitable from the first year we opened," says Teager, adding that he kicks most profit right back into the business. "It's a tricky business to manage, because you have extreme swings in cash flow. Clearly, if you could generate year-round the amount of revenue you generate in January, anyone could run a business, but that isn't the case. You need to make sure you have facilities and programs that offer a year-round cash flow and then manage that cash flow in the high-traffic seasons to cover you during the low-traffic seasons." And it also helps to maintain strong borrowing power, Teager adds, "because you will tap your credit lines during your low seasons and then pay it back during the high seasons."
Public green space may draw users outdoors during the summer months, but this so-called downtime at Fore Kicks is still plenty kinetic. Many adults prefer to play league soccer without the threat of weather or the nuisance of flying insects, and plenty of parents put their kids in air-conditioned lacrosse camps rather than have them deal with lethargy-plagued 90-degree days. "We don't compete with public fields," Teager says. "Municipal fields are quickly overburdened. There is such a demand for quality indoor and outdoor space among these private, nonprofit lacrosse and soccer clubs, and facilities like Fore Kicks fill that void." If that alone doesn't pay the bills, the original Fore Kicks boasts an outdoor lighted, nine-hole executive golf course.
Hawkins says he has no regrets about designing Tualatin Indoor Soccer as a single-field, soccer-centric facility. Four months after it came online, the city of Sherwood opened a municipal indoor field less than a half-mile away. "With two fields in this area, it's just so tough to fill the nights from late May to October," he says, adding, "The competition is a good thing. When they don't have leagues going, those teams still want to play and they come over here. Given that it's not privately owned, it has turned out to be a blessing."
While his infrastructure remains essentially unchanged, Hawkins has altered his business philosophy over the years - from a heavy focus on kids' teams to encouraging more adult users. "It's about striking a balance," he says. "We can fill three eight-week game sessions with kids almost to capacity, but we have started games as early as 5 a.m. and closed at midnight on Saturdays and Sundays. We've even used traditional school holidays like Presidents Day and Martin Luther King Day. That's what allowed us to get a good jumpstart in the business, but now we're trying to decrease the number of kids. Not that we don't want the youth users; they're return customers annually, but not necessarily year-round. We have adult leagues that run seven nights a week, 52 weeks a year."
Like Teager and Hawkins, GreenPlay's Penbrooke characterizes the relationship between private sports providers and public recreation agencies as more complementary than competitive, especially when synthetic turf comes into play. "Most public agencies cannot meet the demand that people have for those types of fields," she says. "So it's being done privately, and the people who are really into elite training and conditioning or more advanced competitive leagues will pay for that."
The key in any for-profit setting, according to Pinnacle's Gill, is maximizing the revenue-generating potential of a given space. Paintball enthusiasts might pack an area with activity, but at a fraction of the profitability of soccer. "A facility we just built in Philadelphia has a 20,000-square-foot area that offers basketball, volleyball and field hockey," Gill says. "As far as popularity, it's basketball first, volleyball second and field hockey a distant third. Which gets priority use of the space? Field hockey, because the price point that the community is used to paying means we're making twice as much per hour with that than we are with basketball."
Teager thinks back to his youth soccer coaching days, when deplorable municipal grass field conditions sometimes dictated that practices be held at the home of whichever team member's parents happened to own the biggest backyard. "I only wish I had facilities like my own when I was coaching," he says.
When asked if he sees a day when facilities like his become the accepted means by which all recreation constituencies are served, at the expense of public green spaces, Teager says no. "I see the opposite happening. I see us helping them by offloading and by raising the standard - not only for private competitors to raise their bar, but for towns to understand that they need to do more. Look at the number of towns that are putting turf on their high school fields. It was unheard of 10 years ago to put a half-million- dollar field in. You couldn't get $20,000 for park and recreation projects. Now, capital budgets are allowing them to look at lighted fields, they're looking at turf fields, because they know in the long run that's what's needed to have a safe environment for kids to play and grow on. These technologies weren't available when I grew up, and now they are. And towns are now addressing needs by putting in better-quality spaces."
As it would in any market, the dynamic of demand exceeding supply will continue to drive recreational green space development. "As long as that condition exists," Teager concludes, "the growth of private indoor sports facilities can only help the problem, not make it worse."