Despite its reputation as a key component of field maintenance, topdressing often gets overlooked because of financial and educational barriers.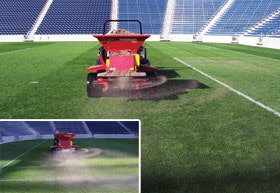 Although it pains Mike Goatley to admit it, topdressing remains among the most misunderstood and least performed of all turf management cultural practices. "A large percentage of facilities do not topdress, either because they don't understand the benefits or they can't afford to," says Goatley, the extension turf grass specialist at Virginia Tech. "Topdressing is one of those practices that is grossly underutilized. I hate to say that, but this is where we're at."
Topdressing - typically additional soil or sand added to a field's surface to keep it level, control thatch and promote safe play - should be part of an organization's overall maintenance program, says Abby McNeal, sports turf manager at Colorado School of Mines and incoming president of the Sports Turf Manufacturers Association. In fact, failure to implement a consistent topdressing program can negatively impact a field's performance.
That could mean bad news for municipal, high school and college facilities where field-maintenance budgets have been slashed and more activities than ever may be taking place on natural-grass fields unaccustomed to the load.
Fortunately, says Goatley, who also serves as STMA's educational director, "turf is a very forgiving plant, in terms of what you can do with it." Perhaps that's why some fields survive so long on routine mowing, watering and fertilizing programs alone.
But what keeps turf managers from topdressing their fields as fervently as they fertilize? The chief financial reason, according to Goatley, isn't so much the cost of topdressing material itself (although calcined clay and crumb rubber can be expensive), but the fees associated with shipping it to fields in locations where a given material is not readily available. Plus, with an estimated 45 cubic yards of topdressing required to cover the playing surface of a football field at a recommended uniform depth of ¼ inch, finding a dry storage area can be challenging. Wet topdressing does not spread smoothly and can be more of a detriment than an aid in maintaining safe fields.
Essential to any effective topdressing treatment is choosing the appropriate type and size of material, Goatley says. A good rule of thumb is to use topdressing material that is no smaller in size than the original surface material, so as not to clog the field's drainage system. For sand fields, that means finding topdressing sand that is similar in size to the sand used in construction. Existing fields with native soil or clay require a uniform batch of topdressing with a coarser grade than the original.
"Some of this terminology can confuse people," Goatley says. "When I was in Mississippi, a guy told me he used well-graded sand on his fields, because he interpreted that to mean something like 'USDA choice' or something highly recommended. Well-graded actually means the sand contains all shapes and sizes. Basically it's concrete sand, and its intent is to make something as hard as a rock."
"I just don't grab an amendment and throw it out there," cautions McNeal, stressing the importance of knowing details about a particular topdressing material before using it and anticipating how it will react in the ground. "I don't have time for that. I want some scientific data that can show how something will work."
If topdressing has a latest craze, it is organic compost that often takes the form of leaf litter or poultry droppings. Although it has been used for years by some turfgrass specialists and is limited in its nutrient value, compost is becoming a popular topdressing alternative in programs that emphasize environmentally friendly practices that ban the use of traditional fertilizers and pesticides. In addition to accomplishing much of the same results as sand, soil or peat mix, compost also provides a food source for microbial populations and acts as a pest suppressant, Goatley says.
One caveat when using compost topdressing: some of it, namely poultry litter, is too thick to be applied via traditional methods of broadcast spreading. Instead, a manure drop-spreader and drag mat often are needed, and a composted field may require more idle time for the material to settle than a field topdressed with less chunky amendments. Plus, by then, the odor should have dissipated.
If a turf manager is not already involved in the day-to-day scheduling of events on a given field, he or she needs to be. Regardless of the field's location, industry experts say a turf manager's input is critical to determining when fields can (and should) be used. "If a turf manager doesn't have some sort of role in the management of events, it makes it harder for that person to come up with a good maintenance program," says McNeal, who worked at Denver's Invesco Field, Toyota Park in Bridgeview, Ill., and the University of Colorado before taking over five recreational, intramural and varsity sports fields at Colorado School of Mines. "All too often, it's forgotten that the turf manager's job is affected by events - anything from a softball league practice, a youth soccer tournament or a Fourth of July community celebration."
By providing scheduling input, turf managers can help determine windows of time in which they can accomplish specific cultural practices such as topdressing. Many turf managers topdress prior to the beginning of a sports season to enhance grass growth for cleat grip and traction. Additional topdressing applications during the season should strive to boost playability and must be done strategically between events. McNeal suggests turf managers maintain two calendars: a facility events calendar and what she calls a "window of opportunity" calendar that shows what kinds of treatments and applications can be accomplished, and when.
The Playing Conditions Index, a tool piloted by the STMA last year to help facility operators and their turf managers assess the playing conditions of a given field, is expected to officially roll out later this month at the organization's annual meeting in San Jose, Calif. "We are coming into an age where field assessments are going to become more important in the daily operation and monitoring of sports fields," Goatley says. While acknowledging that many organizations already encourage coaches to conduct informal assessments prior to games, he says standard criteria are necessary to help determine whether a field is safe.
Facility administrators must remember that turf management is an ever-changing science, Goatley and McNeal say, and that field managers are going to be limited in what they can accomplish, based on budget, labor and other resources. Turf managers may forgo topdressing as a means to save time and money, but they do so at the expense of their fields. "It's about understanding that there are limitations," McNeal says. "But you still have to provide a safe field for everybody."