Despite its reputation as a key component of field maintenance, topdressing often gets overlooked because of financial and educational barriers.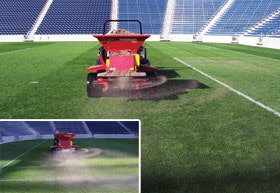 Although it pains Mike Goatley to admit it, topdressing remains among the most misunderstood and least performed of all turf management cultural practices. "A large percentage of facilities do not topdress, either because they don't understand the benefits or they can't afford to," says Goatley, the extension turf grass specialist at Virginia Tech. "Topdressing is one of those practices that is grossly underutilized. I hate to say that, but this is where we're at."
Topdressing - typically additional soil or sand added to a field's surface to keep it level, control thatch and promote safe play - should be part of an organization's overall maintenance program, says Abby McNeal, sports turf manager at Colorado School of Mines and incoming president of the Sports Turf Manufacturers Association. In fact, failure to implement a consistent topdressing program can negatively impact a field's performance.
Log in to view the full article