When natural disaster ravages athletic facilities, rebuilding often requires a combination of proper insurance coverage and the kindness of strangers.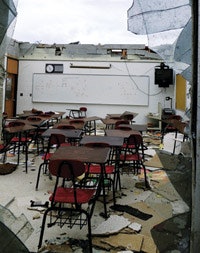 Ed Thomas emerged from the basement of his rural north-central Iowa home in the late-afternoon hours of last May 25 to find it had been blown to smithereens by an intense EF5 tornado. The twister, among the worst in state history, packed winds in excess of 200 miles per hour and killed seven people. "We helped neighbors for about 30 minutes," recalls Thomas, the athletic director and football coach at Aplington-Parkersburg High School, located a few blocks away. "Then my wife, who is an EMT, went to the fire station and I went up to the school to see the damage."

What he saw haunts him still: In just 34 seconds - one second for every year Thomas has worked at Aplington-Parkersburg - the tornado wiped out the joint community school and gymnasium, its football field and track, both baseball and softball fields, and the tennis courts. Sheet metal, bricks, wood, glass and other debris were strewn everywhere. The football field's scoreboard and press box lay crumpled on the ground, and state-championship banners that once hung proudly in the gym were reduced to tatters. Thomas couldn't help but cry.

A few weeks later, during the late-afternoon hours of June 12, Tony Blando watched with a similar feeling of helplessness as floodwaters from torrential rains, mixed with the contents of a backed-up sewage system, contaminated the basement and main level of Lourdes High School in Oshkosh, Wis. That toxic combination led to an estimated $6 million in damage, including the loss of hardwood floors in two gymnasiums, every piece of athletic equipment and all player uniforms, and a fitness center built and equipped with money from a federal Physical Education for Progress grant.

Blando, the president of Unified Catholic Schools of Oshkosh (and whose office is located at Lourdes) was trapped in the school with about 100 staff members and students who sought safety on the building's second floor as cars floated down the street outside. Blando had cut the power to avoid electrocution and was frantically rifling through a file cabinet. "I had a flashlight in my mouth, looking for our insurance papers," he says. "If we were in the flood plain, we were only covered for $250,000. If we were out of the flood plain, we were covered for up to $10 million; we were barely out of it. If insurance hadn't covered this, our school could have been done."

Brian Bordainick, athletic director at George Washington Carver High School in New Orleans' Upper 9th Ward, wasn't even in Louisiana when Hurricane Katrina ravaged the Gulf Coast in August 2005. He arrived from the University of Georgia two years later to teach remedial education at Carver, which by then operated out of trailers overlooked by the condemned school building and flanked by untamed land that used to be athletic fields. But when the athletic director quit his post, Bordainick was offered the job and, at 23, is still the youngest high school athletic director in Louisiana.

One of his first priorities was to literally get the track team up and running. "That was the easiest one to deal with," he says, explaining how student-athletes were able to train on the streets. "But on our football field, if you kick the ball through the uprights of one goalpost, it goes into the abandoned gym, and if you kick it at the other end of the field, the ball goes into a house that was devastated by the storm."

When natural disaster struck, Bordainick, Blando and Thomas each vowed to recover and move on. "I'm convinced that, as a result of the tornado, we'll be a stronger school and a stronger community," says Thomas, whose Falcons made the state football playoffs last fall on a new field built with insurance money and additional cash and in-kind donations from around the country. "I've told our football players that we're not going to face any greater adversity on Friday nights than what we've already been through." The baseball and softball fields were expected to be completed this spring, the rebuilt Aplington-Parkersburg High School is slated to open in August, and the gymnasium should be ready in time for basketball season; for now, classes are held at Aplington's middle school.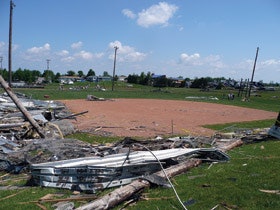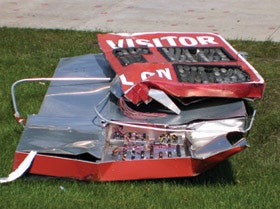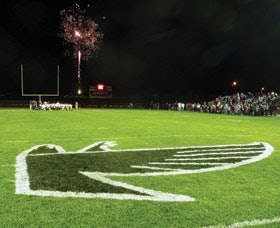 TESTED
One of the worst tornados in Iowa history destroyed Aplington-Parkersburg High School and all of its athletic facilities last May. Part of the football field's scoreboard landed 100 miles away; a few months later, the community celebrated a new field.
"It's a given that natural disasters are happening more frequently," says Mark Grossman, president of The Monument Sports Group, a Richmond, Va.-based insurance, marketing and financial services agency for athletic, fitness and recreation facilities. "We had a Hurricane Ike claim in Columbus, Ohio, last year. For the first time ever, that area had major losses due to a hurricane. So that just tells you that the reach of hurricanes is getting greater. The old thought of 'I'm not in a flood plain' or 'I'm not in a hurricane-prone area' really needs rethinking. But nobody even cares about that until they or someone they know has a claim."
These days, facility operators seem to have plenty of damage to claim. Flooding from the Des Moines River in Iowa last June rendered a nearby 12-field, 60-acre municipal soccer complex unplayable and forced the relocation or cancellation of three major fall tournaments - resulting in thousands of dollars in lost revenue for the city's parks and recreation department and an estimated loss of $1 million in local economic impact. "The water levels got so high that they flooded our irrigation controllers between the fields," city recreation manager Doug Romig told
The Des Moines Register
, adding that several fields were laden with silt. "Even after the flood receded, we didn't have an irrigation-water system to wash it off. The grass started burning. There were multiple effects from the flood that impacted the survivability of the turf."
In August, a fast-moving storm packing rain, hail and winds reportedly up to 75 miles per hour ripped through Arizona State University, deflating a brand-new $8.4 million, 103,500-square-foot air-supported practice facility and causing more than $1 million in damage. Similarly, the Hurricane Ike damage Grossman reported in Ohio was to an air-supported sportsplex structure. The U.S. Department of Homeland Security's Ready Campaign and The Advertising Council launched a new web site in January (ready.adcouncil.org/beprepared) to help business operators and homeowners better prepare for a natural disaster. Included on the site is an interactive widget that provides users with updates on emergency situations and local emergency contact information.
Although proper preparation and actual implementation are dramatically different, individuals who have successfully rebuilt facilities after a natural disaster will tell you that some of the policies they already had in place - such as requiring all coaches to maintain impeccable equipment inventories - saved them a lot of grief. To any list of preparations, insurance specialists would add maintaining an up-to-date insurance policy that is stored somewhere safe but is still easily accessible. "You need to be aware of what your policy covers and, more important, what it does not cover," Grossman says, stressing that a hurricane striking Ohio - something almost laughable only a few years ago - sent shockwaves through the insurance industry.
Thomas, for example, says the policy for Aplington-Parkersburg High School did not include the full replacement cost of some items. Policyholders usually have an opportunity to renew their coverage every year, at which time agents should review replacement values with their clients. Generally, facility owners can opt either for replacement cost coverage (based on prices in today's market) or actual cash value (replacement cost minus depreciation).
"I want people to be more coverage-aware than price-aware. I know that's tough to do in these times, but the worst thing you want to do is pay for insurance and then end up self-insuring a lot of the damages," Grossman says. Of course, it's always possible to attain better coverage by accepting a higher deductible.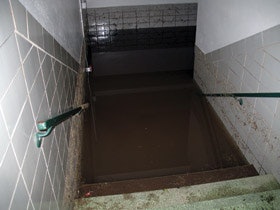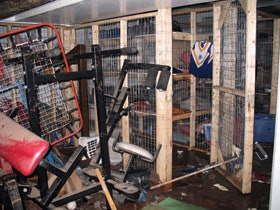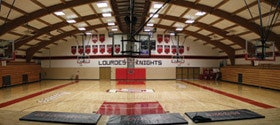 WATER LOGGED
Floodwaters mixed with sewage invaded Lourdes High School last June, rising from the basement, where all athletic equipment and uniforms were stored, and into both gymnasiums. The gym floors were replaced within five months(bottom).
Other ways to strengthen relations with your insurance agent include notifying him or her if your facility is in the projected path of a hurricane, forest fire or other trackable disaster (if only to say you might be calling again real soon) and adhering to the "reasonable person" law, in which you do everything you can to mitigate a potential loss both before and after filing a claim (such as boarding up the windows in advance of a hurricane). "You should report a claim as quickly as possible," sums up Grossman. "Insurance companies hate surprises."
I
ndeed, the way in which facility operators respond in the immediate aftermath of a natural disaster often sets the tone for the entire recovery effort.
The day after the Oshkosh flood, Blando used skills acquired while serving in the U.S. Army to develop an effective command structure. He contracted with local businesses to provide pumps that removed water from Lourdes' basement, as well as industrial generators and heaters that dried out both gymnasiums so their floors could eventually be removed and replaced. After the new floors were installed, he also put people to work sanitizing everything in the gymnasiums, from basketball standards and bleachers to divider netting and door handles. The floor in one gym was replaced and ready for action two months after the flood; the other, in which the original 1959 floor was replaced, was completed in time for the start of the Knights' basketball season. Additionally, the school received a new $400,000 roof after the old one sustained severe rain damage, the fitness center was renovated and a significant amount of asbestos was removed from the building.
Blando and athletic director John Cleaver Jr. worked out arrangements with the city's two public high schools and the University of Wisconsin Oshkosh to use their facilities for games and practices. During the cleanup efforts, dozens of students, parents, grandparents, alumni and neighbors worked together to remove team jerseys and other gear from the school's basement and toss them into rented dumpsters. "We never actually put out a call for volunteers," says Blando, who kept track of the number of volunteer hours and was able to count about $14,000 in labor expenses toward Lourdes' $100,000 insurance deductible. "But we embraced the media. People needed to hear our story. They told other people, and everyone just showed up."
Thomas tells a similar story of unexpected generosity. A major manufacturer donated the new stadium's lights, members of the Iowa State Turf Managers Association provided seed and fertilizer, and 90 football players and coaches from a Des Moines high school "literally lined up, shoulder-to-shoulder on their hands and knees, and crawled across our field picking up glass and rocks," he says. All told, Aplington-Parkersburg's athletic department received approximately $300,000 in donations from businesses and individuals around the country, thanks in part to its status as the alma mater of four current NFL players. Alums Jared DeVries (Detroit Lions), Aaron Kampman (Green Bay Packers), Brad Meester (Jacksonville Jaguars) and Casey Wiegmann (Denver Broncos) each did their share to get players in the league to contribute to the recovery efforts, and the NFL matched every donation up to $5,000. "The matching program has been huge," Thomas says.
Bordainick credits the NFL for motivating him to establish the 9th Ward Field of Dreams, an initiative intended to help build a $1.85 million, 3,000-seat community stadium with synthetic turf, a track and lights in an open area of what he calls "overgrown nastiness" beyond Carver's trailers and abandoned school. Although most of its sports teams were back in action by the 2008-09 school year as full members of the Louisiana High School Athletic Association, the football field remains a mess. So when a friend e-mailed Bordainick late last year with news of the NFL Grassroots Program, which provides matching donations of up to $200,000 to neighborhood-based organizations seeking to improve the quality, safety and accessibility of local football fields, the athletic director decided this was a boost his school - and the entire 9th Ward - needed.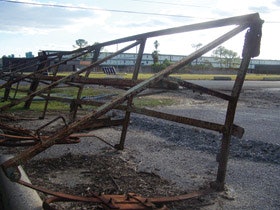 TESTED
One of the worst tornados in Iowa history destroyed Aplington-Parkersburg High School and all of its athletic facilities last May. Part of the football field's scoreboard landed 100 miles away; a few months later, the community celebrated a new field.
He convinced the school board to put up the initial $200,000, then solicited support from staff, friends and the general public by establishing a web site (
www.9thwardfieldofdreams.com
) and grabbing the attention of local city council members, area architects and Nike executives - all of whom have donated cash or services. As of Super Bowl Sunday, when a fundraiser was scheduled at a swanky New Orleans hotel, the effort had generated more than $855,500 in cash and in-kind donations. And with the March announcement that the project was granted the $200,000 from the NFL, that total surpassed the $1 million mark. "We've refused to take 'no' for an answer. Everybody told us 'no,' and we were laughed at. Now people want to run through walls for us," Bordainick says, adding that he was called "insane" for trying to raise money for a new stadium when administrators weren't even sure if they were going to rebuild the school. (Now they are, although the field will be finished well before the school, with groundbreaking scheduled for July 15 and the inaugural track meet slated for Feb. 15, 2010.)
E
ventually, floodwaters recede, facilities are rebuilt and administrators learn to put their ordeals in perspective. Not long after Lourdes flooded, a local reporter asked Blando if managing the recovery effort was the most difficult task of his career. Not even close, he replied, remembering a grim morning in December 2006 when two female students died in a car accident on their way to school. "With this, nobody was hurt and nobody was killed. The human element was removed, if that makes sense," he says. "This was just about stuff that could be replaced."
In fact, the potential for positive things to emerge from a natural disaster can be enough to wash away those initial feelings of devastation. Believe it or not, Bordainick actually likes to use the word "fun" when discussing the Field of Dreams project, because he knows the end result has the potential to revitalize a neighborhood. "This is going to be a catalyst for this community, and it's going to show kids without a lot of hope that people care," he says. "I want to see what this does to the graduation rate at the school. I want to see what this does to the crime rate in the area. I want to save kids who otherwise would have fallen through the cracks."