An English soccer team implores its fans to "sit down and shut up."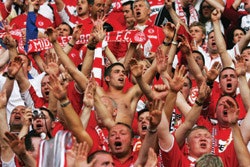 STAND AND DERISION
No stiff upper lips were in sight as Middlesbrough sank in the Premiership.
Middlesbrough, the 133-year-old football team that in February was languishing in 19th place in England's 20-team Premier League, knew its marketing plan would have to be first-rate to keep fans coming to The Riverside Stadium next season. That's why the club at that time revealed reductions for the 2009-10 season that will leave season-card prices at their lowest level in five years.
Unfortunately, the team's safety officer, Sue Watson, chose that moment to create a wave of resentment among Boro fans by distributing letters asking them to "sit down, shut up," as newspapers all over the UK characterized it. Watson told reporters that she was merely responding to the complaints of some supporters regarding "both the persistent standing and the constant banging and noise coming from the back of this stand. Please stop. Make as much noise as you like when we score, but this constant noise is driving some fans mad."
That the team failed to score during that game (as of this writing, Boro had scored 25 goals in 32 matches, the league's lowest tally) was just one more reason for Boro chief operating officer Neil Basour to attempt containment on this public-relations disaster. "We understand the strength of feeling on this issue and we accept the letter could easily have been misunderstood," Basour said. "We apologize to any supporters who have therefore been understandably annoyed."
Soon after, as the team faced the prospect of being relegated to the country's second-level Championship league for the first time since 1998, the online "Quick Vote" poll on the team's home page asked, "How important will the fans be during Boro's end-of-season run-in?" The top two vote-getters were on the extremes - 36 percent said the fans were "vital" to the team's Premier League survival, 27 percent said "irrelevant" - while "Make some noise - We can cheer Boro to safety" got three times as many votes as "Ready to be inspired - We only sing when we're winning!"