This month, a small fraternity of field inspectors will gather in Paris for an annual brush-up on the latest techniques in testing synthetic turf. The goal is to establish consistency among the entities entrusted by FIFA to conduct lab and field tests on synthetic turf product and the finished pitches that seek the world soccer governing body's stamp of approval. Using highly specialized instrumentation, FIFA-endorsed labs test everything from a fiber's melting point to a finished field's interaction with players' feet.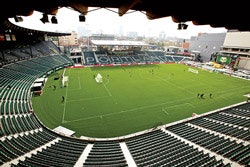 Backpedal almost a dozen years to 2001. That's when FIFA introduced the FIFA Quality Concept for Football Turf in response to rapidly evolving synthetic turf technology and its ever-widening creep into the elite sports landscape. An internationally recognized quality standard for turf fields was a logical step forward, and the program has hit its stride - at least in some corners of the world (read on). "With the deployment of football turf," FIFA president Joseph Blatter states on the association's website, "FIFA has recognized the enormous benefits artificial pitches would bring to the global development of football, not only because artificial turf can be used in more extreme climates, but because where a pitch is used intensively it can be used almost 24 hours a day and seven days a week."
Since July 1, 2004, recommended turf fields have been approved for use in FIFA tournaments, including World Cup qualifying matches. UEFA, the FIFA confederation serving Europe, began using synthetic turf in competition during the 2005-06 season.
"The English Premier League and the highest levels of soccer are still played on natural grass, and they want to stay on natural grass," says Dave Nardone, a sports group leader in the Boston office of architecture and engineering firm Stantec, which has worked on several FIFA-approved projects. "If you talk to any purist coach out there, he or she would prefer to be on natural grass. But coaches understand that, depending on their facility needs, synthetic turf just makes a lot of sense."
The FIFA Quality Concept, launched to compare the characteristics of synthetic turf to those of natural grass, has evolved to consider the varying needs of fields. A one-star rating indicates that a field has been tested and found suitable for national training and match play, as well as municipality use. A two-star rating recommends a field for international match play.
There's a difference in terms of both durability and playability. A two-star field will exhibit a softer touch on the professional slide-tackler's skin, but a one-star field will endure the near-nonstop pounding of multiple youth and adult leagues. "Clients think, 'I want two-star. I want my field to be better,' "
Nardone says. "In reality, if they're making an investment for eight to 10 years or more, they want one-star, because it's expected that a stadium field is going to get replaced every two, three or four years. It's not going to go the 10 years."
The two-star field, particularly if it's located within a stadium, is "going to get a different type of use. It might be used for concerts," Nardone continues. "It's going to have a different demand on it, but the end user is going to want the high-quality surface to maintain its characteristics. That's actually a big topic right now in the industry - retesting - because in order to maintain your FIFA star or two, you need to retest."
Indeed, ratings have a shelf life - one year for two-star fields and three years for one-star fields. Once a field's two-star rating expires, it automatically falls into the one-star category, but fields can be (and have been) tested multiple times.
Lab tests for durability involve simulating years of cleat traffic and climate, and literally tearing the turf system's bonded material components apart. (A manufacturer must be registered with FIFA to have its products undergo testing, and currently FIFA lists 28 producers in its database.)
Performance factors such as shock absorption, vertical deformation, vertical ball rebound, rotational resistance (to a player's pivoting foot), slip resistance (to a player's acceleration and deceleration) and skin abrasion are all tested in the lab and repeated in the field post-installation - all with natural grass test results as their benchmark. Each measurement must fall within an acceptable range produced by natural grass in ideal conditions, with tolerances tighter for aspiring two-star installations versus would-be one-star fields.
FIFA has made it clear that player safety is paramount, and most performance criteria become a balancing act between staving off injury and inducing fatigue. A field can't be too hard, or it potentially damages players' joints, but it can't be too soft, either. "You can pass G-max all day long, but your field can be too soft - your deformation can be too great - so it's like you're running around on the beach or on a trampoline," Nardone says. "In some respects, you can make these fields super safe, but we're not trying to create playgrounds. We're trying to create high-performance fields."
And the quality-assurance mission of FIFA testers doesn't end in the field. Says Nardone, "They also take back samples of what was installed to make sure it matches that original fingerprint, that what had been sent to FIFA originally is what was put in the ground."
Two-star pitches are being put in the ground not only in professional stadiums, but at parks, soccer complexes, high schools and colleges. So just where are the word's finest synthetic fields, at least according to FIFA, concentrated?
As of September, the FIFA confederation serving Europe boasted 510 FIFA-recommended one-star pitches, more than double the number of the remaining five FIFA confederations combined. Its 291 two-star pitches were more than four times the sum total of the others.
Of those five non-European confederations, the one serving North America, Central America and the Caribbean (CONCACAF) placed third behind Asia's and Africa's confederations with 64 one-star pitches. Its two-dozen two-star pitches topped Asia by nine, and half of those could be found in Canada. In fact, there were as many FIFA-recommended two-star pitches (five) between two locations in Ontario (a university and a sports complex) than in the entire United States. (Note that numbers were destined to change as some FIFA ratings were due to expire last month.)
"It hasn't been widely accepted in the United States," Nardone says of the FIFA Quality Concept. "I know from traveling Europe and looking at fields over there, there are definitely cases where the community group, the soccer club or the small town decides they're going to put in a synthetic turf field, and they like to have FIFA as a guarantee that when it comes to what they spent their money on, they got what they paid for. In Canada, I think it's been a little bit more performance-based - 'We want a high-performing field, so we want a FIFA field.' "
Theories abound as to why the U.S. has lagged behind its neighbor to the north and the rest of the world, and they tread beyond synthetic turf's playability in adverse weather conditions. "There have been two barriers," says Darren Gill, vice president of global marketing for FieldTurf, manufacturer of six of the eight one-star fields in the U.S. and three of the five two-star fields. (As of this writing, FieldTurf's installation at Gillette Stadium in Foxboro, Mass. -
a project that also included Stantec - was due to see its two-star rating expire, automatically dropping it to one-star status.) "First off, the acceptance of FIFA in North America has not been strong. The market is largely driven by football, not soccer. Secondly, the cost to perform FIFA testing is viewed by some as being quite expensive."
FIFA testing can tack $10,000 onto a project's cost - still a small percentage considering that a complete synthetic turf installation can easily fall between $1 million and $2 million. "It's not a huge number when you look at the whole budget," says Steve Bendo, an Ontario-based sports group leader at Stantec. "I always tell clients it's a cheap insurance policy to ensure you're getting a good quality field."
More interested observers - from architects to end users - are beginning to see a broader value in FIFA's performance-based standards, says Gill. "The FQC has done a good job to define standards that can be applied for all sports," he says. "For example, specific tests like vertical deformation and rotational resistance are criteria that can be used for any sport."
Meantime, manufacturers such as FieldTurf, one of nine FIFA Preferred Producers and the company that developed the slogan "Looks Like Grass, Feels Like Grass, Plays Like Grass," will continue to push their products toward even greater grass-like performance. Still others will try to compete as startup companies. "The turf companies are changing things all the time, and it makes our job harder with all the contractors jumping into and out of the marketplace. And that's where FIFA also helps," Nardone says. "We have had some clients - educated and savvy - come to us and say, 'We want a high-quality soccer pitch. What should we do?' And, you know, we talk about FIFA with them, and we talk about the manufacturers that have focused on passing FIFA."