Adult playgrounds have been popular in areas of Asia and Europe for some time, but these outdoor attractions have been slow to catch on in the United States. The Trust for Public Land brought its first Fitness Zone®, a collection of outdoor strength, cardio and balance equipment, to Los Angeles five years ago, and many California communities have also embraced the trend.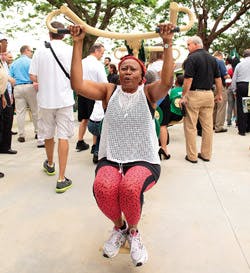 Adult playgrounds have been popular in areas of Asia and Europe for some time, but these outdoor attractions have been slow to catch on in the United States. The Trust for Public Land brought its first Fitness Zone®, a collection of outdoor strength, cardio and balance equipment, to Los Angeles five years ago, and many California communities have also embraced the trend. But it was only this past June that New York opened its first outdoor gym, followed in July by the first of 10 planned projects organized by TPL in Florida's Miami-Dade County. Now freed from the confines of the West Coast, the concept of outdoor exercise areas is poised to take hold nationwide.
"In total, we've installed 37 zones in L.A. and here in South Florida," says Brenda McClymonds, senior program director of TPL's South Florida division. "We're looking to place our first one in New Orleans, and our New York program is beginning to think about adding them, likewise, in Tennessee."
Just outside of Chicago, Tinley Park, Ill., director of parks and recreation John Curran decided to get the ball rolling on an outdoor gym at the village's Centennial Park after attending a session on the topic at the National Recreation and Parks Association conference in Atlanta last year. "We had been talking about this for probably a year prior as part of our long-term master plan," he says. "We were trying to decide whether we should put it in a group or along our walking trails, and how people might use it."
The department opted for a clustered arrangement of 10 pieces of equipment - elliptical, sit-up board, chest press, pulldown trainer, leg press, stretching bars, sky walker, rowing machine, cross country machine, stationary bike and a butterfly press - near the park's playground, but easily accessible from the walking path or parking lot. "We opened it up in July," Curran says. "We've just had fantastic response from people."
Tinley Park's arrangement is similar to the setup preferred by TPL, which, over the past five years has had a lot of time to experiment with what works and what doesn't. "We work very closely with parks departments to make sure the zones are placed in an area with easy access, whether people are coming on bicycles or even by car, and good visibility," McClymonds says. "We want people to feel safe when they go to exercise. We have a lot of criteria that we look for in the actual location within the park. When there is the space and it's appropriate, we try to place fitness zones close to the playground so that when parents bring their children to the park, they can exercise at the same time, setting a good example for their children. They go well together."
The convenience of the location does raise the potential for some problems, of course. Most outdoor fitness equipment is specified for use by ages 12 to 14 and above, but enforcing the restriction is difficult. Neighborhood House - an organization that assists underserved communities in the Seattle area, opening its first fitness area in West Seattle's Bataan Park this past summer - has placed signs in the park notifying people of the age restrictions. But Denise Sharify, a project director with the organization, says there's little else they can do to keep kids from horsing around. "There's just no way to prevent that," she says. "We have so many kids in the community."
No playground or park is free from danger, and children misbehaving is just something communities take in stride, seeing the potential benefits as worth the risk. "There is such a health crisis in America, and such a problem with childhood and teenage obesity," McClymonds says. "We're hoping that having this equipment in parks will provide an opportunity for adults to become more fit, and we're also hoping that it will have an impact on teenagers."
While outdoor gyms offer a new option for park users to be active or a convenient solution for parents taking their kids to play, the goal of many communities installing equipment is to reach out to a demographic of non-exercisers or non-park users, which requires more than just building equipment. Tinley Park held a grand opening for its park addition, and promoted the new equipment through the press and the mayor's health and wellness committee. In Bataan Park, Neighborhood House took a more prolonged approach.
"Initially, we wanted to recruit outdoor park ambassadors," says Sharify, but the process required more time to familiarize people with the equipment than the group had planned. "For the whole month of September, we had our indoor exercise program outside," she says. "People were driving by and stopping when they saw people exercising."
For those who missed the grand opening celebrations, a fitness trainer in the community also created a beginner's workout program that Bataan Park users could follow, and most outdoor gyms also include signage to familiarize beginners with the equipment. Cognizant of county codes, not to mention the diverse makeup of the underserved demographic they're trying to reach, parks officials in Miami-Dade County have posted multiple signs. "Each park has three signs so that everyone understands the general equipment: English, Spanish and Creole," says McClymonds. "On each piece of equipment, there is an illustrated sticker that explains in detail how to use it. Then there is very general but encouraging signage, congratulating people on choosing a healthier lifestyle."
It's easy to credit the success of outdoor gyms in California and Florida to the sunny, warm climate, but their popularity in Canada and European countries demonstrates that something more is drawing users' attention. The lack of cost and ease of accessibility are part of it, but McClymonds believes the community atmosphere is also a significant factor. "Frankly, gyms can be intimidating," she says. "If you are overweight, not in the best of health or a senior, you might not be comfortable going to a gym. But when you're in your neighborhood park, among family and friends and neighbors encouraging each other, it's much more conducive to exercise."
While specifiers of outdoor gyms tout the benefit of being free to users, someone is paying for them. TPL works with private companies to fundraise for its Fitness Zones, and Neighborhood House was able to take advantage of a grant. But communities like Tinley Park are finding that such projects really aren't cost-prohibitive. "For what you get, it's a very reasonable cost," says Curran. "I think we did the whole project for less than $30,000." In comparison, he estimates the city spends an average of $90,000 to $100,000 on new playground installations.
It's an investment not only in healthier lifestyles, but better parks and stronger communities, McClymonds says. "I had gone down early one morning and there was a group of five women telling me that they had dropped their children off at school and now it was becoming their morning routine to come to the park, use the exercise equipment and then walk together along the park's walking path."
And, as Sharify points out, the equipment is only one part of an overall lifestyle change the organization is hoping to spark. "The park serves as a reminder to exercise and keep it up," she says.