Parks in New York will soon have a new amenity to draw users: solar-powered charging stations. Tested out last year in Brooklyn, a total of 25 locations are planned to open throughout the city this summer.
The project is a partnership between the city and AT&T. The stations are constructed with a canopy of solar panels and feature three small tables to rest phones or other devices on. Built-in regular and mini USB ports, iPhone (4 and 5) plugs and charging instructions mean just about an device can be charged.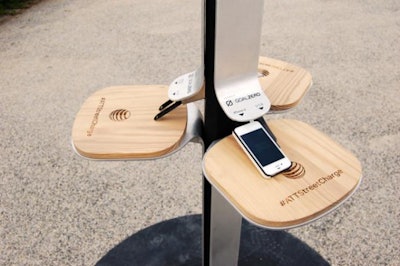 The stations are the result of the Street Charge project, an idea borne from AT&T's assistance efforts during the aftermath of Superstorm Sandy, when the company set up charging stations throughout areas of the city left without power by the storm.
"We realized charging was the missing ingredient during the day," says Neil Giacobbi, an AT&T representative.
The charging structures are wireless, relying only on batteries storing sun-harvested energy. Each station can provide three to four days of continuous charging at full strength and require only four hours to restore a full charge. After this summer's trial period in New York, AT&T plans to look into expanding the project, adding more stations in New York, as well as other cities.