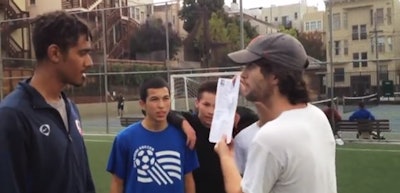 Thanks to a viral video and an ensuing change of policy, teenagers in San Francisco's Mission neighborhood will no longer have to worry about being booted from their local public soccer field.
The story begins months ago when a group of San Francisco tech workers showed up at Mission Playground with a permit saying they had paid to reserve the field. The teenagers, citing that it was a public park, offered to share the field with the tech workers, but not leave altogether. The relatively level-headed argument between the two groups that followed was caught on video and has racked up more than 500,000 views.
As The San Francisco Examiner reports, the tech workers paid $27 for a permit to use the soccer field for an hour, where free pickup games had historically been the norm.
As seen in the video, the employees from tech companies Dropbox and Airbnb ask the teens to leave. The image of white tech workers holding up a paper permit to assert land usage over Latino teenagers touched a nerve in a city experiencing an ongoing struggle with gentrification.
The video also sparked a debate about San Francisco's "pay to play" rules in public spaces. About 300 people gathered outside San Francisco's City Hall last Thursday morning to support a policy change that would no longer allow people to pay to reserve public space.
"I used to think the parks were ours," said Hugo Vargas, a 15-year-old Mission resident who was in the video. "Knowing that they're selling our parks is not fair. ... Mission Playground is not for sale."
"We cannot be a city where you need money to access public space," Supervisor David Campos told the crowd.
Shortly afterward, Recreation and Park Department Manager Phil Ginsburg announced that permits for adult play at the Mission Playground soccer field will no longer be sold.
"At the crux of this issue is a lack of play space for our kids," Ginsburg said.
According to The Examiner, this has been an ongoing issue in San Francisco which is one of the country's most densely populated cities. Since being appointed in 2009, Ginsburg has been criticized for pushing for public-private partnerships to revitalize public parks. Since 2011, the Rec and Park Commission budget has increased by $40 million, now reaching $163 million for the 2014-15 fiscal year
RELATED: Free Wi-Fi in San Francisco Parks, Courtesy of Google