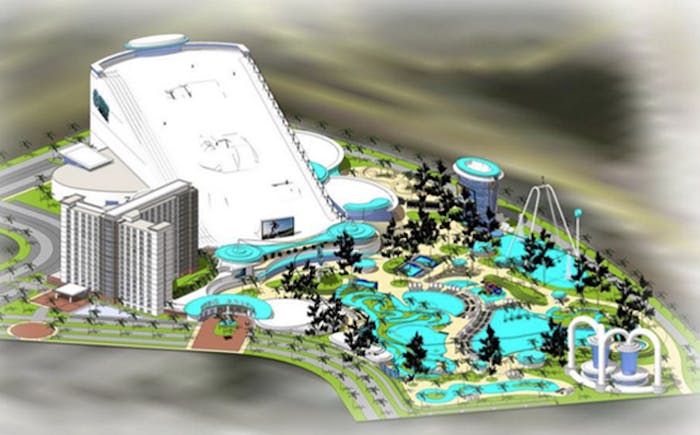 The Orlando area is home to Disney World, Universal Studios and Sea World among other attractions. But one thing you can't do in Florida is snowboard or snow ski. That could change if a new extreme sports park comes to fruition.
The Xero Gravity Action Sports and Entertainment Resort is being planned for a 75-acre site in Kissimmee, Fl. According to Orlando Weekly, the park would include a 14-story ski and snowboard slope made with artificial snow, a 25,000-square-foot indoor/outdoor skateboard park, a USA-BMX-sanctioned racetrack, two "sky-diving pods," two 14-story water slides, an indoor dodge ball trampoline arena, a 140-foot-tall rock climbing wall, a white water rapid river and zip lines crisscrossing the entire property.
The resort would also have plenty of non-extreme entertainment options. Guests will have the option to stay in a 250-room Hyatt hotel with a rooftop pool and bar, take in a concert at a 2,000-seat amphitheater,  and enjoy several restaurants, bars and retail shops, or visit the International Action Sports Hall of Fame that is planned for the resort.
Impact Data Source, a Texas based economic consulting firm, projects about $1.97 billion in taxable sales over a 10-year period coming from the sports complex. Admission to the park will reportedly cost between $35 and $95.
The estimated cost of the resort is $309 million and it would not open until 2018. The property is being sold by the parent company of Westgate Resorts to a group of developers based out of Jacksonville. Those developers say their next step is to secure funding.
The idea for snow skiing in Florida isn't a new one. Plans for an indoor snow skiing resort were once proposed for Cypress Gardens. That theme park eventually failed and is now Legoland Florida. Another resort that would include skiing was proposed in March 2013.
As for Xero Gravity, Orlando Weekly reports that a $50,000 deposit has been made on the site already. A second deposit that would secure the location is due on April 20.