Breaking Ground
The University of Charleston breaks ground this month on its Russell and Martha Wehrle Innovation Center (above), named to reflect a $5 million contribution from the namesakes' memorial foundation. Designed by Associated Architects of Charleston, W.V., the $15.5 million project is the final piece of a $100 million campus renovation project undertaken over the past decade. Phase one will replace the existing Eddie King Gym with a new arena featuring stadium-style seating, new concessions and a walking track. Phase two will renovate the aquatic and auxiliary gymnasium areas, add racquetball courts and a climbing wall, and link the new addition to the existing fitness center. The center will also house programming space for developing innovative projects and promoting entrepreneurship.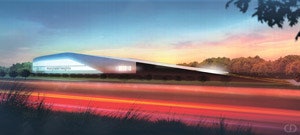 Construction of Maryland Heights Community Center (right) in St. Louis County, Mo., has begun. A senior center, preschool, meeting rooms, a two-court MAC, a recreational pool, group exercise rooms, a jogging track and fitness spaces will all be included in the $30.5 million project. Built on the site of an outdated community center, the project will also improve vehicular circulation and landscaping, add walking trails and connect to an existing outdoor aquatic center. Designed by CannonDesign of St. Louis, the project is expected to be completed by summer 2016 and is targeting LEED Silver certification.
---

Ground was broken last month on the Montrose (Colo.) Community Recreation Center & Fieldhouse (right). The $28 million project will be divided into an aquatics component and a sports and fitness component. The aquatics section will include a leisure pool and 25-meter-by-25-yard competitive pool, a drop slide and a slackline above the water — the first slackline of its kind in a public aquatic facility, according to Denver-based design firm Barker Rinker Seacat Architecture. The sports and fitness component will house three gymnasiums, a family game area, a children's indoor play area, a fitness area and support spaces. A unique walking track will offer three fitness options — a flat section surrounding the upper fitness area; a hill section surrounding the three gyms; and a stair section, which utilizes the existing building stairs to create a two-level track. Also included in the design team are John Eloe, Architect of Grand Rapids, Colo., Greenplay LLC of Lafayette, Colo., and Water Technology Inc. of Beaver Dam, Wis.
---
First Pitch
The city council in North Miami Beach, Fla., has approved construction of a soccer training facility. Proposed by the Soccer Development Group, a partner of the 11,000-member Boca Juniors, plans include construction of a state-of-the-art sports complex in Patricia Mishcon Park. A groundbreaking ceremony is planned for August... After reviewing proposals, Special Olympics Missouri has selected Jefferson City to build its new Training for Life Campus facility. The 44,000-square-foot facility, which will be built on a 15.5-acre property donated to the organization, will host training camps and athletic events. Construction will begin once the $12.5 million cost has been raised... The University of Michigan Board of Regents has approved a $13 million renovation and expansion of the North Campus Recreation Building. The plans call for renovation of 50,000 square feet, including updated racquetball courts, locker rooms and restrooms, and an enhanced entry to the 40-year-old building, as well as the addition of a gymnasium and exercise spaces. Integrated Design Solutions of Troy, Mich., in association with RDG Planning and Design of Des Moines, Iowa, is handling project design.
---
Grand Openings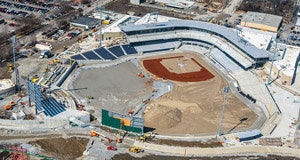 The Nashville Sounds, AAA affiliate of the Oakland A's, celebrated Opening Day last month in their new home, First Tennessee Park (pictured). The $75 million city-owned ballpark, designed by Populous of Kansas City, Mo., with architect of record Hastings Architecture Associates of Nashville, offers 8,500 permanent seats, including club and suite spaces, and a berm and picnic area that can accommodate an additional 1,500 fans. Historical monuments will honor the area's Native American history, as well as the historic Sulphur Dell stadium that once stood on the site. Additional features include a guitar-shaped scoreboard, a green roof and rain- harvesting system, and a playing field recessed 11 feet below the concourse to encourage fans to move around the ballpark during games... The City of Grapevine, Tex., celebrated the grand reopening of The REC (Recreation|Education|Community) last month. The renovation and expansion of the existing Grapevine Community Activities Center increased programming areas for aquatics, fitness, seniors and youths. At 112,000 square feet, The REC includes a gymnasium, racquetball courts, a weight and fitness area, a walking track and group exercise spaces. The aquatics center features a leisure pool, a dual-waterslide complex and a lap pool. Design of the $30.1 million renovation was led by Barker Rinker Seacat Architecture, with Water Technology Inc. overseeing the aquatic renovations... The Murfreesboro (Tenn.) Parks and Recreation Department wraps up construction of an eight-court indoor tennis facility at Old Fort Park this month. Built in partnership with the city, Middle Tennessee State University and the Christy-Houston Foundation, the $5.8 million facility complements an existing 16-court outdoor complex. Lose & Associates Inc. of Nashville, designed the facility, which spans two stories and includes a viewing mezzanine with bleachers... A newly renovated climbing wall opens this month at Texas Tech University's Robert H. Ewalt Student Recreation Center. The new wall replaces a 15-year-old wall that was showing signs of wear, including hardware issues, as well as chipping and cracking. Designed and constructed by El Dorado Climbing Walls of Boulder, Colo., the climbing area was reconfigured into a J shape to maximize use of the space and offers steeper slopes to challenge climbers.
This article originally appeared in the May 2015 issue of Athletic Business under Forward Progress"