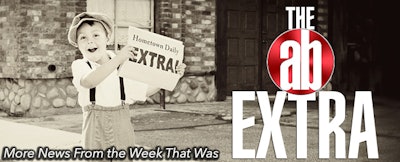 This edition of The AB Extra includes the story of an 80-year-old who finally atoned for missing a high school gym class, a proposed underwater tennis court in Dubai and the bizarre story of a man getting stuck in a park basketball hoop. Enjoy.
Ohio Woman, 80, Finally Receives High School Diploma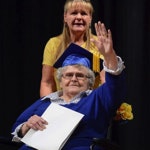 Susan Bostik Reynolds missed her 1952 high school graduation at Clearview High School in Lorain, Ohio because she was short half of a credit of gym class. However, Reynolds finally received that diploma 63 years later in a surprise ceremony at the school.
According to Reynolds, she was unable to pass her gym class because she wouldn't complete one of the physical activities after having appendicitis.
"I had an appendix attack," said Reynolds. "I didn't finish gym class. I wouldn't go up on that rope."
Clearview guidance counselor Jean Branzel said the ceremony illustrated the importance of receiving a high school diploma, no matter the amount of time.
Students were impressed by the feat as well. Senior Brandon Folley said, "I thought it was pretty cool. She waited so long to accomplish something that not everybody can accomplish."
---
An Underwater Tennis Court?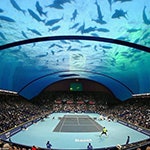 In a city known for extravagance, the latest example comes in the form of a proposed underwater tennis court. Polish architect Krysztof Kotala has released renderings of an underwater tennis court he hopes to build off the coast of Dubai. However, engineers are calling for a reality check.

Among the concerns: The fact that existing machinery would not be able to create curved glass panels big enough to cover the court, the water pressure on the glass would be immense, the glass could weight up to 100 tons according to one expert, the possibility of leaks and the possibility that sunlight could fluctuate from non-existent to potentially blinding depending on how it was refracted off the water above.

Other than that, there are only a few minor issues like how to build the thing in the first place.

"You'd have to construct a watertight base, sit the glass on top and seal it, and then pump the water out," says Sarah Fray, director of engineering and technical services at the Institution of Structural Engineers in London. Furthermore, the facility would have to be proofed against earthquakes and tsunamis, with provisions made for emergency evacuations above water.

While unrealistic, it does make for an interesting visual. Meanwhile, Dubai can take solace in the fact that is home to the world's highest tennis court, if not an underwater one.
---
Tony Allen Interrupts Kids' Dance Routine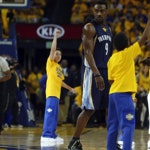 Golden State Warriors' fans were not pleased after the Memphis Grizzlies' Tony Allen unknowingly walked into the middle of a kids' dance routine being performed during a timeout. Once he realized his mistake, Allen tried to shake the hand of one of the performers, but it didn't change the fans' perceptions.
Following the gaffe, every time Allen touched the ball for the remainder of the game, Warriors fans booed loudly. His opponents, however, found the mix-up to be pretty funny.
The Warriors' Draymond Green said, "I don't think he realized he was walking through their dance routine...I don't think he meant anything by it. It was hilarious. I just started laughing. I think he'll hear some boos for the rest of his time at Oracle."
Stephen Curry witnessed the event saying, "He was locked in the moment, and they were still dancing...It was pretty funny... I don't think it messed up their choreography."
Allen blamed his intense focus on the game for the mistake. "I was so focused on the play we drew up and what those guys are doing offensively, it took me by surprise."
---
Seattle Man Gets Stuck in Basketball Hoop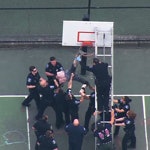 The Seattle Police were called after witnesses found a shirtless man wielding a hammer stuck inside a playground basketball hoop.
The man was entangled in the rim's net and police officers called in local firefighters to help get the man down. Two firefighters eventually climbed up a ladder from one of their trucks and cut the net down to free the man.
The police considered pressing charges against the man for property destruction, but kept a sense of humor about the unusual situation.
Shirtless man removed from Cal Anderson basketball hoop. He may be arrested for property destruction, or at least goal-tending.

— Seattle Police Dept. (@SeattlePD) May 2, 2015
The police ultimately decided not to press charges, but the man was taken to a hospital for mental evaluation. Video of the incident can be found here.
---
Turning Stadium Parking into Affordable Housing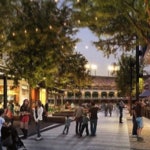 With affordable housing becoming a rarity in San Francisco, a proposal has been made that would turn a San Francisco Giant's parking lot into a new neighborhood that will have a variety of housing options, including one-third of the units being affordable.
The 28-acre parking lot currently hosts about 2,000 cars during Giants games, but if the proposal is passed, it will be turned into the Mission Rock neighborhood, which will have 1,500 residences, an eight-acre park, and commercial space. A new stacked parking garage would be built to host the cars displaced by the elimination of the parking lot.
The new neighborhood would also put an emphasis on shorter building heights and local shops with the hopes of making the project more appealing to residents. The proposal goes up for vote in November.