A roundup of the latest stadium and outdoor sports products from AB advertisers.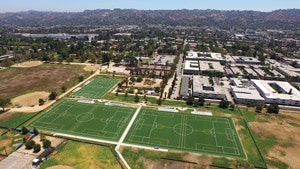 AstroTurf
Despite many independent studies, some users are reluctant to accept a common turf system component: crumb rubber. The Golden Series from AstroTurf features no rubber. Instead, these systems feature a shock pad and an extremely dense pile — at least three times denser than AstroTurf's next-heaviest system. For ballast and cooling, AstroTurf adds ZeoFill, which absorbs 81 percent of its weight in water and evaporates over time. The Golden Series is a solution for clients seeking high performance and durability in non-controversial turf systems.
www.astroturf.com
(800) 723-8873
---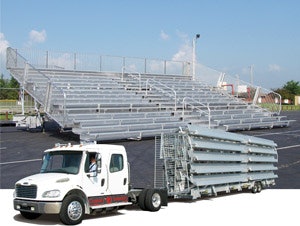 Century Industries
Century's TSP15-450 series of 15-row TranSport mobile grandstand bleachers offer increased flexibility and utility for stadiums and athletic fields, allowing for quick and easy reconfiguration of seating to suit the event. Featuring the same one-person-powered setup of Century's popular 10-row highway-mobile bleachers, TSP15-450 bleachers provide 50 percent more seating capacity per frontage foot — per deliver and per setup — plus 50 percent greater visibility for spectators.
www.centuryindustries.com
(800) 248-3371
---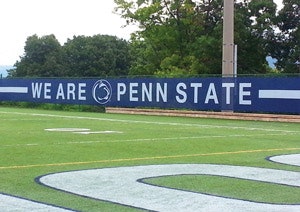 Humphrys-Coversports
TuffPrint™ on Humphrys-CoverSports' ArmorMesh, Standard Mesh or Solid Vinyl fabric will take any institution's brand to a higher level. The TuffPrint process adds lettering, logos and a "wow" factor to many of the company's products and is an attractive, affordable way to promote team spirit or raise funds. TuffPrint allows for printing colors of all spectrums (from simple one-color lettering to intricate images of multiple colors and shading) and all scales (from a small banner to a fully padded gym wall to large stadium wraps).
www.coversports.com
(800) 445-6680
---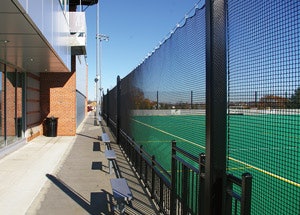 Incord
InCord is an expert provider of safety netting solutions for a wide variety of sports — from golf to baseball. Products include custom field dividers, batting cages, backstops and field goal netting. InCord makes netting for team and spectator protection around fields, over stadiums and above dashers and bleachers.
www.incord.com
(860) 537-1414
---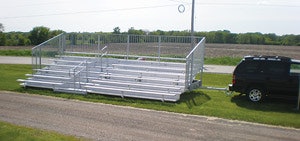 Kay Park-Recreation Corp.
Speedy Bleacher 108 is a folding and highway-towable seating solution by Kay Park. The versatile and economical unit seats 108 people and features seven rows, an aisle and a handrail. Equipped with an electric folding mechanism and telescoping tongue, it can be easily towed by a conventional vehicle and erected in just a few minutes by one person. The 27-foot-long, 9-foot-high Speedy Bleacher meets safety codes.
www.kaypark.com
(800) 987-2313
---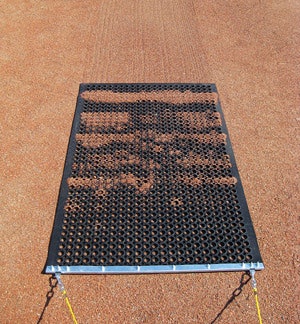 M.A.S.A.
The Eraser mat grooms fields even in adverse, damp soil conditions, with very little material left in the mat. Its lightweight design makes it easy for any groundskeeper, coach or player to use and transport. As the drag mat is pulled, it percolates and dries infield material, giving the field a professional finish. In addition, the Eraser mat will not harm grass, the pitching rubber or home plate if inadvertent contact occurs. Available in 3-, 5- and 6 ½-foot widths, Eraser is flexible, easy to roll and unroll, and can even be driven over without causing damage.
www.sportsadvantage.com
(800) 264-4519
---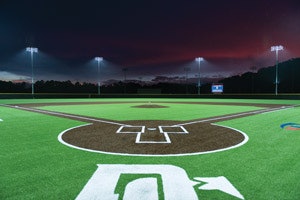 Musco Sports Lighting LLC
Using LED and metal halide light sources, Musco delivers customized lighting solutions for sports and large-area venues around the world. The company has invested more than 35 years into researching and testing lighting technology and the precise science of light control. The results are affordable, energy-efficient solutions that provide the highest quality of light, while minimizing spill light and glare. Musco's trouble-free lighting systems carry an industry-leading warranty complete from foundation to pole top.
www.musco.com
(800) 825-6020
---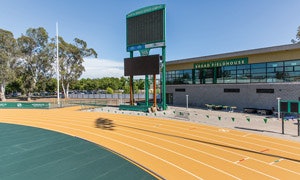 Mondo
Mondo's Super X 730 track combines the wear layer of the company's renowned Super X Performance track and the backing of Mondotrack — the two elements vulcanized together to form one continuous, seamless piece of material that delivers performance, traction, durability and safety. The backing provides exceptional shock-absorbency and energy return, which further helps the performance layer enhance athletes' comfort. This enables them to achieve faster times than when running on other surfaces, as evidenced by more than 230 world records being set on Mondo tracks.
www.mondotrackusa.com
(800) 361-3747
---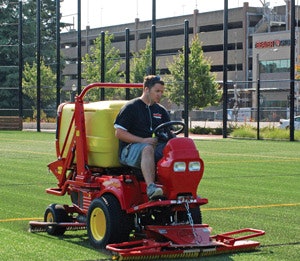 SMG Equipment LLC
For 40 years, SMG has been a leading manufacturer of equipment for the installation and maintenance of synthetic turf fields and running tracks. SMG Equipment offers a complete line of turf maintenance equipment, including drag brushes, ground-driven tow-behind sweepers, tractor-mounted PTO-drive sweepers and the top-of-the-line SMG SportChamp.
www.smgequipment.com
(253) 350-8803
---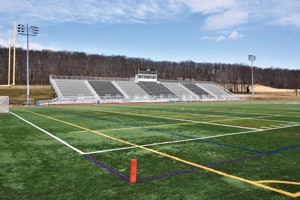 Southern Bleacher Co.
Since 1946, Southern Bleacher has helped school districts and colleges create venues that stand the test of time, season after season. Whether a project involves renovation and expansion of existing bleachers or new construction, the company's expertise and dedication to excellence result in first-class grandstands. Customized color options are available.
www.southernbleacher.com
(800) 433-0912
---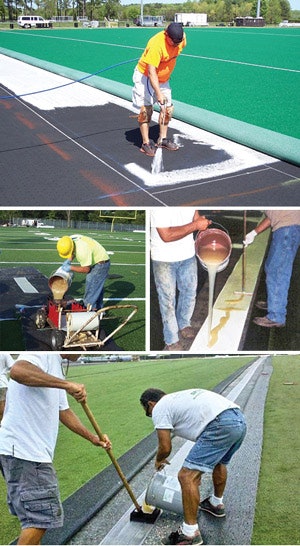 Synthetic Surfaces Inc.
NORDOT® Adhesives have earned a reputation of being the very best adhesives for installing outdoor synthetic turf athletic fields and recreational surfaces. They are well-known for their ease of use under variable and sometimes adverse weather conditions, extraordinarily high "green strength," outstanding water-resistance, and long-term durability in weather conditions worldwide. These photos illustrate some of the many ways NORDOT Adhesives are applied: glue box, stand-up trowel, squeegee and airless spray. More action photos of installations in progress can be found on the company's website.
www.nordot.com
(908) 233-6803
---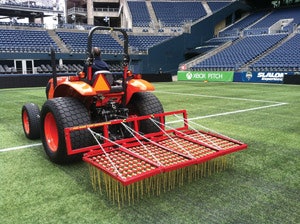 Wood Bay Turf Technologies
The high-speed and versatile fds9200 synthetic- and natural-turf conditioner features four pivot dethatching sections and increased ground-following capability over the most undulating conditions. Rugged enough for even the toughest southern grasses, the conditioner performs exceptionally well on synthetic turf to restore and stand fibers upright while redistributing infill material. The fds9200 will increase the longevity of stadium turf, reduce its G-max rating and provide athletes the feel of real grass. It is available in 46-, 60- and 92-inch widths and fits low horse-power tractors. A magnet attachment helps remove metal and other sharp objects.
www.woodbayturftech.com
(800) 661-4942
---
This article originally appeared in the January/February 2015 issue of Athletic Business with the title "Spotlight: Stadiums & Outdoor Sports Surfaces"
---
RELATED: Find more solutions for your facility in the Buyers Guide