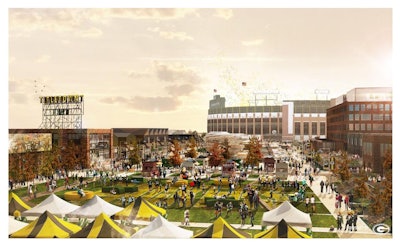 The Green Bay Packers and team president/CEO Mark Murphy unveiled plans Thursday for a new development called the Titletown District.
The Titletown District will be created on about 34 acres of land immediately west of Lambeau Field, and will be a year-round destination attraction. The goal is to attract more visitors, spur economic growth and offer new amenities to the area.
Three key tenants will anchor the development. Titletown District space will be reserved for an upscale Lodge Kohler hotel, a Belin Health sports medicine clinic and Hinterland restaurant and brewery.
In addition to hosting these tenants and additional commercial space, the Titletown District will feature 10 acres of public space that will include a skating rink, a FieldTurf football field, a giant replica Super Bowl ring and various green spaces for people to use year-round.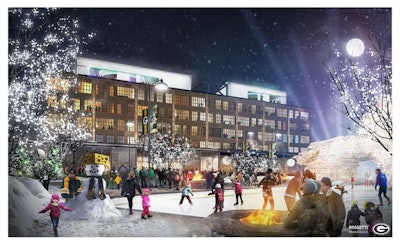 The investment is expected to provide a boost to the Packers' revenue, as they'll receive income from the renting of their properties, but the team won't see payback until the anchor tenants have completed their construction projects.
"So bringing those people over here, it allows us to generate non-football revenue that isn't shared with other teams," team president and CEO Mark Murphy said.
"And I think long-term, it benefits the Packers the more vibrant the community is, the stronger the community is, the more likely that in the future we'll be able to continue to support a competitive NFL team."
Groundbreaking is expected for this fall for infrastructure and utilities projects. The target completion date is fall of 2017.