This article appeared in the MONTH issue of Athletic Business. Athletic Business is a free magazine for professionals in the athletic, fitness and recreation industry. Click here to subscribe.
Breaking Ground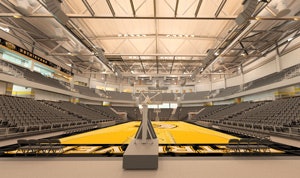 The University of Maryland, Baltimore County has broken ground on an $85 million campus event center. The 5,000-seat multipurpose arena will be home to practices and competitions for the school's men's and women's basketball and women's volleyball programs, freeing up Retriever Activities Center Arena for recreational and intramural programs. Designed by CannonDesign of Washington, D.C., the project is expected to take 21 months to complete.
Florida International University begins work this spring on a 60,000-square-foot expansion to its MMC Wellness and Recreation Center, which will nearly double in size to meet the demand of a student body that has also doubled since the recreation center opened in 2005. Funded by the Florida Capital Improvement Trust Fund, and FIU's Student Government Association and Department of Housing, the $25 million project will include a three-court gymnasium, 6,600 square feet of fitness space, a 6,500-square-foot weight room, expanded locker room spaces, additional group fitness rooms, a new student lounge, an indoor jogging track, and outdoor basketball courts and sand volleyball courts. HKS Architects of Orlando is leading design of the project.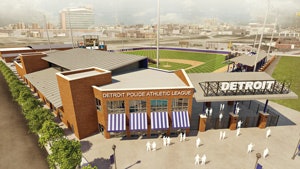 The Detroit Police Athletic League breaks ground this month on its new $15.6 million youth sports facility and league headquarters at the site of former Tiger Stadium. The project aims to preserve the footprint of the existing playing field but replace the natural grass with synthetic turf and construct a 2,500-seat stadium with locker rooms, dugouts, scoreboards and lights. Designed by Pendulum Studio of Kansas City, Mo., the new facility will host baseball, soccer and other sports.
---
First Pitch
The Madison School Board in Rexburg, Id., has approved designs for a new athletic complex at Madison High School. The preliminary design from JRW & Associates of Rexburg includes a football stadium, soccer fields and tennis courts. The designs must be reviewed and approved by the city before fundraising can begin.
The Winnipeg City Council approved $350,000 (Canadian) in consulting and site planning for the Southwest Recreation Campus. The estimated $60 million campus would include a library, sports fields and other amenities. Once a site and design have been selected, the city council would still need to approve financing.
The University of Tennessee has announced plans for upgrades to Neyland Stadium. The work will include improvements to the south and east sides of the stadium, as well as enhancements to hospitality areas and in-venue technology. Kansas City-based Populous will be leading the initial assessments, which will include a facility and technology review, a market feasibility study, cost estimations, and a financial and funding analysis.
Marquette University has announced a partnership with Aurora Health Care for construction of its new Athletic Performance Research Center. Aurora will contribute $40 million toward the $120 million project, which includes construction of a fieldhouse. The facility is a joint venture between MU Athletics, the College of Health Sciences, the College of Engineering, the NBA's Milwaukee Bucks and Aurora. Groundbreaking is expected to take place in 2017.
---
Grand Openings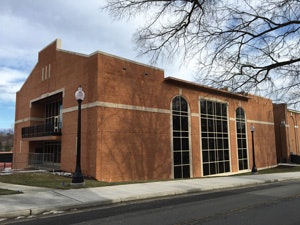 Wake Forest University recently held a grand opening for the Sutton Center, the first phase of a three-phase renovation of W.N. Reynolds Gym. Designed by RDG Planning & Design of Des Moines, Iowa, the 46,000-square-foot addition includes two basketball courts and a basement space for the university's Outdoor Pursuits program. The next phases will see the renovation of the existing 60-year-old gym followed by a renovation of the pool.
O Athletik, a new fitness center aimed at millennial users, is now open in Houston. The 35,000-square-foot facility includes traditional fitness equipment, as well as a running hill, an indoor soccer field, boxing and MMA training spaces, a juice bar and café, locker rooms, sauna and steam rooms, and a noise-proof room for yoga. The club will host soccer and volleyball leagues, as well as offer more than 100 classes per week.
Dakota Wesleyan University held a dedication for its new DWU/Avera Sports and Wellness Complex in February. The new facility encompasses 85,000 square feet and includes three multipurpose courts, a 200-meter track and a wrestling room, as well as the Donna and Paul Christen Community Health and Fitness Center and Glenda and Fitz Corrigan Fieldhouse and Athletic Institute. The university has partnered with GreatLIFE for management of the fitness center, which will also be open to community use.
Cleveland (Tenn.) High School is celebrating the opening of its Raider Arena this month. The $11 million project replaced the 50-year-old Raider Dome with a larger, 80,000-square-foot facility that includes a new court, seating for 2,700 spectators, an indoor track, locker rooms, coaches' offices and six classrooms on a mezzanine level overlooking the gym. Designed by Upland Design Group of Crossville, Tenn., the new arena also includes a sound system that will allow it to host concerts and other special events in addition to athletics.
The Kent County Recreation Center is now open in Dover, Del. The $10.7 million project, designed by Becker Morgan Group of Salisbury, Md., is a partnership between the county and the Greater Dover Boys & Girls Club. Each organization occupies a portion of the 62,500-square-foot facility. The county recreation center includes a large multiuse gymnasium with divider curtains, as well as a reception area and program offices. Outside, a lighted synthetic turf field hosts football, soccer and lacrosse, with seating for 200, and additional land is available for future field development.
---
This article originally appeared in the April 2016 issue of Athletic Business with the title "Forward Progress"