The entry plaza to the Leonard J. Kaplan Center for Wellness at the University of North Carolina Greensboro is not only beautiful but hard-working.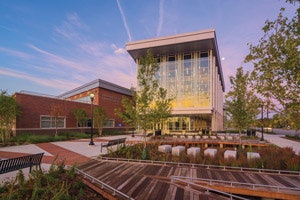 A variety of hardscape materials and vegetation arranged in a pick-up-sticks pattern visible from the glass-enclosed cardio area cantilevered over the facility's front doors represent a demonstration rain garden, slowing and filtering rainwater and runoff before it enters the storm system and ultimately the local watershed. Brushed concrete intersects with bands of clay paver (a campus staple) and Brazilian hardwood boardwalks, which traverse a mulch bed of trees, flowering plants and switchgrass selected for their ability to tolerate periods of saturation and drought. Two bands are extended by dotted lines of locally sourced granite block, which harken to the retaining walls of a tiered bioswale that's 20 times larger and located on the building's opposite side. "The criss-crossing is really there to be a playful element, to show some of the movement that typically happens in and out of a campus facility like this," says RDG Planning & Design partner Jonathan Martin, one of three landscape architects at the firm to work on the project. "But there's more going on with this than it just being a plaza."
---
This article originally appeared in the June 2017 issue of Athletic Business with the title "Plaza's playful aesthetics belie work as bioswale" Athletic Business is a free magazine for professionals in the athletic, fitness and recreation industry. Click here to subscribe.