Used to be your average weekend youth baseball or soccer tournament was played within miles of home, usually among teams from nearby communities. To paint it Rockwellian, Mom and Dad brought lawn chairs and a cooler packed with lunch. Grandma and Grandpa came if the weather was nice. Team entry fees were minimal and the local umps or referees got the call right most of the time.
These low-key events still exist, but increasingly parents are choosing more competitive leagues for their kids — leagues in which the goal is moving to the next level of competition, and tournaments look quite different than quaint gatherings at the local park.
To say that the advent of club leagues has brought change to youth sports in the United States is an understatement. Today's youth tournaments are high-octane, multi-day events, oftentimes requiring airfare to reach destinations that feature professional-grade venues. College, and in some cases, professional scouts are on hand to survey the talent, and onsite full-service restaurants replace hotdogs and sno-cones from a concessions stand.


The 'in' club
Al Kidd, president and CEO of the National Association of Sports Commissions, says that the changes happening in youth sports really find their roots in the way public schools have reduced emphasis on physical education. "In California, for instance, kids who go out for sports don't even have to take PE," Kidd says, noting that K-12 physical education used to be required and often involved a sampling of sports, from ice skating to wrestling. "There was kind of a natural exposure through the public schools to all the sports," Kidd says. "Now you have these sports that are struggling to just get bodies."
The vacuum left by physical education's disappearance, however, has been handily filled by the European club model, which amounts to a privatization of youth sports. "There was this genre of boomers who just felt that their kids weren't being educated and trained in sports in school, so they decided that Little League isn't working, and the school basketball league's not working," Kidd says. "So, I'm going to take my little Johnny, who's a star, and we'll get out there and we'll start this tournament travel program."
A 2016 report from the Sports and Fitness Industry Association indicates that millennials — the children of boomers — drove the move to club sports. When compared to sports and fitness participants across age groups, the study found that 34 percent of millennials spent money on team sports outside of school. That's compared to 25 percent of all participants included in the report.
The shift toward club sports has meant dollar signs for some communities, as tournaments that host hundreds of teams become revenue-generating machines. Not only has this new circuit of travelling teams and mega-tournaments fostered a higher level of competition, it's also spurred the building of new facilities. "Now you're seeing this plethora of facilities, and they're cropping up everywhere," says Kidd, positing that youth sports represent small economies of their own. "One, you have jobs, and two, you have development, which means big numbers."
Kidd notes that even city governments are not blind to the opportunity inherent in hosting a premier youth sports event. "People are trying to get their fair share," he says. "Even administrators of cities and the politicians look at it now and say, 'Hey, this is a land grab. Let's see if we can generate some more tax revenue.'"

Economic kick
The Jefferson Cup is the kind of event any city would covet. Now in its 37th year and hosted by the Richmond Strikers of Richmond, Va., the "Jeff Cup," as it's come to be known, is one of the top five youth soccer tournaments in the country in terms of participation. Boasting some of the best natural grass field complexes around, as well as a total of 32 synthetic turf fields, the tournament draws droves of soccer families to local hotels and restaurants. Two of the event weekends are boys' and girls' showcases that attract hundreds of college scouts from schools all over the country.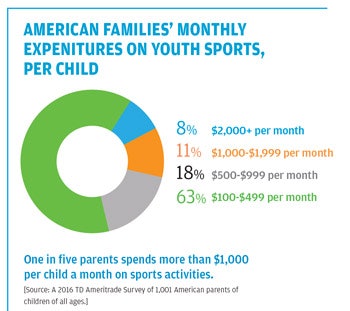 "The top-level teams are looking for the level of competition, the quality of venues and really, how it's run," says director of tournaments for the Jefferson Cup, Steve D'Adamo, when asked what teams are looking for in an event. "Our goal is to really create competitive games at great venues."
D'Adamo credits a number of factors for driving the boom in youth sports tourism, from the proliferation of sports coverage that came with the advent of ESPN to the younger age of today's serious athletes. "There are just so many people being committed at a younger age," D'Adamo says. "You get a lot more serious and competitive youth teams."
Acknowledging the increasing competition in the tournament market, D'Adamo says the Jefferson Cup's success is largely due to good collaboration with the counties in which games are played, which has led to support for enhancing facilities. "You're always limited with events through hotels and playing spaces — in our case, soccer fields," he says. "We've been fortunate in Richmond to have a significant number of complexes developed over the past 10 years or so that have allowed us to have a tournament environment with multiple multi-field complexes."
A combination of high-quality turf and natural grass fields ensures that games can be played regardless of weather — a must when teams are travelling long distances. Likewise, a smoothly run, reliable operation is key to competing for team dollars from as far away as the West Coast. D'Adamo figures there are between five and 10 highly competitive, nationally known tournaments. He says most premier club teams are going to pick two or three of those to attend over the course of the year. "A West Coast team isn't going to come out East for two or three tournaments. They're going to come out for one. Whether they come out in November for the Disney Showcase, or they come out in March for the Jefferson Cup, that can represent competition for us."

Whistles and bells
The decisions made by a sport's organizing associations undoubtedly affect the success of its tournaments, but the sports tourism trend has made other factors a concern. Mega-tournaments are increasingly focused on the value-add. Location selection for today's tournaments goes way beyond the quality of the venue's playing surfaces, or whether it can handle a certain number of games.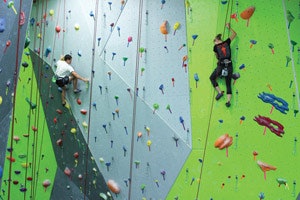 "It's kind of like when cities bid for the Super Bowl, but obviously on a much smaller scale," says Michael Grade, senior vice president of sports operations for LakePoint Sporting Community, which bills itself as the "Premier Sports Vacation Destination."
The fact that LakePoint is just 35 miles north of downtown Atlanta is no small thing. "If it's someone who's looking to bring an event to a city, and they're judging whether to bring that event to Atlanta versus A, B, C, D, E, they're looking at a number of things," notes Grade. "What is there to do in that city? How easy is it to get to that city? How far a drive is the tournament for a weekend trip?"
Tournament goers at LakePoint may not even need to venture into nearby Atlanta. Aside from the complex's sporting venues — eight baseball fields, three multipurpose fields, 10 beach volleyball courts, three cable wakeboarding pools, a 170,000-square-foot indoor facility with 12 basketball courts that convert to 24 volleyball courts — LakePoint also features three on-site hotels, four dining options and an entertainment venue called LakePoint Station.
Overkill? Not so much, according to Grade. "People are getting more and more sophisticated in how they pick a tournament. In the summer, when the kids are out of school, tournaments that are typically a three- or four-day event might turn into a six- or seven-day event. A family wants to be sure that when there's downtime, there are things to do close by — there are restaurants, movies, good venues."
Lyndsay Warner, director of event services at Spooky Nook Sports in Manheim, Pa., agrees that families and teams are approaching tournament selection in an entirely new way. "One of our biggest selling points with these tournament directors and families is that an entire family can come here and kind of make a vacation out of having to play in a tournament all weekend long," says Warner. "Now the siblings of the athlete can also come along and we have things for them to do. Whereas, if you're just in a high school gymnasium or at a convention center, they don't have that aspect, so it's not so much fun for the entire family. Mom and dad are at home drawing straws to see who gets to go to Jimmy's game this weekend."
The price of participating in these tournaments is not trivial, and families are increasingly putting youth sports at the top of their financial priorities. When you factor in tournament fees, equipment, lodging, airfare and meals, a family of four can spend in excess of $2,000 on a single weekend tournament. "Families are planning their vacations around their kids' sports activity," Grade says. "That's when you really want to be selective, because this may be your only big vacation of the summer."
There's no assurance that the tournament-hosting business will remain one big annual holiday for organizers, however. With Major League Soccer taking off in the United States, one might think the Jefferson Cup is guaranteed a long and prosperous future. D'Adamo remains cautious, noting that soccer here is still experiencing growing pains. "The sports environment is ever-changing. You can never take the success of an event for granted," he admits, pointing to such unknowns as the National Soccer Club Association's push toward consolidation. "Over the past few years, there's been a trend toward larger clubs, larger leagues, to kind of merge all this stuff together to get more of a unified front. Things will have to change."
---
This article originally appeared in the October 2017 issue of Athletic Business with the title "Child's play: The rise of the club mega-tournament." Athletic Business is a free magazine for professionals in the athletic, fitness and recreation industry. Click here to subscribe.