The driving question for synthetic turf manufacturers has long been, "How do we build fields that best mimic natural grass?" But an increasing number of companies — not only turf system manufacturers, but others that don't deal directly in the marketing of turf fibers — are asking a different question, "How do we replace crumb rubber as an infill?"
Many are circling back to nature itself for the answer, as materials such as wood, cork, coconut fibers, walnut shells and olive pits are being reconstituted into infill materials that some claim outperform crumb rubber while sidestepping many of crumb rubber's negatives.

"Let's say you're looking into putting in a new field, and I lay out all the different options in terms of infill products on the table without telling you what their price is," says Adam Coleman, general manager at infill supplier USGreentech, which offers a ground walnut shell blend as one infill alternative. "I'm pretty confident you wouldn't gravitate toward crumb rubber. It's hot, it's dusty, it smells, you don't know what's in it. There's not a whole lot of redeeming qualities to that product other than it's cheap and it can be regionally sourced. Beyond that, it doesn't have a lot of upside."
Nonetheless, crumb rubber dominates the current U.S. synthetic turf landscape, dotted with an estimated 10,000 to 12,000 fields, according to Dan Bond, president and CEO of the Synthetic Turf Council, a membership-based advocacy group. "Over 90 percent of those fields have crumb rubber infill, and the other infills — the coconut, the EPDM, the virgin rubber, thermoplastics — are 1 to 2 percent," Bond says. "It's a very small market share. It's growing, but it certainly is not going to overtake crumb rubber in five years."
One purveyor of plant-based organic infill products — in this case, cork combined with coconut fibers — is slightly more optimistic. "The market has been growing exponentially over the past three years," says Domenic Carapella, owner of Greenplay, which supplies natural infill to a variety of synthetic turf companies. "Just in the past two and a half years, we've supplied more than 60 fields."
That's triple the number of fields Carapella supplied natural infill to while working for a different cork-and-coconut infill provider in the nine years between 2006 and 2015, he says. "It's a trend — not just with one company, but with several turf manufacturers — because the specifications for natural infill are being written now, and they're being driven by the public. The public wants alternatives."


Infill's importance
Recent media reports have questioned the content of crumb rubber derived from recycled car tires and its potential to impact the long-term health of sports participants. But safety is one of many factors surrounding infill selection (virgin rubber and the recycled soles of athletic shoes representing rubber alternatives). Other considerations include heat absorption, moisture retention, migration resistance, environmental impact, shock attenuation, energy restitution, abrasion mitigation, foot traction and ball reaction. Says Coleman, "When you look at the different components of a system — pad, turf and infill — and you look at which of these components can affect sustainability, heat, performance, shock absorption, ball roll, rotational resistance, it's actually the infill that impacts all those things the most."
The newest natural infill product to hit the market with claims that it tackles all of those concerns comes from Brock USA, a company heretofore best known for its contributions to synthetic turf safety and performance in the form of underlying shock pads. BrockFILL is an engineered wood particle infill that the company says outperforms other artificial turf infills during rigorous durability, longevity, performance, abrasion and safety testing. Moreover, Brock claims independent research shows its wood infill provides better traction, less splash, truer ball bounce and a more natural feel to synthetic turf fields, while preventing the scorching hot temperatures caused by crumb rubber infill.
BrockFILL — which Brock USA CEO Dan Sawyer calls "an elegant solution to a 25-year-old problem" — is sourced and made in the USA from sustainable tree farms that grow for the construction, paper, biofuels and animal bedding markets. There is zero waste in the manufacturing process and no disposal hazards at the end of the artificial turf field's life.
Infill's importance within the field specification process is beginning to sink in with consumers. "A lot of field owners are starting with, 'What infill do I need? I want to start with the infill first and figure out which infill is going to fit exactly what I'm looking for, and then I'll build the rest of the system around that,' " Coleman says.
USGreentech markets one natural infill alternative, called Safeshell, that combines the ground shells of black walnuts found growing in the Midwest with shell particles from California-grown English walnuts. "With more and more scrutiny being put on exactly what's in infill, it really started to matter. So we started to look at U.S.-sourced natural products that didn't float," Coleman says, adding that the shell particles are rounded using a propriety process, and their allergens are removed. "We just started putting those two things together, working on the supply chain and working on the different properties of the product and saw that they work really well in a turf system."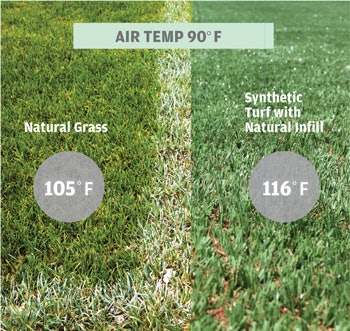 USGreentech and Greeplay are currently the only two companies in the marketplace that supply infill exclusively, but several turf manufacturers have begun offering natural alternatives to crumb rubber and other man-made infill products, and at least one additional industry player has a natural infill alternative in development.
FieldTurf, which led the infill turf revolution in the 1990s, has marketed several systems that incorporate cork. One, called CoolPlay, features an extruded composite top layer of coated cork designed to reduce field temperatures by as much as 35 degrees. Ironically, Woodridge Park District in Illinois specified CoolPlay for a field house that debuted in January 2017 — the product's first-ever indoor application, according to district executive director Mike Adams, who cites several reasons for the decision to eschew crumb rubber.
"Primarily it came down to the concerns that had been raised about the potential correlation to cancer, but knowing full well that there's no scientific evidence with regard to the use of crumb rubber and those claims, we debated it hard and long," Adams says, adding of the cork-based product, "It's odorless, so for an indoor facility, you don't have any fumes that might come off another type of infill system. And having a natural product was enticing to us. It just made it a good fit for our facility."

Safety debate
Studies have claimed to debunk the cancer connection, but what many thought would be — at the time of its February 2016 launch — the definitive federal government study on crumb rubber (involving the U.S. Consumer Product Safety Commission, the Environmental Protection Agency and the Agency for Toxic Substances and Disease Registry at the Centers for Disease Control and Prevention) has yet to be completed and may not see fruition anytime soon, according to a source close to the turf industry.
Says Carapella, "Even if it comes out as 100 percent safe — which I hope it is, because there's a lot of it out there — my question is, 'What about the heat?' There's no disputing that a hot field is detrimental to athletes, especially kids."

Natural infill is less of a heat threat for a couple of reasons — namely, it's not black and it's less dense. "The lighter the bulk density, the less it will absorb infrared radiation," says Carapella, who has compared organic infill against crumb rubber, green thermoplastic infill, straight sand and turf containing no infill at all. "Basically, the synthetic infills that are heavy, with a high bulk density, were all within 10 degrees of each other, but they were all at least 50 to 60 degrees hotter than the turf with the organic material in it. That's a safety issue."
Moreover, Greenplay's signature Corkonut® product contains roughly 15 percent cork, which doesn't absorb water, paired with a stabilizing thatch matrix of tubular coconut fiber, which not only pulls humidity out of ambient air but delays evaporation of rainfall and artificial irrigation much longer than crumb rubber — further enhancing the field's cooling effects. Keeping the coconut fibers sufficiently hydrated is key, as they will degrade if allowed to dry out. In some climates, atmospheric humidity is all that is needed, but arid regions will require irrigation, and indoor applications may not be hospitable at all — particularly if a sprinkler system isn't in place in climate-controlled interiors or there's no way to introduce outdoor air to the space.
Keeping natural infill fields safe also requires the same maintenance as their crumb rubber counterparts — seasonal raking of the top layer (some systems, including the one in Woodridge, have multiple layers of sand and sand-rubber mixes) to redistribute infill and regular brushing (perhaps every 80 hours of use) to keep the turf fibers as vertical as possible.


Establishing roots
Plant-based infills are now entrenched in the synthetic turf discussion, and Carapella sees rapid growth for the niche market over the next 10 years. "I can't predict what the percentage of growth will be, but I only see it growing exponentially," he says. "It's not going away, because as the fields become more popular and we have more of them in the ground, it's just a matter of people seeing it, and once they see it and play on it, they say, 'My goodness, this is the best field we've ever played on' — no matter whose turf it is."
The synthetic turf field at Benedetti Diamond, home to the University of San Francisco baseball program, has been in the ground — and topped with Corkonut — since 2015. "We chose to go with the turf infill for a number of reasons — the ability to keep the fill moist, and to keep the speed of play to that of grass and dirt," head coach Nino Giarratano says. "The field plays as if you are on a perfect natural surface."
Natural infills come at a premium — perhaps 50 cents more per square foot than crumb rubber, according to Carapella, which equates to $40,000 in extra investment on an 80,000-square-foot field. But as more players enter the game, and shock pad specification becomes more prevalent (synthetic turf systems that employ natural infill of any form almost always require inclusion of a pad), the move toward alternative infills should become more "palatable," as Coleman puts it. "It's the space where innovation is happening the most," he says. "I think there's a really good trend with the amount of pads that are being installed. Once you've committed to a pad, you're just one small step away from going to a fully engineered system that doesn't use crumb rubber."
Says Steve Keyser, COO and vice president of engineering at Brock USA, regarding the development of BrockFILL, "We wanted to tackle all of the safety and performance issues for the athlete, but it also needed to be economically viable and not add significant cost to the product. Using an organic, abundantly grown product from the USA allows us for the first time to provide a mass market product that competes with crumb rubber on price."
"It really is based on the end-users and what they're asking for," the STC's Bond says of infill innovation. "Our members come up with these new technologies, new products and some pretty innovative ways to address the comments that we get from folks in the industry."
---
This article originally appeared in the July|August 2018 issue of Athletic Business with the title "The naturals: Can plant-based infills supplant crumb rubber?" Athletic Business is a free magazine for professionals in the athletic, fitness and recreation industry. Click here to subscribe.