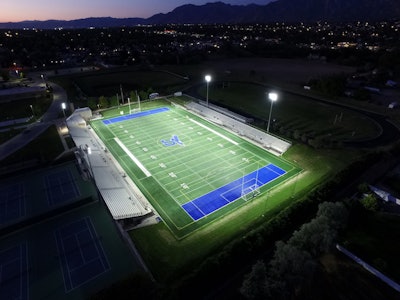 This sponsored content was provided by Eaton's Ephesus Lighting. What is sponsored content?
One of the most important recent innovations at sports facilities has been the advent of LED sports lighting. A functional product for 50 years was revolutionized with unimaginable controllability and performance. Unfortunately, many people involved in the RFP process of converting to LED don't consider the differences between high intensity discharge (HID) and LED lighting. The result is a broken RFP process that often favors tradition over technology.
"Very often we are asked to respond to an RFP that was developed by a third party or even another lighting company that ignores the nuances and advantages solid state LED lighting has over legacy lighting," says Lee Davis, General Manager of Eaton's Ephesus Sports Lighting. "For example, if you used specs for installing a new phone system developed before the advent of wireless telephones, the required length of the phone cord would disqualify your wireless solution. Some of the requirements we see in RFP's for LED sports lighting are just as ridiculous."
Here are four Frequently Asked Questions from sports facility operators considering a switch to solid-state sports lighting that can impact the RFP process:
Should I specify fixture count in the RFP?
RFP's that require a one-to-one fixture replacement are problematic for both parties as it increases costs by providing far more light than is needed, as some 600W LED fixtures can generate more light than 1000W metal halides. Many traditional HID systems are over-designed to compensate for light depreciation. By using these same specs for LED, you will over-light the playing field since LED lights do not experience measurable light degradation. Furthermore, LED lights have precise lenses to direct the light exactly where it's needed, and a laser aiming system to ensure the lights are positioned where they need to be. As a result, if you let the capabilities of the LED fixture drive the process, you can reduce fixture count while increasing light.
ENLIGHTENMENT: Requiring a one-to-one fixture replacement or focusing on the fixture count limits the capabilities of LED lighting. Let the solid-state technology drive the specs.
---
LIGHT, REVOLUTIONIZED: View More From This Series
---
Is it important to specify a remote power supply in my RFP?
For more than 50 years, sports lighting had been powered by a remote power supply (ballast or driver). The belief was that a remote ballast at ground level was more convenient for necessary maintenance, and the added weight of ballasts mounted high on the pole would negatively impact the infrastructure. Those concerns are no longer valid. LED sports lighting is virtually maintenance-free and LED fixtures with a built-in driver are commonplace. Since many operators make the move to LED to help save on energy costs, a remote ballast is counterproductive as extra power is needed to compensate for the wiring distance between the ballast and light source.
ENLIGHTENMENT: Make sure your RFP offers the option of a built-in ballast/power supply.
Should the RFP require a 25-year manufacturer's warranty?
The precision and reliability of LED sports lighting has made 25-year extended warranties more like service contracts that add unnecessary costs. Just remember, most extended warranties are not free, so if costs are a concern allow yourself the flexibility of not requiring it in the RFP. LED technology practically eliminates the need for "routine maintenance." LED lights have no moving parts to wear out, no traditional bulbs with filaments to burn, and fixtures with a built-in ballast have no ballast to replace. And, as many consumers have experienced with extended warranties for automobiles and appliances, there are many exclusions that protect the manufacturer more that the customer.
ENLIGHTENMENT: When a manufacturer presents you with a warranty, it's "buyer beware." Read the fine print and see what you're really paying for, and what exclusions will make your claim void. As sports lighting technology advances, warranties are a costly relic that don't align with the benefits newer systems provide. If you are presented with a 25-year warranty, be sure to ask about the financial strength of the manufacturer and their resources to service your system for the next 25 years.
Can the RFP be specifically designed to address cost savings?
Calculating the exact savings after making the switch to LED lights can differ greatly depending upon three primary drivers; local energy costs, usage, and the efficiency of both your existing and new systems. Beyond these savings, facility operators can also expect a dramatic maintenance savings — specifically the cost and installation of new bulbs. Although these factors are difficult to specify in the RFP, you can require fixtures that qualify for state grants and power company rebates. When you combine these with reduced maintenance and slashed electrical bills, the initial investment seems less daunting and a fast ROI becomes a reality.
ENLIGHTENMENT: Two great resources to help guide you through the process for grants and rebates are your lighting sales person or a third-party energy services company (ESCO).
For more information on Eaton's Ephesus Sports Lighting solutions, visit ledwithinreach.com. This article is part of a monthly series. View more here.