If you are wishing for summer to stay a little longer, you are probably in luck. Much of the United States is projected to experience a warmer fall with summer heat creeping into September and beyond. The northern half of the country can also expect a rather dry fall with more sporadic precipitation.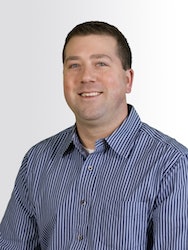 While warmer temperatures may prolong the opportunity for teams to practice outside, the extension of summer heat into the fall months also amplifies the importance of implementing heat safety best practices for athletes. In high heat and humidity, evaporation is slowed forcing the body to work harder to maintain its normal temperature. For athletes exerting stress on their bodies in hot and humid conditions, the effect heat has on the body is magnified and can have fatal consequences.
Heat kills nearly 100 people in the U.S. each year, more than any other weather-related fatality. To avoid heat-related illness or death, coaches and athletics staff need to understand how to protect their athletes. Even with immediate treatment, heat-related illness can have long-term effects, including liver, kidney, muscle or heart damage. Signs of heat-related illness include: moist skin with goosebumps when in the heat, heavy sweating, faintness, dizziness, fatigue, weak and rapid pulse, low blood pressure upon standing, muscle cramps, nausea and headache.
Athletics staff should adopt a heat safety policy that is region-specific, accounting for the time of year and how acclimated athletes. A designated staff member needs to be responsible for monitoring weather conditions and determining how heat can affect practices and competitions. During the summer and early fall, it is best for athletes to ease into full equipment and workout intensity, and coaches should schedule practices for early morning (6-9 a.m.) or early night (6-9 p.m.) when temperatures are not as extreme.
Many athletics organizations, including the National Collegiate Athletic Association (NCAA) and National Athletic Trainers' Association (NATA), recommend that coaches also implement safety protocols based on Wet Bulb Globe Temperature thresholds. First developed in 1956 by the U.S. Military to reduce heat stress injuries for recruits, Wet Bulb Globe Temperature is a composite temperature indicator that accounts for temperature, humidity, wind speeds and solar radiation.
Using Wet Bulb Globe Temperature guidelines provided by NATA, coaches can determine safe lengths for practices, correct equipment to use and frequency of rest breaks. These guidelines ensure athletes are continually hydrated and properly rested for performance in the weather conditions.
NATA Wet Bulb Globe Temperature Guidelines
| | |
| --- | --- |
| WGBT Reading | Activity and Rest Break Guidelines |
| Under 82.0 | Normal activities. Provide at least three separate rest breaks each hour, a minimum of three minutes each, during the workout. |
| 82.0-86.9 | Use discretion for intense or prolonged exercise. Watch at-risk players carefully. Provide at least three separate rest breaks each hour, a minimum of four minutes each. |
| 87.0-89.9 | Maximum practice time is two hours. For football: players restricted to helmet, shoulder pads, and shorts during practice. All protective equipment must be removed for conditioning activities. For all sports: provide at least four separate rest breaks each hour, a minimum of four minutes each. |
| 90.0-92.0 | Maximum length of practice is one hour. No protective equipment may be worn during practice and there may be no conditioning activities. There must be 20 minutes of rest breaks provided during the hour of practice |
| Over 92.1 | No outdoor workouts. Cancel exercise. Delay practices until a cooler WBGT reading occurs. |
Wet Bulb Globe Temperature is a much more reliable and complete measure of the impact hot and humid weather has on the human body, rather than the heat index or 'feels-like' temperature. These measures only reflect air temperature and relative humidity, and they are measured in the shade rather than in the sun.
When asked what weather conditions affect their sport the most, coaches are likely to first think of lightning, severe storms, heavy precipitation and frigid temperatures. However, they should be just as cognizant of heat stress, perhaps the most common, yet preventable, weather threat facing athletes. By implementing a thorough heat safety plan and educating coaches and players about the dangers of extreme heat, athletics staff can protect their athletes through the warmest summer and fall days.
---
Brad Nelson has 12 years of experience as an On-Site Event Meteorologist with DTN, specializing in lightning, severe weather safety and evacuations for golf courses and other large venues. As part of PGA Tour on-site team, he produces weather forecasts, provides consultation and assists with evacuations and delays for tournaments in the U.S. and globally. Brad has conducted numerous webinar presentations on the topic of lightning and severe storm science and safety.