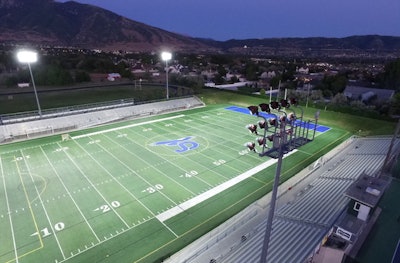 This content was provided by Eaton's Ephesus Lighting. What is sponsored content?
As summer turns to fall and students return to school, an American tradition continues. Friday Night Lights brings communities across America together for a tradition like no other – high school football. And although a Saturday afternoon high school football game is still special, there's nothing quite like high school football under the lights.
The advent of LED sports lighting will ensure that future generations can continue the tradition in a safe, cost-efficient and environmentally friendly way. In fact, the added capabilities of LED sports lighting can even improve the Friday Night Lights experience.

The capabilities and added control of LED sports lighting add a whole new element to events. The instant on/off capabilities allow operators to completely black out the stadium and then wow fans with pre-programmed light shows for player introductions, after touchdowns or even during the band's halftime performance.

"Replacing antiquated metal-halide lighting systems at high school and municipal sports fields with our LED lighting solution has given communities complete control of their field lighting for the benefit of players, fans, facility operators and the entire community," said Lee Davis, general manager, Eaton's Ephesus Sports Lighting. "Players and fans enjoy the high-quality professional game presentation, the facility operators appreciate the minimal maintenance, versatility and reduced energy costs and the nearby community appreciates that the LED light illuminate the field, not the entire neighborhood."

Here are four ways in which LED sports lighting has changed the game for high school football field facility operators.
Remote Not Required
For more than 50 years, sports lighting had been powered by a remote power supply, referred to as a ballast or driver. The belief was that a remote ballast at ground level was more convenient for necessary maintenance, and the added weight of ballasts mounted high on the pole would negatively impact the infrastructure. Those concerns are no longer valid. LED sports lighting is virtually maintenance-free and LED fixtures with a built-in driver are commonplace. Since many operators make the move to LED to help save on energy costs, a remote ballast is counterproductive as extra power is needed to compensate for the distance between the ballast and light source.
LEDucation Lesson #1: A remote power source/ballast adds operational costs to a solid-state LED lighting system and – prevents functionality such as full dimming ranges and enabling entertainment scenes.
---
LIGHT, REVOLUTIONIZED: View More From This Series
---
Direct Versus Reflective
Legacy sports lighting products are easily recognizable by the big hoods that help redirect light, via reflection, to the playing surface and control glare. Due to the technological limitations, the hood was an important tool to reflect the light to the playing surface. But with digital LED lighting, engineers now can direct the light through internal refractive optics. Whereas reflective lighting redirects the light to the playing surface after it emanates from the fixture, refractive light is precisely modulated internally, to consistently control glare, cutoff and light spill while being delivered directly and efficiently to the playing surface.

LEDucation Lesson #2: Reflectors limit the efficiency of the fixtures by generating unnecessary light that gets redirected. LED lighting solutions can control the light internally and deliver it precisely with no need for external reflectors.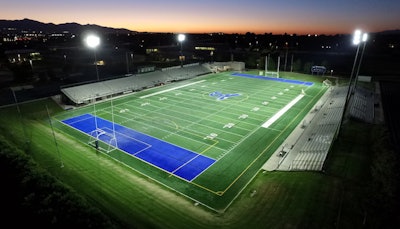 Maytag Repairman Syndrome
The precision and reliability of LED sports lighting has made 25-year extended warranties as obsolete as the technology they replace. Extended warranties add unnecessary costs since LED technology practically eliminates the need for "routine maintenance." And as many consumers have experienced with extended warranties for an automobile or appliance, there are many exclusions that protect the manufacturer more that the customer.
LEDucation Lesson #3: If an LED sports lighting manufacturer is boasting about their extended warranty, ask yourself if they have a lack of confidence in their product, a lack of understanding of the technology or a lack of respect for your costs.
The Bottom Line
Despite the obvious performance quality advantages of LED lighting, for most municipalities the decision is driven by the bottom line, ROI and a cost-benefit analysis. Unfortunately, many facility operators get sticker-shock when they see the initial investment and subsequently don't do the additional research to understand the numbers. When you combine state grants, power company rebates, reduced maintenance and slashed electrical bills, the initial investment seems less daunting and a fast ROI, especially for indoor facilities that have much greater usage, becomes a reality. Two great resources to help guide you through the process are your lighting sales person or a third-party energy services company (ESCO).
LEDucation Lesson #4: Do your research to understand the numerous cost savings available beyond your electric bill associated with LED sports lighting. When you run the numbers, you end up with a much better performing product that eventually pays for itself.
---
For more information on Eaton's Ephesus Sports Lighting solutions, visit ledwithinreach.com. This article is part of a monthly series on sports lighting. View the entire series here.