Check out these products as seen in the June 2019 issue.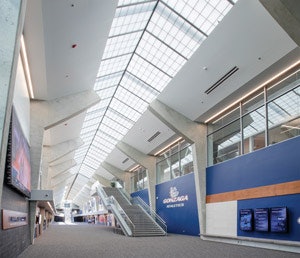 Major Industries
Major Industries is a one-stop source for daylighting systems, from skylights to canopies to translucent wall systems. Glazing options include translucent panels, glass, polycarbonate multi wall and mixed-glazed systems that combine the best properties of each material. Whether it's a complex custom skylight, pre-assembled wall system or small canopy, Major Industries works with clients to provide a durable, versatile and eye-catching daylighting solution for any gymnasium, pool or athletics facility project.
www.majorskylights.com
(888) 759-2678
---
RELATED: Find more solutions for your facility in the Buyers Guide
---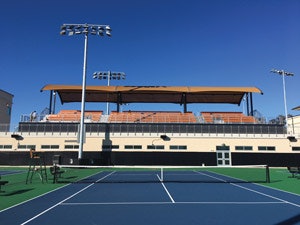 Hendee Enterprises Inc.
Hendee Enterprises Inc. stands out as an industry leader in the manufacture of custom shade structures, offering a full range of architectural shade products including awnings, canopies, fabric shade structures, shade sails, fabric walkway structures and tension structures. Hendee Enterprises custom-manufactures shade options in either HDPE Shade Cloth (mesh) or PVC (waterproof) fabric, in addition to framework in either steel or aluminum. The company also offers turnkey services.
www.hendee.com
(800) 231-7275
---
RELATED: Purchasing Guide: Shade Structure
---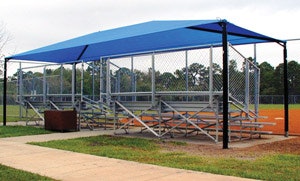 Kay Park Recreation
Fans in the stands deserve protection from rain and harmful sunburn with Kay Park's Bleacher Shades. The shades are made of durable, woven, high-density polyethylene fabric and high-quality, weather-resistant steel framework. A free catalog of Kay Park's full product line is available.
www.kaypark.com
(800) 553-2476
---
RELATED: Three Ways Fabric Structures Protect Athletes
---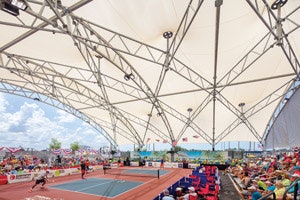 USA SHADE & Fabric Structures
For nearly three decades, USA SHADE & Fabric Structures has inspired stunning outdoor spaces with shade structures that protect crowds and athletes from the sun. Shade structures shield athletes and spectators from direct sunlight, provide UV protection, increase air flow and reduce temperatures by up to 25 degrees Fahrenheit. These innovative structures are designed with clear sightlines and maximum comfort in mind to keep everyone cool during heated competition and increase the usability of athletic fields, courts, stadiums, bleachers and grandstands.
www.usa-shade.com/athletic/
(844) 908-9408
---
These products originally appeared in the June 2019 issue of Athletic Business, a free magazine for professionals in the athletic, fitness and recreation industry. Click here to subscribe.