Check out these products as seen in the September 2019 issue.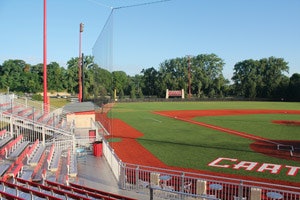 Beacon Athletics Safety Netting
Beacon's engineered backstop systems provide ballgame spectators with the two essentials: safety and a great game experience. Beacon netting systems are designed for a specific facility to minimize or eliminate sightline obstructions, giving fans a perfect view. Beacon's netting specs and installation methods also provide spectators with the safety they deserve, and facility operators with the peace of mind you need. Beacon helps design, install and maintain the right netting solution or extension for any facility.
www.beaconathletics.com
(608) 824-1561
---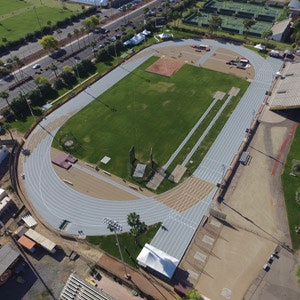 Mondo
Mondo's Super X 720 track combines the wear layer of the company's renowned Super X Performance track with Mondotrack vulcanized backing to form one seamless piece that delivers exceptional performance, traction, durability and safety. The backing provides exceptional shock absorbency and energy return, which further helps the performance layer increase athletes' comfort and enables them to achieve faster times than when running on other surfaces. More than 270 world records have been set on Mondo tracks.
www.mondoworldwide.com
(800) 361-3747
---
RELATED: Purchasing Guide: Outdoor Tracks
---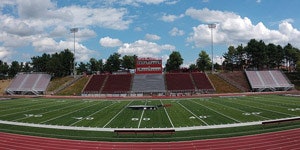 Keystone Purchasing Network
Turnkey athletic installation or renovation can be completed under KPN athletic fields (FieldTurf), tracks and courts contract. Furnish your stadium with bleachers, grandstands, press boxes and benches by GT Grandstands. Minimize project costs with KPN and work with vetted, experienced manufacturers and builders. "We are extremely satisfied with our KPN experience," says school superintendent Sean Bruno. "We highly recommend it to others and look forward to using it again."
www.thekpn.org
(888) 490-3182
---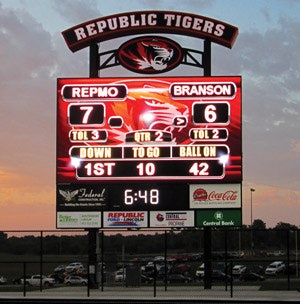 Daktronics
Daktronics scoreboards with video display offer simplicity with additional flexibility. Scores are always visible, while venues gain impact by showing stats, animations and sponsor recognition. Daktronics boards also allow programs to grow at their own pace and keep fans entertained.
www.daktronics.com/sports
(800) 325-8766
---
RELATED: How Synthetic Turf Revitalized an Outdoor Stadium and Enhanced a College's Profile
---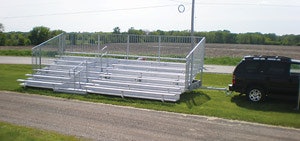 Kay Park Recreation Corp.
Speedy Bleacher 108 is a folding and highway-towable seating solution by Kay Park. The versatile and economical unit seats 108 people and features seven rows, an aisle and a handrail. Equipped with a hydraulic folding mechanism and telescoping tongue, it can be easily towed by a conventional vehicle and erected in just a few minutes by one person. The 27-foot-long, 9-foot-high Speedy Bleacher meets safety codes.
www.kaypark.com
(800) 553-2476
---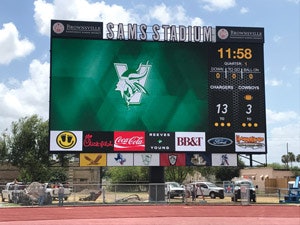 Formetco Sports
Formetco Sports is a single source for scoring, sound and video entertainment needs. Formetco designs and facilitates complete turnkey LED video scoring solutions for outdoor and indoor applications. Sports packages feature easy-to-use multisport scoring, sound systems, control rooms, video cameras, replay and more. Formetco LED scoreboards and videoboards have the best warranties in the industry, with unparalleled ongoing service and support seven days a week.
www.formetcosports.com
(833) 533-7267
---
RELATED: Find more solutions for your facility in the Buyers Guide
---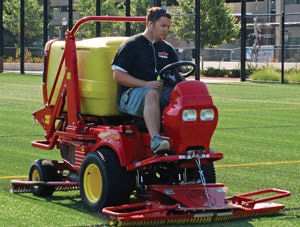 SMG Equipment
For more than 40 years, SMG has been a leading manufacturer of equipment for the installation and maintenance of synthetic turf fields and running tracks. SMG Equipment offers a complete line of turf maintenance tools, including drag brushes, ground-driven tow-behind sweepers, tractor-mounted PTO-drive sweepers, and the top-of-the-line SMG SportChamp.
www.smgequipment.com
(253) 249-7050
---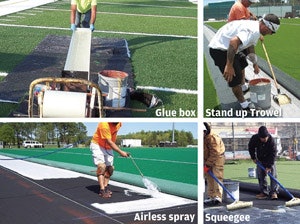 Synthetic Surfaces
For 46 years, NORDOT® Outdoor Adhesives have been used to install outdoor synthetic turf athletic fields and recreational surfaces worldwide. They have a well-earned reputation for long-term durability in all types of climates. Additionally, a new adhesive that more economically replaces hot melts is now available. All NORDOT® one-part urethane adhesives are easily applied by glue box, trowel, squeegee or airless spray, can be used in subfreezing to desert-like temperatures, and have superior "green strength" (grab) and outstanding water resistance.
www.nordot.com
(908) 233-6803
---
These products originally appeared in the September 2019 issue of Athletic Business, a free magazine for professionals in the athletic, fitness and recreation industry. Click here to subscribe.